Ray Donovan
Ray Donovan: Season 5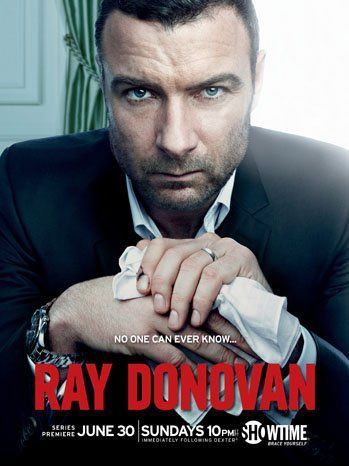 Showtime (2013)
Drama, Crime
USA | English | Color | 12h
Set in the sprawling mecca of the rich and famous, Ray Donovan does the dirty work for LA's top power players. He is the go-to guy who makes the problems of the city's celebrities, superstar athletes, and business moguls disappear. This powerful drama unfolds when his father is unexpectedly released from prison, setting off a chain of events that shakes the Donovan family to its core.
---
---
Director
Guy Ferland
Carl Franklin
John Dahl
Daisy von Scherler Mayer
Stephen Williams
Tucker Gates
David Hollander
Michael Uppendahl
Zetna Fuentes
Writers
Ann Biderman, William Wheeler, Chad Feehan, David Hollander, Sean Conway

,

David Sonnenborn, Miki Johnson, Karl Taro Greenfeld
Producers
Liev Schreiber, William Wheeler, Chad Feehan, Lou Fusaro, David Hollander

,

David Sonnenborn, Miki Johnson, Karl Taro Greenfeld, Sean Conway, Bryan Zuriff, Jason Weinberg, Miki Johnson, John H. Radulovic, Tom Keefe, Vanessa Wilson, Anthony D'Esposito, Brandon Krzyminski, Ivey Hardin
Photographers
Robert McLachlan
---
1
Abby
50 min | Aug 05, 2017
Ray begins court-ordered anger management after a family tragedy sparks a bar fight. Mickey, Bunchy and Daryll prepare for Terry and Maureen's wedding. Bridget looks up a mysterious acquaintance in New York. Conor, away from home for the first time, grows accustomed to military school. Meanwhile, Sam Winslow, a powerful new employer, comes into Ray's life.
Director: David Hollander
Writer: David Hollander
2
Las Vegas
50 min | Aug 12, 2017
A flashback to Ray and Abby's 21st anniversary when they went to Las Vegas to see Damon's first televised fight. In the present, movie star Natalie James hires Ray to protect her from an abusive husband/manager, which draws him deeper into Sam Winslow's web. Hopes for a beautiful day are dashed at Terry and Maureen's wedding as tensions flare between the Donovans and the Dohertys.
Director: John Dahl
Writer: David Hollander, Miki Johnson
3
Dogwalker
50 min | Aug 19, 2017
Ray cleans up Natalie's mess. At home, however, he struggles to reconnect with his family and complete anger management. Unable to reach Maureen, Terry visits Conor at military school. A surprise visit from Frank Barnes threatens to sink Mickey back into a life of violence. Bunchy happens upon the business opportunity of a lifetime to provide for Teresa and Maria.
Director: John Dahl
Writer: Sean Conway
4
Sold
50 min | Aug 26, 2017
Mickey's screenwriting dreams stall out - until he's pulled into a gruesome fix for Daryll's movie star client. Abby starts construction on the new bar while Ray searches for a solution to their problem. Terry tries to win back Maureen one last time; Bunchy's quest for financial independence gets derailed; and Bridget tells her boyfriend who her father really is.
Director: Tucker Gates
Writer: Chad Feehan
5
Shabbos Goy
50 min | Sep 02, 2017
Ray's therapy is at odds with the high-stakes power struggle between Sam and her opponents. Mickey - at Frank's behest - seeks out an old friend of the Donovan's. Meanwhile, Terry takes Damon to New York to train for a fight; Bunchy is confronted by sins from the Donovan past; and Bridget tries to reconcile with Smitty - until a major crisis forces them together.
Director: Daisy von Scherler Mayer
Writer: William Wheeler, David Hollander
6
Shelley Duvall
50 min | Sep 09, 2017
Abby makes a shocking decision that reverberates throughout the family. Ray runs interference for Natalie, while Sam shows him the lengths she'll go to protect her empire. In his attempt to free Bunchy, Mickey finds himself caught in the middle of someone else's war. Terry visits with Bridget and discovers a truth that shakes him to his core.
Director: Michael Uppendahl
Writer: David Sonnenborn, Miki Johnson
7
If I Should Fall from Grace with God
50 min | Sep 16, 2017
For Bunchy's sake, Ray is forced to step in and save Mickey from himself. Terry returns to LA with a devastating confession. Daryll and Mickey butt heads over the direction of their movie. Bunchy helps out a fellow inmate - on the condition that he'll help retrieve the settlement money. And one Donovan goes to extreme measures to protect the family.
Director: Michael Uppendahl
Writer: Chad Feehan, David Hollander
8
Horses
50 min | Sep 23, 2017
A last-ditch medical trial sends Ray on a dark mission in New York. Alone in LA, Abby turns to Terry and Bridget to help her make the toughest decision of her life.
Director: Zetna Fuentes
Writer: William Wheeler
9
Mister Lucky
50 min | Sep 30, 2017
Natalie's fame puts Ray's career in jeopardy when, for the first time ever, he becomes the story. Mickey and Daryll celebrate getting the greenlight on their movie. Terry prepares to leave the Fite Club behind for good. Bunchy gets in over his head; Bridget takes Smitty's problem into her own hands; and Ray hunts down the source of Sam's problems.
Director: Guy Ferland
Writer: Sean Conway
10
Bob the Builder
50 min | Oct 07, 2017
Ray and Terry put their differences aside to try and fix Bunchy's problem once and for all. Meanwhile, Jay asks for a secret meeting with Daryll to decide the future of the movie and their relationship; Bridget's last-ditch effort to save Smitty lands her in an unexpected place; and in the wake of a tragedy, Ray turns on Sam - consequences be damned.
Director: Stephen Williams
Writer: Chad Feehan
11
Michael
50 min | Oct 14, 2017
Ray searches for Frank Barnes in an attempt to get Bridget out of jail. Meanwhile in New York, Terry deals with the return of Damon's father and then takes care of Smitty at Bridget's request. Back in LA, Bunchy is hit with a heartbreaking confession from Teresa.
Director: Carl Franklin
Writer: Miki Johnson
12
Time Takes a Cigarette
50 min | Oct 21, 2017
Season finale. Ray goes to New York to arrange an illicit surgery that will hopefully save Smitty. Sam agrees to help - but only on the condition that Ray commit a brutal act. Meanwhile, Daryll struggles with his loyalties as Mickey tries to get himself out of jail by turning the tables on Ray.
Director: David Hollander
Writer: David Hollander
---
Editions
| Barcode | Format | Region | Released | Edition |
| --- | --- | --- | --- | --- |
| 9317731140679 | | | | |
| 032429300676 | | 1 | Jan 30, 2019 | |
| 5053083151058 | | 2 | Jun 04, 2018 | |
---
---