Red Data Girl
RDG: Red Data Girl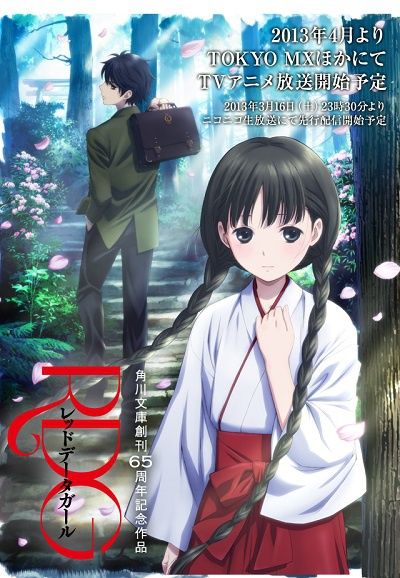 ---
FUNimation (2013)
Animation, Drama, Anime, Fantasy, Romance, Action
USA | English | Color | 5h
The story revolves around Suzuhara Izumiko, a girl raised within the confines of Tamakura Shrine, one of the Kumano shrines that are part of a World Heritage site. However, after Izumiko spent practically her entire life at Kumano until middle school, it was decided that she and her childhood friend Miyuki would enroll in Houjou High School in Tokyo. On a school trip to Tokyo, a mysterious entity known as Himegami appears and a terrible incident occurs. Izumiko's family carries a great secret that Izumiko is about to learn.
---
| | | |
| --- | --- | --- |
| | Saori Hayami | Izumiko Suzuhara |
| | Jun Fukuyama | Yukimasa Sagara |
| | Kouki Uchiyama | Miyuki Sagara |
| | Rie Tanaka | Himegami |
| | Rie Kugimiya | Wamiya, Satoru |
| | Akira Ishida | Murakami, Hodaka |
| | Mamoru Miyano | Hayakawa, Yoshiki |
| | Hirofumi Nojima | Takayanagi, Ichijou |
| | Romi Park | Suzuhara, Yukariko |
| | Madoka Yonezawa | Souda, Mayura |
| | Ryouhei Kimura | Souda, Masumi |
| | Kaito Ishikawa | Souda, Manatsu |
| | Tomekichi Himuka | Ryougoku, Mizuhiko |
| | Sarah Emi Bridcutt | Jean Kisaragi, Honoka |
---
1
The First Transfer Student
25 min | Apr 03, 2013

One day Izumiko decides to cut her bangs as her first step toward self change. Despite her best efforts, she is still the center of bullying at school. To make matters worse, the new transfer student is an old acquaintence who seems to hate her.
2
The First Hand
25 min | Apr 10, 2013

Izumiko and Miyuki plan to see Yukariko during their fieldtrip in Tokyo. Upon arriving in Tokyo, Izumiko begins to sense something sinister following her. Miyuki thinks it's all in her head until a series of events prevent them from seeing Yukariko.
3
The First Familiar
25 min | Apr 17, 2013

Wamiya has noticed a change in Izumiko since her brief trip to Tokyo. When it becomes clear that Izumiko no longer hates Miyuki, Wamiya realizes that he is the cause of her change. Wamiya decides that it's time to wipe Miyuki out of the picture.
4
The First Roommate
25 min | Apr 24, 2013

On the first day of school, Izumiko starts to see black figures around campus. It becomes apparent that Izumiko and Miyuki they aren't the only students with special powers. While some seem to be friends, others have taken a more aggressive stance.
5
The First Makeup
25 min | May 01, 2013

Mayura and Manatsu decide to retaliate against Takayanagi and invite Izumiko and Miyuki to watch. People of power are beginning to gradually take an interest in Izumiko, including the secret Student Body President.
6
The First Sleepover
25 min | May 08, 2013

Izumiko and Miyuki visit the Souda abode before attending a camping trip in Togakushi with the Student Body Council's Executive Committee. While on the trip, Izumiko begins to catch glimpses of the hardships that Manatsu and Mayura must endure.
7
The First Time I Got Lost
25 min | May 15, 2013
Mayura and Masumi put Miyuki to the test, refusing to believe that he is an inexperienced Mountain Monk. After the trial, Manatsu receives a call that Tabi is sick. Manatsu rushes to his beloved horse's aid, but things don't look good...
8
The First Request
25 min | May 22, 2013

After losing Tabi, Manatsu decides that it is time to leave Mayura and become one with Masumi. He thinks that it would be easier on Mayura if they both left her now, before she grows too attached to them. Can Izumiko make them change their minds?
9
The First Unveiling
25 min | May 29, 2013

The battle between Mayura and Takayanagi is starting to get intense. As Mayura's trump card, Izumiko needs to exercise caution, but she's entering a rebellious stage. What will happen when she dresses up like a princess and unbraids her hair...?!
10
The First School Festival
25 min | Jun 05, 2013

Strange things are happening at the school festival. The middle school girls refuse to dress up as princesses for fear of a curse and several of the girl students who have visited the Horror House have gotten sick. Could Takayanagi be behind this?
11
The First Rejection
25 min | Jun 12, 2013

Takayanagi places a spell on Izumiko that makes her believe that she is his ally. Even so, she keeps finding herself revolted by Takayanagi's schemes. Will she be able to realize that something is amiss and break the spell on her own?
12
World Heritage Girl
25 min | Jun 19, 2013

Realizing that she is the Hime-gami, Izumiko vanishes deep into an alternate plane. Miyuki, Takayanagi and Wamiya go after her, but a powerful enemy stands in their path! Can the three reach Izumiko before humanity's fate is sealed?
---
Editions
| Barcode | Format | Region | Released | Edition |
| --- | --- | --- | --- | --- |
| 9346315007121 | | | | |
| 704400015489 | | 1 | Jun 17, 2014 | |
| 704400015496 | | 1 | Feb 28, 2017 | |
---
---