Rin-ne: Season 2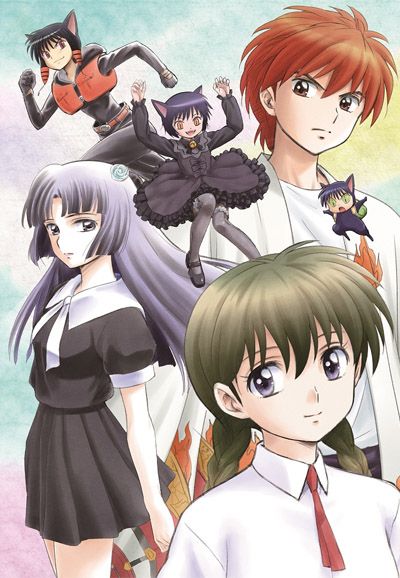 ---
---
Plot
As a child Sakura Mamiya mysteriously disappeared in the woods behind her grandma's home. She returned whole and healthy, but since then she has had the power to see ghosts. Now a teenager, she just wishes the ghosts would leave her alone! At school, the desk next to Sakura's has been empty since the start of the school year, then one day her always-absent classmate shows up, and he's far more than what he seems!
Episodes
Episode 1: Black Cat Oboro
25 min Apr 09, 2016
"Kyoukai no RINNE" was renewed for a second season consisting of 25 episodes. Coming Spring 2016.
Episode 2: Court of Dreams
25 min Apr 16, 2016
A spirit is unable to pass on, held back by a desire to play tennis in the school tennis club.
Episode 3: The Missing Membership Fee
25 min Apr 23, 2016
Rinne's shinigami union payments go missing. Shirushigami Kain threatens him with late charges.
Episode 4: Song of Love
25 min Apr 30, 2016
A spirit who passed away in the Showa era returns, causing trouble all around the neighborhood.
Episode 5: Digging Up Memories, Can I Borrow Cash?, Demon at the Camp Grounds
25 min May 07, 2016
Rinne's grandma cleans her house, and digs up some goodies. Rinne's Dad is broke again. A demon tries to take one of Sakura's friends' brothers to Hell.
Episode 6: Homestay Training
25 min May 14, 2016
Rinne's homestay, Shouma, is quite a handful. Hoping to end his school assignment quickly, he goes after an evil spirit, but the spirit appears elsewhere as a living human being.
Episode 7: Coaching Responsibilities
25 min May 21, 2016
Masato tricks Rinne's homestay, Shouma, into turning spirits evil. Both Rinne and Shouma are in deep trouble.
Episode 8: The Cursed Straw Doll
25 min May 28, 2016
A spirit is wandering around the steps of a local shrine. She'd died trying to curse Mamiya and Sakura's homeroom teacher, Suzuki-sensei.
Episode 9: Mikazukido For All Your Scythe Needs
25 min Jun 04, 2016
Chisame is an undefeated minibike champion. The gang wants her in the Bike Club, but she falls a bit short.
Episode 10: Black Cat 6th Dan
25 min Jun 11, 2016
Rokumon and the other black cats are invited to the celebration of a high-profile black cat before his reincarnation. Meanwhile, Rinne does battle with a hobo moth who threatens to make him even poorer.
Episode 11: Monster of the Summer Festival
25 min Jun 18, 2016
It's summer festival season. Rokudou doesn't have money to spend on such fun. Instead, he investigates rumors of "Dancing People."
Episode 12: Ghost Boat / Something in the Tunnel / Welcome to Nehan-ya
25 min Jun 25, 2016
Sakura and her friends head to the beach, where they run into Rinne, Ageha, Tsubasa and Rokumon. They investigate a ghost boat, an octopus monster and a section of the beach rumored to be filled with spirits.
Episode 13: The Mysterious Transfer Student
25 min Jul 02, 2016
Shima Renge is a new student at school. She has a habit of breaking people's hearts -- possibly on purpose.
Episode 14: Renge's Revenge
25 min Jul 09, 2016
Shima Renge's self-imposed community service work hurts Rinne's weather box business, leaving him terrifyingly poor.
Episode 15: Recovery Cream / Rumors / Mushroom Hunting
25 min Jul 16, 2016
Mikazukido's Recovery Cream can fix anything -- including cats. There's a spirit in the staff storage at school. The black cats go on a trip hunting for magic mushrooms.
Episode 16: Breakup Set
25 min Jul 23, 2016
Ageha tries to break-up Rinne and Sakura with an arsenal of Shinigami tools. Renge gets involved, in an attempt to have it all blow up in Ageha's face.
Episode 17: Shinigami Elementary School Reunion
25 min Jul 30, 2016
Demon Masato gets involved his wings stolen by a mysterious man who seems to be trying to lure Rinne into the Shinigami Elementary School reunion.
Episode 18: Black Cat Ranking Test
25 min Aug 06, 2016
Rokumon enters the Black Cat Ranking Exam in pursuit of a ranked black cat contractor discount. Kain and Ageha also have their black cat contractors join. Calamity ensues.
Episode 19: MVC
25 min Aug 13, 2016
Rokumon's plan to get the key to the Shinigami door backfires, but he gets his reward. The exam heats up even more.
Episode 20: Hot Pot Boss, Demon Type-A, Shinigami Type-B
25 min Aug 20, 2016
Rokumon's plan to get the key to the Shinigami door backfires, but he gets his reward. The exam heats up even more.
Episode 21: Have My Scarf, Waiting on the Rink
25 min Aug 27, 2016
A bossy evil spirit and a bossy Tsubasa nearly crash an oden party Ageha sets up for Rinne. Masato and Rinne are both sick with afterworld strains of influenza. They engage in a glorious coughing battle.
Episode 22: Never Change
25 min Sep 03, 2016
Renge does everything in her power -- and then some -- to stop her crush, Shirushigami Kain, from finding out that she's a Damashigami.
Episode 23: Shinigami Sakura?!
25 min Sep 10, 2016
Sakura picks up a scythe that becomes attached to her until she can successfully purify seven spirits.
Episode 24: Matsugo Returns?!
25 min Sep 17, 2016
Ageha tries to put Rinne on a collar. Rinne's friend from elementary school, Matsugo, is not amused. Sakura, on the other hand, sees an opportunity.
Episode 25: Sakura's Wager
25 min Sep 24, 2016
---
Editions
| Barcode | Format | Region | Release | Edition |
| --- | --- | --- | --- | --- |
| 814131013194 | Blu-ray Disc | 1 | 2016-09-06 | |
| 816726028507 | Blu-ray Disc | 1 | 2017-07-25 | |
| 814131018786 | DVD | 1 | 2016-09-06 | |
| 816726028606 | DVD | 1 | 2017-07-25 | |
---