R.I.P.D.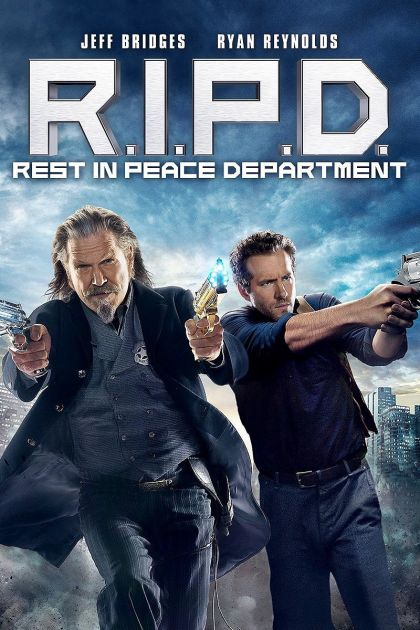 Universal Pictures (2013)
Comedy, Science Fiction, Fantasy, Crime, Action
USA | English | Color | 1h 36min
A recently slain cop joins a team of undead police officers working for the Rest in Peace Department and tries to find the man who murdered him. Based on the comic by Peter M. Lenkov.
---
---
Director
Robert Schwentke
Writers
Phil Hay, David Dobkin, Matt Manfredi, Peter M. Lenkov, Lucas Marangon
Producers
David Dobkin, Mike Richardson, Neal H. Moritz, Michael Fottrell, Peter M. Lenkov

,

Keith Goldberg, Ori Marmur, Jonathon Komack Martin, Alexander Hamilton Westmore
Photographers
Alwin H. Kuchler
---
Editions
| Barcode | Format | Region | Released | Edition |
| --- | --- | --- | --- | --- |
| 025192205804 | | 1 | Oct 29, 2013 | 3D Blu-Ray Blu-Ray DVD Digital Copy UV |
| 025192180774 | | 1 | | |
| 025192339295 | | 1 | Dec 29, 2015 | |
| 191329070918 | | 1, A | Oct 16, 2018 | Blu-Ray Edition |
| 025192171062 | | 1 | Nov 26, 2013 | |
| 191329070307 | | 1 | Oct 16, 2018 | |
| 9317731104435 | | Free | 2013 | |
| 5050582927290 | | Free | Mar 01, 2014 | |
| 025192123665 | | A | Jun 02, 2014 | Non 3D Version |
| 5050582971262 | | A, B, C | Jan 09, 2014 | Blu-ray 3D Blu-ray |
| 5050582938975 | | B | Dec 04, 2013 | |
| 5050582951530 | | B | Nov 20, 2013 | Single Disc |
| 5050582951547 | | B | | |
| 5050582931495 | | | | |
| 9317731101885 | | | | |
| 025192292545 | | | May 26, 2015 | |
| 025192205798 | | | | |
| 5050582951523 | | | | |
| 5050582951585 | | | | |
| 5050582972436 | | | | |
| 5050582962772 | | | | |
| 9317731101892 | | | | |
| 025192171093 | | | | |
| 5050582951561 | | | | |
| 025192180750 | | | | |
| 5050582931488 | | | | |
| 5050582951554 | | | | |
| 025192254871 | | | | |
| 8858988808505 | | | Nov 07, 2013 | |
| 025192269257 | | | | |
| 5050582962789 | | | | |
| 6009700324755 | | | | |
| 7506005975624 | | | | |
| 8596978908179 | | | | |
| 9317731101908 | | | | |
| 025192214455 | | | | |
| 7899587900437 | | | | |
| 036581951585 | | | | |
| 5050582965032 | | | | |
| 93117731101885 | | | | |
| 5690784027666 | | | | |
| 8414906984395 | | | | |
| 025192123672 | | 1 | Nov 26, 2013 | |
| 025192180767 | | 1 | Oct 29, 2013 | |
| 025192352355 | | 1 | May 10, 2016 | |
| 025192171079 | | 1 | Nov 26, 2013 | |
| 025192334054 | | 1 | Dec 29, 2015 | |
| 5050582931471 | | Free | Jan 09, 2014 | |
| 5050582965001 | | | | |
| 9317731101847 | | | | |
| 5050582938951 | | | | |
| 9317731101854 | | | | |
| 5050582951493 | | | | |
| 9317731101861 | | | | |
| 5050582962765 | | | | |
| 5050582951516 | | | | |
| 5050582951486 | | | | |
| 025192171086 | | | | |
| 5050582951578 | | | | |
| 6009700324748 | | | | |
| 5050582951479 | | | | |
| 9317731101878 | | | | |
| 025192361616 | | | | |
| 2027897123672 | | | | |
| 025192255601 | | | | |
| 5050582951509 | | | | |
| 7899587900406 | | | | |
| 5948221402560 | | | | |
| 50505829951578 | | | | |
| 005530798168 | | | | |
| 5948221402553 | | | | |
| 5050582938944 | | | | |
| 7506005975617 | | | | |
| 4800627089503 | | | | |
| 5050582927283 | | | | |
| 5050582931464 | | | | |
| 6176311788778 | | | | |
| 5050582965025 | | B | Jan 20, 2014 | 2 Disc Blu-Ray, DVD & Digital Copy Edition |
| 5050582973976 | | | | |
| 5050582971361 | | | | |
| 890973577025 | | | | |
---
---