Riverdale
Riverdale: Season 2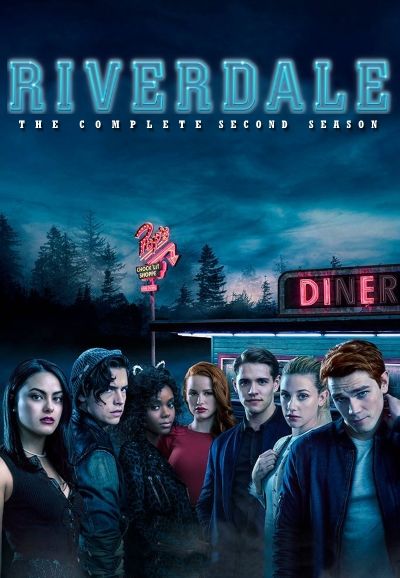 Warner Brothers (2017)
Drama, Family, Horror, Suspense, Crime, Mystery, Children, Reality, Soap
USA | English | Color | 6h
A subversive take on Archie and his friends, exploring small town life, the darkness and weirdness bubbling beneath Riverdale's wholesome facade.
---
---
1
Chapter Fourteen: A Kiss Before Dying
45 min | Oct 23, 2017
As Fred's life hangs in the balance following the shooting at Pop's diner, Archie struggles with the emotional aftermath of what he witnessed. Meanwhile, as Veronica steps out of her comfort zone to support Archie, she learns that her father Hiram has arrived to Riverdale earlier than expected. Elsewhere, at Pop's diner, Pop Tate recounts the chilling details of the shooting, which leaves Jughead and Betty questioning the gunman's true motives. Lastly, after running into Cheryl at the hospital, Betty and Kevin are surprised to learn about the fire at Thornhill.
Director: Rob Seidenglanz
Writer: Roberto Aguirre-Sacasa
Guest stars: Alvin Sanders
2
Chapter Fifteen: Nighthawks
45 min | Oct 17, 2017
With the gunman still at large and the residents of Riverdale on edge, Betty leads the charge to save Pop's after learning that the diner may be forced to close its doors forever. Meanwhile, the gang becomes increasingly concerned for Archie's well being after noticing a string of unusual behavior from him. Elsewhere, Betty and Veronica approach Cheryl and Josie for their help saving Pop's, while Jughead's attempt to find FP a new lawyer may have some serious repercussions. Finally, when a past betrayal unexpectedly comes to light, Veronica finds herself at a crossroads with Hiram and Hermoine.
Director: Allison Anders
Writer: Michael Grassi
3
Chapter Sixteen: The Watcher in the Woods
45 min | Oct 24, 2017
Frustrated by the lack of progress made in catching his father's shooter, Archie takes matters into his own hands in order to send the gunman a message. Meanwhile, Veronica is thrilled when Hiram's attempt to start fresh means she gets to introduce him to her friends, including Archie. Elsewhere, Jughead starts his first day at Southside High and is befriended by a Southside Serpent named Toni, while Kevin's attempt at having a little fun causes Betty to grow concerned for his safety. Finally, an unexpected turn of events leads the town to realize their darkest chapter may be far from over.
Director: Kevin Sullivan
Writer: Ross Maxwell
Guest stars: Vanessa Morgan
4
Chapter Seventeen: The Town That Dreaded Sundown
45 min | Nov 01, 2017
When Archie's attempt to take matters into his own hands spirals out of control, Mayor McCoy calls an emergency town hall meeting to deal with the growing chaos in Riverdale. Meanwhile, when Betty finds herself at the center of a deepening mystery, her decision to keep some parts of it from Jughead causes further friction between the two. Elsewhere, Veronica grows concerned for Archie when she realizes the lengths he would go to seek revenge against the person terrorizing Riverdale. Finally, tensions between the North and Southside finally come to a head and leads to an unexpected showdown.
Director: Allison Anders
Writer: Amanda Lasher
Guest stars: Robin Givens
5
Chapter Eighteen: When a Stranger Calls
45 min | Nov 08, 2017
When Alice publishes a fiery piece in the Riverdale Register blasting the Southside, Jughead is forced to take matters into his own hands to try and keep the peace. Betty turns to Archie for help after receiving an ultimatum that could potentially destroy some of her closest relationships. With their SoDale open house fast approaching, Hiram and Hermoine enlist the help of an unlikely ally to get some potential investors on board. Finally, Veronica welcomes her old friend Nick St. Clair to Riverdale, but his plans for a wild night with the gang quickly takes an unexpected turn.
Director: Ellen Pressman
Writer: Aaron Allen
Guest stars: Graham Phillips
6
Chapter Nineteen: Death Proof
45 min | Nov 15, 2017
After a charge led by Mayor McCoy threatens to further escalate tensions between the North and Southside, Jughead, along with Archie, tries to put a stop to a dangerous alliance being considered between the Serpents and a long-time rival. Betty turns to Veronica for help when she's thrust into the center of a burgeoning mystery surrounding The Sugarman. Finally, Cheryl confronts her mother Penelope after a traumatic run-in forces her to make a stark realization.
Director: Maggie Kiley
Writer: Arabella Anderson, Tessa Leigh Williams, Tessa Leigh Williams, Arabella Anderson
Guest stars: Robin Givens, Nathalie Boltt
7
Chapter Twenty: Tales from the Darkside
45 min | Nov 22, 2017
Riverdale remains on edge after a chilling letter from the Black Hood challenges the town's residents to remain sinless for 48 hours – or he'll strike again. Meanwhile, Jughead and Archie's friendship gets tested after Penny Peabody unexpectedly calls in a favor that Jughead owes her. Elsewhere, Betty and Veronica team up to investigate someone who Betty thinks could be the Black Hood killer. Finally, things take an unexpected turn for Josie when a secret admirer takes things one step too far.
Director: Dawn Wilkinson
Writer: James DeWille
Guest stars: Brit Morgan
8
Chapter Twenty-One: House of the Devil
45 min | Nov 29, 2017
When Jughead learns that FP is getting released from prison, he and Betty organize a welcome home party with the Serpents to ease him back into his former life. Meanwhile, Archie and Veronica reach a crossroad in their relationship, but are forced to push their issues aside after Jughead and Betty ask them to take over the Black Hood investigation.
Director: Kevin Sullivan
Writer: Yolonda Lawrence
9
Chapter Twenty-Two: Silent Night, Deadly Night
45 min | Dec 06, 2017
After snooping around for Christmas gifts, Veronica uncovers a major secret Hiram has been keeping from her. Fallout from Jughead's encounter with Penny Peabody creates tension between him and FP. Meanwhile, a defiant Cheryl takes matters into her own hands after Penelope tells her they cannot afford Christmas this year. Finally, Betty and Archie's vow to take down the Black Hood once and for all leads to a dangerous showdown.
Director: Rob Seidenglanz
Writer: Shepard Boucher
Guest stars: Brit Morgan, Nathalie Boltt
10
Chapter Twenty-Three: The Blackboard Jungle
45 min | Jan 17, 2018
Tensions mount when the sudden shut down of Southside High forces Jughead and his fellow serpents to transfer to Riverdale High. Veronica ensures Hiram and Hermoine that she's still on board with their plans for SoDale. Archie is conflicted when he is asked to gather some information on Hiram's suspicious business dealings. Betty sets out on a quest to find her long-lost brother, Chic.
Director: Tim Hunter
Writer: Britta Lundin, Brian E. Paterson
Guest stars: Hart Denton
11
Chapter Twenty-Four: The Wrestler
45 min | Jan 24, 2018
Amidst preparations for the town's annual Picken's Day festivities, Jughead interviews Toni's grandfather and learns some shocking details about Riverdale's history. In an attempt to get closer to Hiram, Archie tries out for the Riverdale wrestling team after learning of Hiram's love of the sport. Meanwhile, Betty unearths some dark secrets about her brother Chic, and Veronica and Josie clash as they prepare for their Picken's Day performance.
Director: Gregg Araki
Writer: Greg Murray, Devon Turner, Greg Murray, Devon Turner
Guest stars: Vanessa Morgan, Hart Denton
12
Chapter Twenty-Five: The Wicked and the Divine
45 min | Jan 31, 2018
As preparations for her confirmation ceremony get underway, Veronica becomes concerned that Archie, who's agreed to be Hiram's "intern," may be learning too much about her family's secret business dealings. Jughead and FP lead the charge after an incident at Pickens Park leads to increased tensions among the Serpents. Meanwhile, Chic helps Betty deal with her inner darkness, while Archie finds himself in over his head after a high-stakes poker game with Hiram's shady inner-circle goes awry.
Director: Rachel Talalay
Writer: Roberto Aguirre-Sacasa
Guest stars: Hart Denton
13
Chapter Twenty-Six: The Tell-Tale Heart
45 min | Feb 07, 2018
Betty turns to Jughead for help when the consequences of a hasty decision come back to haunt her. Veronica organizes a face to face meeting after tensions between Hiram, FP and Jughead spiral out of control. Elsewhere, Archie is forced to make a tough decision after Agent Adams takes things one step too far.
Director: Julie Plec
Writer: Michael Grassi
Guest stars: John Behlmann
14
Chapter Twenty-Seven: The Hills Have Eyes
45 min | Feb 14, 2018
When Hiram suggests that Veronica and Archie head up to their lake house for the weekend, Veronica decides to invite Betty and Jughead to join them. Determined to uncover Hiram's plans for Riverdale, Jughead uses his time at the lake house to press Veronica about what she may know. Back in Riverdale, Cheryl makes a surprising connection with an unlikely friend, while Josie lands in hot water after revealing a secret to Kevin.
Director: David Katzenberg
Writer: Ross Maxwell
15
Chapter Twenty-Eight: There Will Be Blood
45 min | Feb 21, 2018
After learning that his dad is considering running for mayor of Riverdale, Archie begins to grow concerned that the Lodges may have found their newest pawn in Fred. Meanwhile, Betty becomes increasingly suspicious of Chic's strange behavior and enlists Kevin's help to figure out what Chic is hiding. Finally, Cheryl and Penelope are surprised when they learn that Clifford left a secret will, and Jughead makes a major discovery in his quest to take down Hiram.
Director: Mark Piznarski
Writer: Aaron Allen
Guest stars: Nathalie Boltt, Hart Denton
16
Chapter Twenty-Nine: Primary Colors
45 min | Feb 28, 2018
In the aftermath of Hiram's newly announced plans for Riverdale, Jughead resorts to drastic measures to voice his opposition. After making her own big announcement, Hermoine's friend Andy Cohen comes to town to lend a hand. Meanwhile, Veronica goes against her parent's wishes to keep a low profile when she decides to run for student council president. Elsewhere, Mary arrives in Riverdale just as tensions between Fred and Archie reach a breaking point. Finally, following a series of mysterious events, Cheryl begins to fear that someone is out to get her.
Director: Sherwin Shilati
Writer: James DeWille
Guest stars: Andy Cohen, Molly Ringwald
17
Chapter Thirty: The Noose Tightens
45 min | Mar 07, 2018
Just as the town's mayoral race gets underway, Riverdale High's own student council election heats up. Archie steps up to help after learning that Hiram's mobster associates have come to Riverdale to stir up some trouble. Meanwhile, things take a dangerous turn for Alice, Betty and Chic when an unexpected guest shows up at the Cooper residence. Finally, Toni, Veronica and Josie team up to solve a strange mystery involving Cheryl.
Director: Alexis Ostrander
Writer: Britta Lundin, Brian E. Paterson
Guest stars: Hart Denton, Vanessa Morgan
18
Chapter Thirty-One: A Night to Remember
45 min | Apr 17, 2018
As Riverdale High begins rehearsals for its upcoming production of "Carrie the Musical", the arrival of an ominous letter forces director Kevin to make a difficult decision about the show. Jughead uses his cover as the musical's documentarian to solve the mystery behind the letter. Meanwhile, tensions between Betty and Veronica continue to escalate just as Alice announces she is joining the musical to spend more time with Betty. Elsewhere, Hiram enacts a devious plan to further drive a wedge between Fred and Archie, while Cheryl channels Carrie White during a showdown with her mother.
Director: Jason Stone
Writer: Arabella Anderson, Tessa Leigh Williams
Guest stars: Nathalie Boltt, Jordan Calloway, Martin Cummins, Hart Denton, Vanessa Morgan, Lochlyn Munro, Shannon Purser, Drew Tanner, Emilika Baranac, Cody Kearsley
19
Chapter Thirty-Two: Prisoners
45 min | Apr 03, 2018
After an incident at Riverdale High leaves the town on edge, Archie leads the charge to uncover the culprit. Meanwhile, the reveal of a devastating secret leads to a violent showdown between Chic, Jughead, Betty and Alice. Elsewhere, Veronica takes matters into her own hands when someone from her past comes to town seeking revenge. Finally, Hermoine and Cheryl conspire to take down Sheriff Keller.
Director: Jennifer Phang
Writer: Cristine Chambers
Guest stars: Hart Denton, Martin Cummins
20
Chapter Thirty-Three: Shadow of a Doubt
45 min | May 01, 2018
As the town's mayoral race between Fred and Hermoine heats up, Hiram sets his sights on a new ally – Sheriff Minetta. Betty turns to Cheryl for help when she has a suspicion about the Black Hood. Meanwhile, the reveal of a dark secret forces Archie and Jughead to try and ease tensions between the Bulldogs and Serpents. Finally, on the eve of the mayoral debate, a mysterious message leaves everyone on edge.
Director: Gregory Smith
Writer: Yolanda E. Lawrence
Guest stars: Henderson Wade
21
Chapter Thirty-Four: Judgment Night
45 min | May 08, 2018
When an incident at the Sheriff's station triggers an all-out war between the North and the Southside, Archie and Jughead find themselves in the fight of their lives. Meanwhile Veronica makes a devastating discovery about Hiram, just as someone from his past arrives in Riverdale looking for revenge. Finally, Betty comes face to face with the Black Hood.
Director: Cherie Nowlan
Writer: Shepard Boucher
22
Chapter Thirty-Five: Brave New World
45 min | May 15, 2018
With Fred trailing in the polls, Archie steps in to lend a hand in his dad's mayoral campaign. Veronica stays one step ahead after uncovering Hiram's latest scheme. Elsewhere, Cheryl finalizes her emancipation from her mother, while FP makes a surprising announcement to Jughead and the Serpents. Finally, Betty confronts her darkest demons.
Director: Steven A. Adelson
Writer: Roberto Aguirre-Sacasa
---
Editions
| Barcode | Format | Region | Released | Edition |
| --- | --- | --- | --- | --- |
| 888574695095 | | | Aug 07, 2018 | |
| 9398700037220 | | | | |
| 883929652341 | | | | |
| 9398700036742 | | | | |
| 883929608355 | | 1 | Aug 07, 2018 | |
| 5051892212526 | | | | |
---
---