Rocket Girls
Rocket Girls: Season 1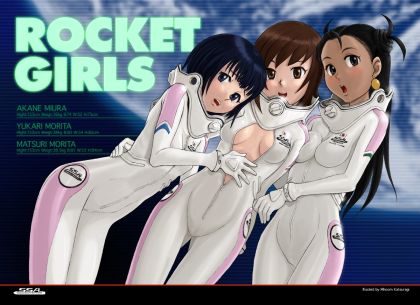 Bandai Entertainment (2007)
Animation, Anime, Science Fiction
USA | English | Color | 5h
A high school girl Morita Yukari visits Axia of the Solomon Islands in order to look for her father who became lost during his honeymoon trip. There, she meets a man named Nasuda of Solomon Space Agency, and she is hired to work part-time. That job is – an astronaut.
---
---
Director
Hiroshi Aoyama
Yutaka Sato
Hiroshi Tamada
Sumio Watanabe
Yoshinobu Tokumoto
Makoto Fuchigami
Minoru Yamaoka
Kentarô Mizuno
Atsushi Hori
Writers
Masashi Sogo, Rika Nakase, Makoto Nakamura, Kentarô Mizuno, Hosuke Noriji

,

Mucchiri Moony
Producers
Satoshi Matsui, Michio Suzuki, Mariko Kusuhara, Hiromi Chiba, Daisuke Katagiri

,

Mucchiri Moony, Kei Hayakawa, Toshiaki Ario, Enzô Kumase, Takeshi Ogawa, Toshihito Suzuki
Photographers
Yoshihiro Sekiya
---
1
Destiny
25 min | Feb 21, 2007
Yukari Morita secretly visits the Solomon Islands during summer vacation to search for her missing father, Hiroshi, who disappeared on her mother's honeymoon. Meanwhile, the Solomon Islands Space Association (SSA) latest rocket, the LS7 has another launch failure. If they don't succeed soon, their budget will get canceled. The SSA director, Nasuda Isao , meets Yukari after tracking down an escaped astronaut. He talks her into becoming an astronaut on the LS5, a more reliable rocket that does not have enough power to lift a full adult.
2
Assembly
25 min | Feb 28, 2007

Nasuda offers to help Yukari search for her father while she works for him as an astronaut, telling her "It's so simple even monkeys can do it!" Her acceptance is followed by embarrassing medical examinations, continuous training, live-fire weapons training, and the discovery she has to wear a 3 millimeters thick spacesuit. During her survival jungle training she finds a local tribe led by her long lost father. As a delay tactic, he promises to return to Japan with her if Yukari agrees to go on one space mission. Yukari also meets Matsuri, her half sister. The director quickly recruits her to be Yukari's backup astronaut.
3
Launch Pad
25 min | Mar 07, 2007
Tests of the new rocket fuel go consistently and catastrophically wrong, but the director hides the events from Yukari and Matsuri. With Matsuri now an astronaut trainee, Yukari attempts to gain weight and show a poor attitude in order to be kicked off the program.
4
Count Down
25 min | Mar 14, 2007
Yukari suddenly decides to take a hands-on attitude to her job, and gains entry to the capsule construction site. She learns of the conservative philosophy of space vehicle construction. When she then finds out about the radical and unsuccessful fuel tests, she begins a hunger strike.
5
Ignition
25 min | Mar 21, 2007
Yukari's unshakable mother arrives and sets the agenda for the upcoming launches. Yukari and Matsuri are introduced to the media ahead of the first launch, which is repeatedly delayed.
6
Control
25 min | Mar 27, 2007
During the first mission, Yukari's capsule suffers a serious problem. Matsuri is launched in another rocket to provide some extra oxygen as the ground crew tries to determine a solution.
7
Gravity
25 min | Apr 04, 2007
The astronauts land in Yukari's old high school. Akane, a top student at the school, provides vital help in preserving one of the space experiments taken on the first launch. As Yukari has fulfilled her promise of going into space once, she plans to go back to school just as Akane, impressed by Yukari's attitude and accomplishments, expresses a desire to go to space.
8
Separation
25 min | Apr 11, 2007
Akane starts astronaut training, but she fails a number of physical tests.
9
Kick Motor
25 min | Apr 18, 2007
Yukari is heartbroken at hearing that Akane left the training program, but the director and the rest of the SSA staff are actually hiding the truth from her.
10
Orbiter
25 min | Apr 25, 2007
The United States space shuttle Atlantis is preparing to launch the Pluto probe Orpheus, but they lose a vital part within the tight confines of the probe and are unable to extract it. The SSA begins planning a rescue mission using their new two person capsule named Mangosteen.
11
Turn Start
25 min | May 09, 2007
Akane is able to extract the part, and she and Yukari earn the respect of the Atlantis crew. But the Orpheus launches due to a testing fault, and ends up in a very deep orbit, unable to begin its mission. The crews of the Atlantis and Mangosteen create a desperate plan to rescue the probe.
12
Rocket Girls
25 min | May 16, 2007
Yukari and Akane reach the Orpheus, but the return trip may be too much for the Mangosteen.
---
Editions
| Barcode | Format | Region | Released | Edition |
| --- | --- | --- | --- | --- |
| 816726024127 | | 1 | Jan 15, 2019 | |
| 669198803710 | | 1 | Oct 21, 2008 | |
---
---