Romanzo Criminale
Romanzo criminale: La serie 1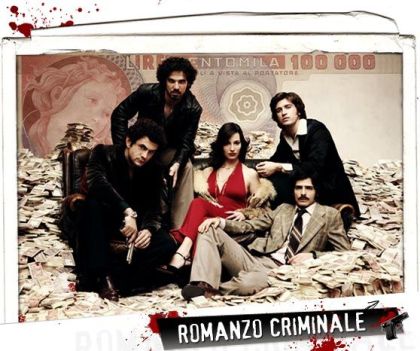 ---
Skyline Films (2008)
Drama, Adventure, Crime, Action, Foreign
Italy | Italian | Color | 12h
In 1960s Rome, four young delinquents, nicknamed Ice, Lebanese, Dandy and Grand steal a car. Crashing through a police road block, the driver, Grand is crushed by the steering column. Back at their hideout, a small disused caravan near a beach, they are discovered by the police. Ice, Lebanese and Dandy run away, but are captured. Grand, who is mortally wounded, dies in the caravan. Roll opening credits. Some years later, in the 1970s, Ice is released from prison, and met by Lebanese, who tells him he has come up with a plan to kidnap and hold to ransom Baron Rossellini, a wealthy aristocrat whom Lebanese's parents worked for. He has formed a gang with Dandy - they are Black, Bright Eye, Ricotta, Bufalo, Rat and Ciro & Aldo Buffoni. After negotiating the ransom of 3 billion lire, whilst trying to get the Baron to pose for a proof of life, Lebanese shoots him. Nonetheless, they fake the proof of life, and get the 3 billion lire. However, the local Police Commissioner Nicola Scialoja manages to record the serial numbers of the ransom money before the gang receive it, setting out to capture the gang. As the gang divide up the money, Lebanese proposes to split split 500 million lire between them, and use the remaining 2.5 billion to build a foothold in the criminal underworld of Rome, starting with drug dealing. However, the drugs racket is owned by the dealer Terrible, and so the gang wipe his gang out apart from Gemito, who Lebanese bribes to help them. After his home is raided and his body guards killed, Terrible wakes to find Ice, Lebanese and Dandy in his bedroom. Cornered, he reluctantly agrees to let give control of the racket to the gang.
The gang grows in influence and ambition. Rome falls under their rule, and the rule of Lebanese. Dandi meets and becomes enamoured with an upmarket prostitute, Patrizia, who, in order to be kept under the sway of the gang and in order to prevent Dandi becoming involved in brawls provoked by his jealousy, is bought over and given a brothel. Ice, meanwhile falls in love with his younger brother Gigio's tutor, Roberta. However, Lebanese begins to consider Ice's romance a weakness, a point reinforced when Ice asks to be dismissed from the gang. In response, Lebanese casts up the car theft from their childhood, where his leg was permanently damaged by the pursuing police. Ice and Roberta begin to learn English with the idea that they will elope there. Then Ice receives a phone call informing him that Lebanese is dead, stabbed by Gemito after a bitter game of poker.
Then begins Ice's quest for vengeance, aided by Dandi.
Yet Scialoja is on their trail and succeeds in capturing Ice, then the other members of the gang except Dandi.
---
---
1
Episode 1
50 min | Nov 10, 2008

Rome, dans les années 70. Le Libanais, un jeune criminel, et sa bande de petites frappes, composée de Dandy, Buffle et Fil de fer, font les 400 coups. Terrible, le parrain de la capitale, sent la menace que représentent ces rivaux en devenir. Pour son prochain coup, la bande du Libanais projette d'enlever le riche baron Rosellini afin de demander une rançon. Pour parvenir à ses fins, elle s'allie avec le gang du Froid, un autre caïd de Rome. La coalition est tendue mais le nouveau clan est ambitieux. L'inspecteur Nicola Scialoja, un policier jeune et malin, prend l'affaire en main...
Director: Stefano Sollima
Writer: Giancarlo De Cataldo
2
Episode 2
50 min | Nov 10, 2008

Commissioner Scialoja makes a breakthrough in the Remo Gemito murder investigation when an eyewitness comes forward, and while Gigio is languishing in prison he receives an unwanted visit from Gemito's friend
Director: Stefano Sollima
Writer: Giancarlo De Cataldo
3
Episode 3
50 min | Nov 17, 2008

The gang clash with Rome's biggest crime bosses when they try to take control of the city's drug trade, while Scialoja hunts for evidence to use against Lebanese and his friends.
Director: Stefano Sollima
Writer: Giancarlo De Cataldo
4
Episode 4
50 min | Nov 24, 2008

With the final area of Rome within their grasp, the gang plan to overthrow a stubborn old gangster who will stop at nothing to retain his position as head of the Centocello drug trade
Director: Stefano Solima
Writer: Giancarlo De Cataldo
5
Episode 5
50 min | Dec 01, 2008

As the gang's influence over Rome increases, they become entangled in the kidnapping of Aldo Moro, the president of the Italian Christian Democratic Party.
Director: Stefano Solima
Writer: Giancarlo De Cataldo
6
Episode 6
50 min | Dec 08, 2008

The gang are sent to jail and soon find themselves surrounded by enemies. Meanwhile, Commissioner Scialoja uncovers solid evidence linking them to the murder of the Baron
Director: Stefano Solima
Writer: Giancarlo De Cataldo
7
Episode 7
50 min | Dec 15, 2008

La Bande est libre. Au faîte de sa puissance, elle peut préparer sa vengeance contre Terrible. Mais l'empereur déchu tente une dernière attaque contre le Libanais. Lorsque Scialoja trouve enfin matière à coffrer Dandy, la victime retire sa plainte sous la pression du Libanais et du Froid. Le policier se trouve désemparé face aux criminels. Pour ne rien arranger, sa soeur, militante révolutionnaire, se retrouve dans la ligne de mire des forces de l'ordre. L'organisation du mariage de Fil de fer est l'occasion pour la Bande de montrer sa richesse, d'asseoir son autorité et d'imposer à tous le respect...
Director: Stefano Solima
Writer: Giancarlo De Cataldo
8
Episode 8
50 min | Dec 22, 2008

Lebanese and his gang expand their influence over Rome's criminal underworld by wiping out one of their biggest rivals. But the determined Inspector Scialoja is closing in
Director: Stefano Solima
Writer: Giancarlo De Cataldo
9
Episode 9
50 min | Jan 05, 2009

As Ice retreats to the countryside, Lebano blackmails a cop to help the gang with a lucrative drugs raid. Meanwhile, Inspector Scialoja starts to lose his grip on the case
Director: Stefano Solima
Writer: Giancarlo De Cataldo
10
Episode 10
50 min | Jan 12, 2009

Lebanese, Dandi and Fierolocchio are thrown in jail, leaving Ice to figure out who the rat is. As Bufalo self-destructs, rumours circulate that the gang is falling apart
Director: Stefano Solima
Writer: Giancarlo De Cataldo
11
Episode 11
50 min | Jan 19, 2009

The body count increases as the nephew of the gang's former associate Puma is brutally murdered in broad daylight. Meanwhile, gang leader Lebano grows ever more paranoid
Director: Stefano Solima
Writer: Giancarlo De Cataldo
12
Episode 12
50 min | Jan 19, 2009

Lebanese's drug use and paranoia spirals out of control as Ice turns his back on the criminal underworld and looks to make a fresh start abroad with his girlfriend Roberta
Director: Stefano Solima
Writer: Giancarlo De Cataldo
---
Editions
| Barcode | Format | Region | Released | Edition |
| --- | --- | --- | --- | --- |
| 8715664079942 | | | | |
| 8715664092668 | | | | |
| 738329213817 | | 1 | Mar 14, 2017 | |
| 8715664089798 | | | | |
| 5027035013053 | | | | |
| 9339065008487 | | | | |
| 8010312088377 | | | | |
| 5709165152221 | | | | |
---
---