Sailor Moon: Season 4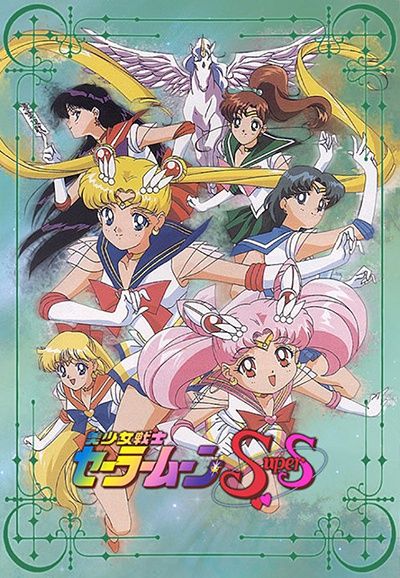 Toei Animation Company (1995)
Animation, Drama, Adventure, Anime, Fantasy, Action
Japan | Swedish | Color | 25min
Usagi Tsukino is an ordinary teenage girl who discovers that she is "Sailor Moon", the pretty soldier of love and justice. Guided by her guardian cat Luna, Usagi must find the moon princess and protect Earth from the Dark Kingdom. Joining Usagi are her new Sailor Senshi friends and the mysterious Tuxedo Mask.
---
---
1
Meeting of Fate! The Night where a Pegasus Flies
20 min | Mar 04, 1995

Chibiusa is in a trance, and is lead to follow a young male voice...suddenly winding up in a crystal forest. Chibiusa meets a white unicorn named Pegasus, and they talk. Usagi wakes her up, and they go out on the town, to hang with Mamoru, Motoki, and Motoki's sister Unazuki. Usagi tries to spook Chibiusa about eclipses, when suddenly a tent appears in the area after the eclipse has taken place. In the tent, we see Madame Zirconia ruling over her Amazon Trio, Hawk Eye, FIsh Eye and Tiger Eye, and they discuss the dream mirrors. Naturally, the target is Unazuki. On a bus, Tigers Eye attacks Unazuki, and the s hear her shrills and run to her aid. Karakuriko is the lemure used, so Sailor Moon and Sailor Chibimoon fight her off, and save Unazuki's dreams.
Guest stars: Hiroyuki Satô, Miyako Endo, Hinako Kanemaou
2
Super Transformations Again! Pegasus' Power
20 min | Mar 11, 1995

Thanks to the mysterious pegasus, Usagi gains the power of Super Sailor Moon.
Guest stars: Miyako Endo, Manami Nakayama
3
Protect a Mother's Dream! The New Attack for Double Moon
20 min | Mar 18, 1995

Usagi has a fight with Chibiusa, Shingo and Ikuko over lemon pie (very Usagi like) and despite Ami and Rei's attempts to calm her, she stays angry. Hawkseye takes his turn, and goes after his new target, Ikuko! Ikuko is with Chibiusa when she is attacked, so Chibiusa fetches Usagi's help. They transform, and try to fight Hawkseye, and his lemure, off but no dice. Pegasus grants Sailor Moon a new attack ""Moon Gorgeous Meditation"", which works like a charm...and Ikuko's dream is saved.
Guest stars: Taiki Matsuno
4
Capture the Pegasus! The Amazon's Trap
20 min | Mar 25, 1995

Usagi and the girls try to help Naru and Umino, when Naru becomes the target of Tigers Eye. She gets trapped into Tigers Eye's cage, but Pegasus helps save her, and her dream is saved. Sailor Moon and the soliders use their attacks, and are able to defeat the lemures.
5
A Couple Made for Each Other! Usagi and Mamoru's Love
20 min | Apr 14, 1995

6
Artemis' Affair!? A Mysterious Kitten Appears!
20 min | Apr 28, 1995

When a cat from the future appears to the past, Luna thinks Artemis cheated on her and had a kitten.
Guest stars: Kumiko Nishikawa, Kumiko Watanabe, Wakana Yamazaki
7
Makoto's Friendhip! A Girl Who Adores a Pegasus
20 min | May 12, 1995

8
Hearts that Communicate! Chibi-Usa and Pegasus
20 min | May 19, 1995

Guest stars: Taiki Matsuno
9
Protect Mammoru! Jealousy of Usagi the Ninja
20 min | May 26, 1995

10
Forest of Illusion! Invitation of a Beautiful Fairy
20 min | Jun 02, 1995

11
Drive to Heaven! Love Riding on the Car of Dreams
20 min | Jun 09, 1995

12
Try for the Best of Japan! The Worries of a Beautiful Girl Swordman
20 min | Jun 16, 1995

A young ignored warrior girl attempts to pursue her dream as the strongest warrior in Japan, that is until Tigers Eye attempts to destroy her dream mirror.
Guest stars: Shiho Niiyama
13
Love Those Minis! The Fashionable Soldiers
20 min | Jun 30, 1995
14
Storm of Love! Minako's Grand Two Timing Plan
20 min | Jul 07, 1995

Trouble stirs up when both Tigers Eye and Hawks Eye go after the same dream mirror, Minako's.
15
Mansion of Secrets! The Men of Love to You
20 min | Jul 14, 1995

16
Time to Believe the Pegasus! The Super Transformations of the Four Soldiers
20 min | Jul 21, 1995

17
Sparking Summer Days! Ami, the Girl in the Ocean Breeze
20 min | Aug 11, 1995

18
Ami for the Prima! Usagi's Ballet
20 min | Aug 18, 1995

It's a battle for best ballerina! Who can win? The stunning, beautiful but natural clumsy Usagi or the villionous Fish Eye?
19
Holiday in Juban City! A Carefree Princess
20 min | Aug 25, 1995

20
The Fated Partner? Makoto's Innocence
20 min | Sep 01, 1995

21
Shadows of the Great Evil! The Trio is Concerned
20 min | Sep 22, 1995

Zirconia gives Fish Eye the photo of a man to attack, and Fish Eye goes after the target. The target is Mamoru.
22
Mirror of Dreams! Amazon's Final Stage
20 min | Oct 20, 1995

Fish Eye is devasted to learn that he will not get to be a human with beautiful dreams anymore after the next full moon. He poses as a female, and wants to be with Mamoru before he gets transported back to a fish. Mamoru is to loyal to Usagi to accept. Fish Eye still wins a kiss. Fish Eye is depressed about not getting his love, and winds up going to Usagi's house to seek shelter from the rain. He is shocked to find out, Usagi is Super Sailor Moon and best of all, Pegasus is in Chibiusa's care. Zirconia is ready to replace the Amazon Trio with the Amazon Quartet, and they send out a demon to berid of Tigers Eye, Hawks Eye and Fish Eye. The remaining 2/3's of the trio come down to Earth, and there they attack Usagi for her mirror. Fish Eye explains his wish of having dreams, and everyone agrees they want to be full human. The Quartet's demon attacks Fish Eye, but Hawks Eye saves him by stepping in the way, and is killed. With the power of Pegasus, the demon is killed but the full moon s
23
Amazoness! The Nightmare From Behind the Mirror
20 min | Oct 28, 1995

Guest stars: Musume Gara Gara
24
The Power Explodes! Ami's Song of the Heart
20 min | Nov 04, 1995

25
Burning Passion! Mars' Furious Deadly Attack
20 min | Nov 11, 1995

Usagi sees Rei on a cover of a popular magazine and sees that at the shrine she is overly popular. A little girl decides to dress up like Rei and help her. This girl idolizes Rei! Rei tells the other girls that she is annoyed by her, and she is sad and runs away. One of the Amazon Quartet girls takes her dream. Moon and team defeat the youma.
26
A Dentist of Terror? Pallapalla's House
20 min | Nov 18, 1995

Para-para is sent on a job to open a dentist job in order to steal dreams. Usagi and Chibiusa, along with many people, have cavities and go to that dentist. Mamo notices that many people come into the dentist place, but no one comes out. Usagi and Chibiusa are attacked and Mamo as Tuxedo Kamen goes to save them. Para-para is sad to know it has all failed. Ikuko sends the two girls to the Juuban Dentist because theit cavities are real!
27
Confrontation in Dreams! Minako and Makoto's Broken Friendhip
20 min | Nov 25, 1995

28
Over the Fear! Jump to Freedom
20 min | Dec 02, 1995

29
Don't Lose Your Dreams! The Truth-Reflecting Mirror
20 min | Dec 09, 1995

30
Pegasus is Gone!? Swinging Friendships
20 min | Dec 16, 1995

31
The Secret of Pegasus! The Handsome Guardian of Dream World
20 min | Dec 23, 1995

32
Chibi-Usa's Little Rhapsody of Love
20 min | Jan 13, 1996
33
Dream to be an Adult! The Amazoness' Bewilderment
20 min | Jan 20, 1996

34
Coming Terror! The Dark Queen's Evil Approach
20 min | Jan 27, 1996

35
The Center of the Darkness: Dead Moon Circus
20 min | Feb 03, 1995

36
Labyrinth of Mirrors! Chibi-Moon Captured
20 min | Feb 10, 1996
Guest stars: Taiki Matsuno
37
The Golden Crystal Appears! Nehenia's Spell
20 min | Feb 17, 1995
38
Time for the Crystal to Shine! Beautiful Power of Dreams
20 min | Feb 24, 1996

39
Dreams Forever! Light Throughout the Sky
20 min | Mar 02, 1996

---
Editions
| Barcode | Format | Region | Released | Edition |
| --- | --- | --- | --- | --- |
| 782009244134 | | 1 | Apr 10, 2018 | |
| 782009244141 | | 1 | Apr 10, 2018 | |
| 782009244165 | | | Nov 13, 2018 | |
| 782009244127 | | 1 | Apr 10, 2018 | |
---
---