Saving Hope: Season 4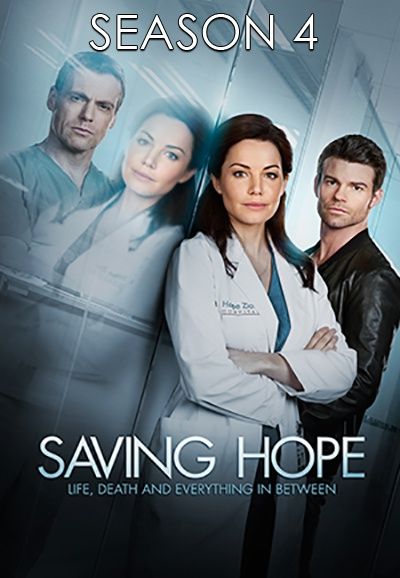 ---
---
Plot
When charismatic Chief of Surgery Charlie Harris at Toronto's Hope-Zion Hospital ends up in a coma, he leaves the hospital in chaos - and his fiancée and fellow surgeon, Alex Reid, in a state of shock. Along with newly-arrived star surgeon, Joel Goran, Alex races to save Harris' life. As the action unfolds, comatose Dr. Harris explores the hospital halls in "spirit" form, not sure if he's a ghost or a figment of his own imagination. Reid, along with her fellow doctors, press on to save his life and those of their other patients, as they deal with the complicated and courageous decisions that are made in their daily struggle to keep hope alive.
Episodes
Episode 1: Sympathy for the Devil
60 min Sep 24, 2015
On her first day back from maternity leave, Dr. Alex Reid has her hands full when a new mother comes in following a car accident.
Episode 2: Beasts of Burden
60 min Oct 01, 2015
Dr. Alex Reid puts her reputation on the line when she questions a senior surgeon's methods.
Episode 3: Start Me Up
60 min Oct 08, 2015
Dr. Alex Reid has to juggle her duties as a new mother and a surgeon when she takes a Junior Resident under her wing.
Episode 4: Miss You
60 min Oct 15, 2015
The man responsible for Alex's brother's drug problem is admitted to the hospital.
Episode 5: Heart of Stone
60 min Oct 22, 2015
When a young motocross rider is diagnosed with Leukaemia, Alex investigates his family secrets.
Episode 6: Rock and a Hard Place
60 min Oct 29, 2015
Alex must decide whether or not to use the info Charlie got from a patient's spirit.
Episode 7: Can't You Hear Me Knocking?
60 min Nov 05, 2015
Alex tries to convince Shahir to use an aggressive treatment on a brain tumor patient. Dana gets disheartening news, while she's trying to help the burn victim. Charlie meets someone who possibly helps spirits cross over too.
Episode 8: Waiting on a Friend
60 min Nov 12, 2015
The death of a trapeze artist sets off a transplant chain of donors and recipients, leading Alex and Shahir to juggle complications and patients to keep the chain moving.
Episode 9: Shattered (1)
60 min Nov 19, 2015
A bomb explodes during a charity run and the majority of victims are brought to Hope Zion Hospital, including some staff.
Episode 10: Emotional Rescue (2)
60 min Nov 19, 2015
Alex is distraught that she unknowingly helped the bomber at the expense of a friend.
Episode 11: Shine a Light
60 min Dec 10, 2015
When an ice storm strikes the city, Alex and Dawn struggle to keep a good Samaritan alive long enough for her family to say goodbye.
Episode 12: All Down the Line
60 min Jan 07, 2016
When a chef with oral cancer refuses care, Alex must confront her own feelings about the way Dana is handling her treatment.
Episode 13: Goodbye Girl
60 min Jan 14, 2016
Kristine shows up at the hospital with baby Luke's blanket.
Episode 14: You Can't Always Get What You Want
60 min Jan 21, 2016
Alex and Jeremy try to solve a child's mystery illness; Charlie treats an actor; Maggie reaps the rewards of compassionate medicine.
Episode 15: Not Fade Away
60 min Jan 28, 2016
Charlie decides to go a day without using his special abilities; Alex organizes a trip to Dana's cabin; Zach takes control of a life and death situation involving Dawn's college roommate.
Episode 16: Torn and Frayed
60 min Feb 04, 2016
Alex and Cassie team up to free a young woman from an abusive partner, while Dawn deals with a series of life-threatening complications due to a patient's malfunctioning pacemaker.
Episode 17: Anybody Seen My Baby (1)
60 min Feb 14, 2016
First part of a 2-hour season finale. Charlie's condition proves more dangerous than initially thought, as Alex and Shahir struggle to save his life.
Episode 18: Let Me Go (2)
60 min Feb 14, 2016
Second half of a 2-hour season finale. Charlie's condition proves more dangerous than initially thought, as Alex and Shahir struggle to save his life.
---
Editions
| Barcode | Format | Region | Release | Edition |
| --- | --- | --- | --- | --- |
| 741952833895 | DVD | 1 | 2017-03-07 | |
---