Sheena: Queen Of The Jungle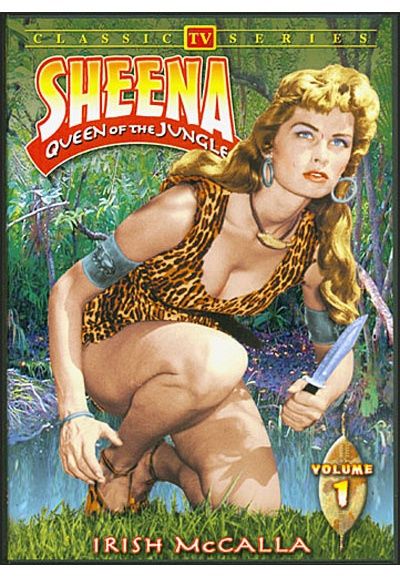 ---
---
Plot
A figure flashes through the trees, swinging on a vine. One glimpse of the long blonde mane and golden skin and you know it's Sheena Queen of the Jungle! An orphan raised by wild animals, she commands them and is respected by the local tribesmen. Beautiful Irish McCalla is the 6 foot 1 inch legendary Sheena fighting evil in the savage continent of Africa. Christian Drake plays Bob, an African white trader and safari guide who is Sheena's friend.
Episodes
Episode 1: Trade of the Killer
25 min Nov 14, 1955
Sheena outwits a scheming thug who tries to force the sale of the jungle trading post by turning the native customers against its kindly old owner, who he eventually murders.
Guest starring: Charles Horvath (The shopkeeper), Virgil Richardson (The thug), Carlos Musquiz (Unknown)
Episode 2: The Mark of the Giants
25 min Nov 11, 1955
Sheena learns that a rogue hunter has been hired by a man and his prim sister to lead them on on a big game hunting party, despite the fact that the man is going blind from the blow of a buffalo horn.
Guest starring: Charles Horvath , Romney Brent
Episode 3: Land of the Rogue
25 min
Bull Kendall, who has survived an attack by crocodiles, rescues Rafik from his Ninomo guards and together they decide to continue their quest for the valuable musk treasure of the Ninomos. Helen, Kendall's wife, now works at Mr Evans' trading post, and they have begun to become fond of each other. Commissioner Farnham alerts Bob, Evans and Sheena that there have been reports of a giant white man hiding out in the jungle and tells them to be on their guard (right). Sheena leaves immediately to investigate. Rafik suggests a plan to uncover the Ninomos' hidden treasure. An old prophecy claims the village will be abandoned when the animals go mad, so Rafik and Kendall begin shooting and wounding animals randomly to create a frenzied stampede. When Lagi, the Ninomo chief, digs up the pots of musk Rafik and Kendall drive the warriors away with gunfire and steal the treasure. They soon begin to argue about their share of the treasure and Sheena adds to their suspicion of each other by getting Chim to switch the pots while they are sleeping. While they are arguing Bob and Farnham arrive and take them into custody (below). Once again Helen is free of Bull.
Guest starring: Buddy Baer (Bull Kendall), Virgil Richardson(Rafik), Roxanne Reed (Helen Kendall), Howard Bryant (Mr Evans), Jerry Molina (Commissioner Farnham)
Episode 4: Crash in the Jungle
25 min
When the plane of Andy Howard, the local bush pilot, crashes in the jungle Sheena rescues him and takes him to her hut. Bob, who has been waiting for Andy in Mombassa, makes friends with Clare Graham, a flirtatious film maker who is also waiting for Andy because he was delivering her film containing rare and valuable footage of the Naivashi tribe. Woods, the local insurance broker, asks Bob to investigate the crash site for him and to write a report. Andy is certain the plane was sabotaged and when Bob conveys this to Clare she laughs it off (right). The film has been completely destroyed but Bob is unable to find any bomb fragments at the crash site. Duval and Frenchie, Clare's associates, find and remove the incriminating evidence because Duval is the main beneficiary of the $100,000 insurance money. When Bob and Andy explain this situation to Sheena she sets out to prove Clare could not have filmed the Naivashi's because they are so secretive. On returning to Mombassa Sheena tricks Clare into performing a Naivashi dance and then reveals that dancing is taboo to the tribe. Clare, who has become fond of Bob, confesses and Duval and Frenchie try to escape in a gun fight, but Sheena captures them and brings the schemers to justice (below).
Guest starring: Rebeca Iturbide (Clare Graham), Charles Brooks (Andy), Henry Inigo (Doctor Nelson), John Langley (Duval), Manuel Vegas (Frenchie)
Episode 5: Secret of the Temple
25 min
Sheena and Bob must rush to help save the life of Dr Mitchell Heller (below left) whose life is in danger from Eddie Lewis, a treacherous safari guide (below centre). Sylvia, Heller's daughter (right), tells them that her father is attempting to reach the Temple of the Elders because he has become obsessed with finding a drug to prolong life. She also says Lewis stands to collect a large amount of money, even if Heller dies during the expedition. Sheena protects Heller from Lewis but Lewis forces her to lead them to the temple by threatening to shoot Chim. Sheena leaves a trail for Bob to follow but when they reach the temple Sheena, Lewis and Heller are all taken captive. The 300-year-old Ancient One condemns them to imbibe the youth potion which is a deadly poison to anyone who has not taken it daily since childhood. Bob arrives and points out Heller is a good man with an unhealthy obsession and that Lewis forced Sheena to guide them to the temple. Lewis grabs Bob's rifle, steals the Ancient One's potion but he is killed by a guard's spear. Heller realises that the value of life lies in it's quality and is reunited with Sylvia.
Guest starring: Lee Weaver (Ngatsu), Claude Brooks (Eddie Lewis), Henry Lucero (The Ancient One), Betty Sherdan (Sylvia Heller), Carl Galan (Dr. Mitchell Heller)
Episode 6: Touch of Death
25 min Oct 05, 1955
Goma, the Winuza witchdoctor, overhears Bob blame himself for having "the touch of death" after two ivory poachers that he and Sheena were tracking are killed by a lion. Goma conveys Bob's statement to Krenshaw, a shady character who is orchestrating the ivory poaching (right), and when Sheena and Bob arrive at the village Goma accuses Bob of being responsible for the sleeping sickness that has stricken the son of Tago the chief, Zabim. The entire village believe that Bob has the Touch of Death and Sheena and Bob must evacuate quickly. Bob is captured in a trap set for him by Goma and Krenshaw and Sheena discovers that Chim has fallen asleep after eating some of the pills from Krenshaw's bag. Sheena returns to the village as Bob is about to be sacrificed and convinces Tago that Krenshaw has been drugging Zabim (below). A struggle ensues and Goma is accidently shot by Krenshaw and as he dies he blames Krenshaw for Zabim's condition. Krenshaw is captured as he escapes, Sheena manages to revive Zabim with jungle medicine, and Tago promises to halt the ivory poaching.
Guest starring: Nestor Paiva (
---
Editions
| Barcode | Format | Region | Release | Edition |
| --- | --- | --- | --- | --- |
| 683904546470 | DVD | 1 | 2017-08-15 | |
| 089218543592 | DVD | 1 | 2007-09-25 | |
| 089218545299 | DVD | 1 | 2007-10-30 | |
| 096009361297 | DVD | 1 | 2006-01-03 | |
| 089218543691 | DVD | 1 | 2007-09-25 | |
| 096009437541 | DVD | 1 | 2016-12-06 | |
| 676829021597 | DVD | | | |
| 676829195595 | DVD | | | |
| 874757051598 | DVD | | 2015-04-28 | |
---