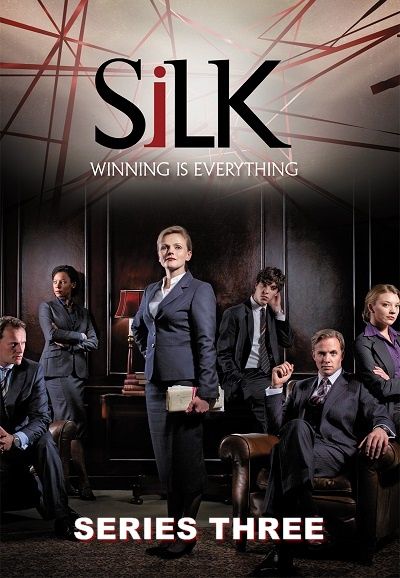 ---
BBC (2011)
Drama
USA | English | Color | 6h
Maxine Peake is Martha Costello, in her thirties, single, passionate and a defence barrister applying for silk. Innocent until proven guilty are four words she lives by. But how does this fundamental principle stand up to examination by clients who are sometimes good, sometimes bad and sometimes evil?
Martha is faced with challenging cases and surprising clients. Her beliefs and prejudices, her conscience and her faith in the criminal justice system are tested to the limit over the course of the series.
Joining Martha is Clive Reader, played by Rupert Penry-Jones. He's funny, gifted and dangerous. The same age as Martha, they're called to the bar together. Both are applying for silk – how they perform in court is vital to this process and Clive knows how to play the game.
Neil Stuke plays Billy, the senior clerk at Martha's chambers. He is dedicated to Martha, even if secretly he believes that she hasn't got a chance of being made a QC.
Nick Slade, played by Tom Hughes is Martha's pupil. Niamh Cranitch (Natalie Dormer) is assigned to Clive. Both are thrown in at the deep end and, as "baby barristers", must sink or swim. Only one pupil will be taken on as a member of chambers at the end of the series. Who will it be and why? And how will Martha and Clive influence the outcome?
---
---
Director
Peter Hoar
Writer
Peter Moffat
Producer
Matt Strevens
Photography
Suzie Lavelle
Musician
Dru Masters
---
1
The Goodbye Kid
60 min | Feb 24, 2014

Feelings run high when a murder trial close to home sends shockwaves through Shoe Lane Chambers. Clive has finally become a silk, but his celebration party is dramatically cut short when news of the arrest of the son of the head of chambers for killing a police officer reaches the celebrations. Martha must step in to defend the young man despite the overwhelming evidence. Can Clive help Martha ask the tough questions needed, and can Martha uncover the truth about what happened in time? Meanwhile, Billy is struggling to cope with his secret and a new practice manager sends ripples through the clerks room.
2
Big Fish, Small Pond
60 min | Mar 03, 2014

Delving into the murky world of professional football, Martha must put her feelings aside to defend a footballer accused of a pitch assault on another player. With the incident witnessed by tens of thousands of football fans, it seems Martha is facing an impossible task. With her client reluctant to co-operate and help his defence, Martha must gain his trust to discover a secret he is determined to keep hidden from the football world. Up against Clive in court, can Martha convince her client to help himself? Meanwhile, a resignation shocks chambers and Billy begins to take steps to ensure the future of Shoe Lane - with or without him.
3
Heavy Metal
60 min | Mar 10, 2014

An apparent assisted suicide affects all involved as Martha and Clive go head-to-head.
4
Mother Country
60 min | Mar 17, 2014
Martha is unsure who to trust when she defends a suspected terrorist.
5
The Real McCoy (Part 1)
60 min | Mar 24, 2014
Martha has to put her personal feelings aside when she is asked to defend a close friend from her past. Is she strong enough to ask him the tough questions in order to do her job properly? The evidence against him in the case of a gangland execution is overwhelming. Fingerprints and CCTV put Martha's friend firmly at the scene of the crime, but is it all too convenient? With Clive at her side and CW prosecuting, the stakes are high for everyone. How close were Martha and Sean when they were young, and what are their feelings for each other now? Billy is shocked when a corrupt solicitor turned supergrass from Shoe Lane's past appears to ask for redemption. Meanwhile, battle lines are drawn in chambers as they gear up to an internal tribunal that polarises opinion and Martha begs Billy to tell the truth.
6
The Real McCoy (Part 2)
60 min | Mar 30, 2014
Martha is becoming increasingly isolated as she fights to defend ex-boyfriend Sean against overwhelming evidence. Determined to ignore an angry Clive, who attempts to force her to confront the holes in her client's story, Martha begins to wonder if she's cut out for this world. As she begins to uncover further lies Sean has told, Martha is shocked when she has to rely on an old enemy if she is to have any hope of clearing his name. As chambers begin to worry for her emotional stability, Martha's campaign to lead Shoe Lane into a new future begins to suffer. The shocking truth about the case is finally revealed, and after the jury return their verdict a shattered Martha is forced to confront her actions and their effect on the case. Can she move forward from this? Billy's harassment tribunal comes to a head and, when Shoe Lane votes on the silk to guide them into an uncertain future, Martha must decide what really matters.
---
Editions
| Barcode | Format | Region | Released | Edition |
| --- | --- | --- | --- | --- |
| 883929520138 | | 1 | Mar 14, 2017 | |
| 5051561039201 | | 2 | | |
| 9397810263895 | | | | |
---
---