Sister Princess
Sister Princess: The Complete Collection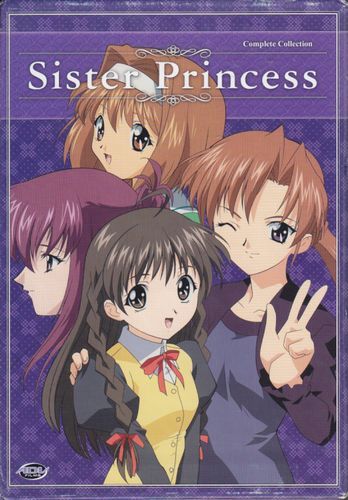 A.D. Vision (2001)
Animation, Comedy, Drama, Anime
USA | English | Color | 10h 50min
Wataru Minakami is a top student who failed his high school entrence exam because of a computer glitch . He later discovered that he was accepted to Stargazer Hill Academy, which is located at a mysterious place called Promised Island. At the request of his father, Wataru is whisked away to the island, and before he can settle in, a dozen of cute and charming girls start to flock him and claim to be his younger sisters. As Wataru gets closer to his newfound siblings, a deeper mystery as to why they were sent to the island comes to play.
---
---
Director
Yoshitaka Fujimoto
Hidefumi Kimura
Kiyotaka Ohata
Tokio Yamauchi
Matsuo Asami
Kenichiro Watanabe
Hiroshi Kimura
Yayoi Minazuki
Kazuo Nogami
Kuniji Inada
Ken'ichirô Watanabe
Hiroki Hasuo
Tsubame Shimotaya
Hiromi Yokoyama
Shôjo Yabushita
Writer
Masaharu Amiya, Akiko Horii, Koichi Taki, Shoichi Sato, Sakurako Kimino

,

Naoto Tenhiro, Shôji Ayano

Producer
Tatsuo Sato, Toshimichi Ohtsuki, Tomoko Kawasaki, Kazuya Watanabe, Atsushi Moriyama

,

Go Nakanishi, Kiyoshi Takano, Mitsuo Yagi

Photography
Jun Taniuchi
Musician
Takayuki Hattori
---
1
My Graduation
25 min | Apr 03, 2001

After failing to pass a high school entrance exam, Wataru is unexpectedly whisked to Promised Island, where he meets four girls who turn out to be his sisters.
2
I Love Big Brother So Much!
25 min | Apr 10, 2001

A chain of initially unexplained events leads Wataru to meet his eight other sisters.
3
Together With Dear Brother
25 min | Apr 17, 2001

Wataru and his sisters go on their first day of school, but Wataru is feeling the pressure to watch over them.
4
Where's Mr. Teddy Bear?
25 min | Apr 24, 2001

Wataru helps Hinako search for her teddy bear, even if that teddy bear only appears in her dreams.
5
E-mailing with Bro
25 min | May 01, 2001

The sisters are beginning to be suspicious about the numerous e-mail messages Wataru receives. So they each send their own.
6
Big Brother is a Prince
25 min | May 08, 2001

Wataru plays a prince in a play. His twelve sister get into the act, too.
7
Season of Love
25 min | May 15, 2001

Simple fun with the laundry turned into play as the sisters dress themselves up as brides.
8
One Day Two of Us
25 min | May 22, 2001

Wataru spends a day with Marie. Marie, however, becomes sick because of a downpour.
9
Summer Has Come
25 min | May 29, 2001

Wataru spends his initial summer days with his sisters.
10
Do Your Best, Big Bro!
25 min | Jun 05, 2001

Mamoru teaches her Big Bro Wataru how to swim.
11
Secret Tour With Bro
25 min | Jun 12, 2001

Wataru and his sisters set out in an underwater tour in a submarine single-handedly constructed by Rinrin.
12
Vacation is Love
25 min | Jun 19, 2001

After a mishap involving Rinrin's submarine, Wataru and his sisters are marooned in an island with a very stylish beach house.
13
Summer With Big Brother
25 min | Jun 26, 2001

Wataru reminisces his time with his sisters so far.
14
True Feelings
25 min | Jul 03, 2001

Wataru proposes to the sisters that whoever has a request, he will grant them. Karen's request to have a lightbulb that illuminates a painting changed ends up with the two spending their time together.
15
Aria's Ribbon
25 min | Jul 10, 2001

The wind blows away Aria's ribbon (which her Mon Frère Wataru gave her). She is then accompanied by a strange old man to help her find it.
16
Kaho Will Do Her Best!
25 min | Jul 17, 2001

Kaho continues to fumble on her cheerleading routine. She however tries her best to cheer for her Brother Wataru in the autumn sports festival.
17
It's Moxibustion...Blush
25 min | Jul 24, 2001
Haruka, being shy around her Beloved Brother Wataru, tries to ask him to take her out to the ball.
18
Eternal... Vow...
25 min | Jul 31, 2001

While exploring Chikage's mind/world, Wataru doesn't notice that he is having an out-of-body experience.
19
Boxed Lunch of Love
25 min | Aug 07, 2001

Shirayuki prepares some bento as a surprise for her Elder Brother Wataru.
20
Christmas Love Destiny
25 min | Aug 14, 2001

Wataru celebrates Christmas with his sisters.
21
Me Two to Bro
25 min | Aug 21, 2001

Rinrin introduces her latest invention to Bro Wataru—a gynoid clone of herself.
22
Check it Out, Brother Dearest!
25 min | Aug 28, 2001

Wataru helps Yotsuba catch the thief known only as Clover.
23
First Guest
25 min | Sep 04, 2001

Wataru's friend Akio arrives at the island for a visit, but his arrival makes Mami worried instead.
24
Premonition of Goodbye
25 min | Sep 11, 2001

Akio tells Wataru that he had actually passed the exams. Will Wataru leave Promised Island because of this?
25
I Want to See...Brother
25 min | Sep 18, 2001

The sisters' house feels empty as they miss their brother and anticipate his return with all their hearts. Meanwhile, Wataru is back in Tokyo with Akio and is ready to forget his memories in Promised Island.
26
Promised Island
25 min | Sep 25, 2001

Against Akio's expectations, Wataru returns to Promised Island for good. The sisters become so happy for his return that they cherish every moment with him.
---
Editions
| Barcode | Format | Region | Released | Edition |
| --- | --- | --- | --- | --- |
| 875707290098 | | 1 | Jun 26, 2018 | |
| 702727145926 | | 1 | Jun 20, 2006 | |
| 702727199127 | | 1 | 2001 | Complete Series |
| 702727194825 | | 1 | Jul 29, 2008 | |
---
---