Stripperella
Stripperella: Season 1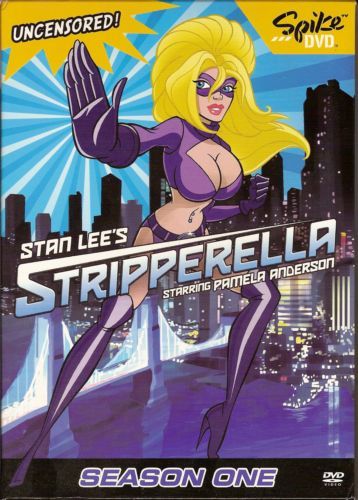 ---
Paramount Pictures (2003)
Animation, Comedy, Adventure, Action
USA | English | Color | 5h 8min
From Stan Lee, the man who brought us such popular superheroes as Spider-Man and The X-Men, comes this new kind of superhero in the form of the animated series "Stripperella". Pamela Anderson provides the voice of Erotica Jones who is stripper by night and superhero Stripperella by even later at night.

A show with something for everyone, Stan Lee promises that despite it's adult setting 'Stripperella' is "really a family show...but for a highly sophisticated family."

The stories are a little bizarre but considering the talent involved there is no doubt that it's entertaining. Also working behind the scenes is director Kevin Altieri, known for his work on the highly acclaimed 'Batman: The Animated Series', and writers Kevin Kopelow & Heath Seifert (a huge jump from being writers for Nickelodeon's 'All That'), the two were brought on to give the show its comedic twist. With a name 'like Stripperella'you can't expect the show to take itself too seriously. Like a cross between a Marvel comic and The Simpsons expect a clever mix of action and comedy.


Pam herself works with the guys behind the scenes as a consultant and as a model for her character. As consultant she has the chance to add her input on the scripts as well as the style of the show.


The Style:
A gritty, rock-video look, more jokes than you'll have time to notice, and all the action one stripper can handle. Not to mention voice cameos by celebs such as Kid Rock and There's Something About Mary directors The Farrelly Brothers. Kid Rock also does the theme song.


Who is Stripperella?:
Pamela is the voice of Erotica Jones, a dancer at the local strip club, who always has time for her friends such as Persephone, a fellow stripper who is dating conjoined twins. But when duty calls Erotica becomes Stripperella an agent for T.H.U.G.G. and a superhero who fends off nasty villains such as Dr. Cesarean, a plastic surgeon whose evil plans involve giving unexpected women explosive breast implants made of nitroglycerin; Cheapo, a super-villain on a budget who makes his henchman share a gun; And Pushy Galore, a former genetic physicist who has learned to breed animals with designer logos on their skin and makes designer knockoffs out of her ex-husbands.


What makes Stripperella a superhero?:
Stripperella has the ability to float to safety from tall distances courtesy of her enhanced hair. Watch out for her patented move Scissor-ella which allows her to knock-out bad guys with her thighs (think Famke Jannsen as Xenia Onatopp in the James Bond film Goldeneye). If she allows you to touch her breasts then look out for trick because a gadget in the chest area of her outfit works as a lie detector and tells Stripperella if someone is lying when they touch it. But the most outragous gadget at her disposal has to be the digital scanner placed under her tongue which she can use to upload pictures to a computer.


Stripperella was originally slated to premiere in February on The New TNN but was pushed back to Summer 2003

Visit The Art of Ed Lee and check out some concept drawings for Stripperella.

And if you want to see where Stripperella will hang out then check out the production designs for the settings over at Big Red Hair. Here you'll see the design for T.H.U.G.G. headquarters where Stripperella works.
---
---
| | |
| --- | --- |
| Writer | Ernesto Lopez, Kevin Kopelow, Heath Seifert |
| Producer | Ernesto Lopez, Kevin Altieri, Gerry Anderson, Kevin Kopelow, Stan Lee |
---
1
Crime Doesn't Pay...Seriously, It Really Doesn't
30 min | Jun 25, 2003

In the premiere episode Stripperella must face-off against her first threat, Dr. Cesarean, a plastic surgeon who's injecting beautiful models with deadly implants that make them gain weight and become obese.
Director: Kevin Altieri
Writer: Kevin Kopelow, Heath Seifert
Guest stars: Mark Hamill, Kid Rock, Dee Bradley Baker, Jon Cryer, Sirena Irwin, Maurice LaMarche, Tom Kenny, Jill Talley
2
Everybody Loves Pushy
30 min | Oct 01, 2003

After discovering the villain responsible for turning several supermodels hideously fat, Stripperella learns that one of them has been "booby-trapped" with a bomb disguised as a breast implant.
Director: Kevin Altieri
Writer: Kevin Kopelow, Heath Seifert
Guest stars: Mark Hamill
3
The Wrath of Klinko
30 min | Jul 02, 2003

Stripperella goes up against that low-rate villain, Cheapo, a criminal who's idea of a prime robbery would be knocking over a 99 Cents Store.
Director: Kevin Altieri
Writer: Kevin Kopelow, Heath Seifert
Guest stars: Stan Lee, Jon Lovitz, Jillian Barberie, Kevin Farley, John Farley
4
You Only Lick Twice
30 min | Jul 09, 2003

Stripperella discovers the truth behind the success of Pushy Galore's home shopping networks, which is that Pushy's products have been made out of human flesh.
Director: Kevin Altieri
Writer: Kevin Kopelow, Heath Seifert
Guest stars: Joey Lauren Adams, Sirena Irwin, Tom Kenny, Vince McMahon, John O'Hurley, Greg Proops, Jill Talley
5
Beauty and the Obese (1)
30 min | Jul 16, 2003

Klinko, a copy store master, uses his copy machines to brain wash customers into criminals and carry out his multiple dirty deeds.
Director: Kevin Altieri
Writer: Kevin Kopelow, Heath Seifert
Guest stars: Mark Hamill, Kid Rock, Dee Bradley Baker, Jon Cryer, Sirena Irwin, Maurice LaMarche, Tom Kenny, Jill Talley
6
Beauty and the Obese (2)
30 min | Jul 23, 2003

We're introduced to the evil Queen Clitoris who, from her hidden island hide-out, is preparing to launch a rampage against men.
Director: Kevin Altieri
Writer: Kevin Kopelow, Heath Seifert
Guest stars: Kid Rock, Pamela Anderson
7
The Bridesmaid
30 min | Feb 12, 2004

After being the bridesmaid and never the bride too many times (226) Molly Lumpkin goes on a citywide rampage kidnapping the grooms from weddings. Her plan is to choose one to marry and kill the rest with a laser engagement ring. Stripperella must stage a fake wedding and risk her very own "Mr. Right."
Guest stars: Kathy Griffin
8
Evil Things Come in Small Packages
30 min | Feb 19, 2004

Small fry wants to shrink everything down so he can be big and tall. Stripperella runs to ruin his plans but she gets shrunk. The Chief talks to Stripperella and convinces her that being small doesn't matter. So Stripperella goes and wins. Meanwhile Cat, fellow stripper, learns about Erotica's secret double life. The problem is, she keeps getting hit in the head and forgetting it...then learning it again...then geting clocked in the head again and forgetting it...then remembering...then forgetting....you get the idea.
Guest stars: Tom Kenny
9
Eruption Junction, What's Your Function
30 min | Feb 26, 2004

Someone is Kidnapping all the smart kids at high school and it's up to Stripperella (disguised as student "Kathy Teria") to stop who's kidnapping them.
Guest stars: Chris Kirkpatrick, Maurice LaMarche
10
The Evil Magicians
30 min | Mar 04, 2004

Erotica is up for the Stripper of the Year Award in fabulous Las Vegas, but Stripperella has to stop a pair of robbing masked evil magicians. Can Erotica get the award? Will Stripperella foil the crooks in time? And will Kevin ever get his money back?
Guest stars: Vince McMahon, Tom Kenny
11
Cheapo by the Dozen
30 min | Mar 11, 2004

Cheapo's back and ready to steal several bars of copper valued of at least $16, with the help of Erotica going under the alias Robin Stuff. Meanwhile, Kevin gets into trouble over a misunderstanding in a casino and lands in jail and wins a Hawaiin vacation.
Director: Mario Piluso
Writer: Kevin Kopelow, Heath Seifert
Guest stars: Jon Lovitz
12
The Return of the Queen
30 min | Mar 18, 2004

Queen Clitoris comes again, and this time she wants Stripperella dead! So Clitoris hatches a fiendish plot and lures Stripperella into her lair on a secluded island. Can Stripperella get off... The island in time to save her own life?
13
The Curse of the WereBeaver
30 min | Mar 31, 2004

An asthmatic motorist runs off the road to avoid hitting an animal and slams into a tree. He is bitten by the animal -- a glowing werebeaver -- and he turns into a giant glowing werebeaver that runs amok chewing through anything made of wood and terrorizing the population. Stripperella must put a stop this rampaging werebeaver.
---
Editions
| Barcode | Format | Region | Released | Edition |
| --- | --- | --- | --- | --- |
| 032429235008 | | | | |
| 097368877641 | | 1 | Feb 22, 2005 | |
| 097368877627 | | 1 | Feb 22, 2005 | |
---
---