The 10th Kingdom
The 10th Kingdom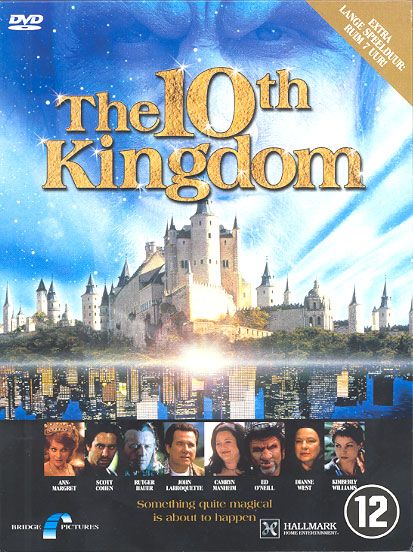 ---
Mill Creek Entertianment (2000)
Comedy, Drama, Adventure, Science Fiction, Fantasy, Romance, Mystery
UK | English | Color | 7h 27min
A father and daughter are caught in a parallel universe where the great queens Snow White, Cinderella, and Little Red Riding Hood have had their kingdoms fragmented by warring trolls, giants and goblins.
---
---
Director
Herbert Wise
Writer
Simon Moore
Producer
Simon Moore, Brain Eastman, Jane Prowse, Brian Eastman, Robert Halmi Jr.

,

Robert Halmi Sr., Ted Morley
---
1
Part 1
420 min | Feb 27, 2000

Thanks to Relish the Troll King, the Evil Queen is once again free, and she has a trap ready for Prince Wendell. Her dog transforms into Prince Wendell and Prince Wendell becomes a dog. While trying to escape, the real Prince Wendell accidentally turns on a magic mirror, and runs away into 10th kingdom. Virginia hits him with her bicycle, feeling bad about hitting a dog; she takes him to work with her. Wolf and Relish the Troll Kings kids are after the real Prince, and they are looking all over New York for him.
Director: Herbert Wise, David Carson
Writer: Simon Moore
Guest stars: Moira Lister, Deborah Sheridan Taylor, Jeffrey Wickham, Dylan Bell, James Carroll Jordan, John Shrapnel
2
Part 2
420 min | Feb 27, 2000

Virginia is hiding from the Troll kids at her grandma's, while Tony is busy with his new servants. The Trolls are still trapped in the broken elevator, and they are trying to find a way to break "the spell" they think Virginia cast on them. Wolf finds Virginia and Prince at her Grandma's. He tries to eat Virginia's Grandma but decides he can't when he meets Virginia. Virginia escapes with Prince by pushing Wolf through a window. Wolf then visits a shrink to try and decide if he is in love with Virginia or if he just wants to eat her.
Director: Herbert Wise, David Carson
Writer: Simon Moore
Guest stars: Adam James, Michael Mueller, Arthur Cox, Jimmy Nail, Warwick Davis, Paul McNeilly, Clifford Barry, John Shrapnel, Edward Highmore, Jeremy Peters, Leon Herbert, Nigel Whitmey, William Marsh, Sheila Steafel, Katherine Hogarth, Johnny Myers, Gudrun Ure, James Carroll Jordan
3
Part 3
420 min | Mar 05, 2000

While the Troll kids are taking an unconscious Virginia to their kingdom, Tony must find a way to escape the Snow White Memorial prison. News about the Evil Queen's prison break is all around the nine kingdoms. The Evil Queen rides undetected in Prince Wendell's coach with the false Prince Wendell. When Wolf realizes he loves Virginia, he becomes determined to help her escape the Trolls and reunite her with her father.
Guest stars: John Hallam, Arthur Cox, Jimmy Nail, Warwick Davis, Clifford Barry, Paul McNeilly, John Shrapnel, Jessica James, Christopher Tune, Jeremy Peters, William Osborne, Aden Gillett, Timothy Bateson, Charles Cork, Len Collin
4
Part 4
420 min | Mar 05, 2000

The journey to find The Magic Traveling Mirror continues and Virginia, Tony and Wolf are traveling in a boat trying to find Acorn the Dwarf. When they reach River Town, Acorn the Dwarf has already left and has gone through The Disenchanted Forest. Prince found his body but The Evil Queen stops him from returning to his right form. While trying to escape the Trolls, Tony accidentally turns Prince and the Trolls into a golden statue. With golden Prince, they continue travelling through The Disenchanted Forest. The Evil Queens Huntsman follows them. Gypsies give them a sanctuary for the night and Tony gives them a performance.
Guest stars: Vince De Cicco, Paul Sax, Michael McCarthy, Adam Levy, Anne Firbank, Warwick Davis, Tony Vogel, Eve Pearce
5
Part 5
420 min | Mar 12, 2000

The Evil Queens Huntsman has captured Virginia. She then sends a letter to Prince Wendell's council explaining that The Prince had an injury and he is staying in his Hunting lodge to heal. In the meantime, Tony and Wolf are looking for a Magic Axe that will break a curse cast on Virginia's hair. With the help of the Magic Birds, Virginia is free, and they finally find Acorn the Dwarf. But the mirror was sold, and Virginia, Tony and Wolf must go to the Little Lamb Village to find it.
Guest stars: Peter Vaughan, Edward Woodall, Craig Purnell, Natasha Collins, Gabrielle Lloyd, Jacqueline Tong, Calum MacPherson, Frank Middlemass, Richard Syms, Liz May Brice, Lucy Punch, Warwick Davis, James Cosmo, William Osborne, Aden Gillett
6
Part 6
420 min | Mar 12, 2000

Driven by his monthly madness, Wolf kills some of the Peep's chickens. Virginia ties him up so he won't hurt anyone or anything else. Tony makes Virginia sign up for "The Best Sheep and Shepherdess" contest to win The Mirror. Virginia wins and Wolf is convicted for the murder of Sally Peep. Virginia decides not to go home just yet but to stay and help prove Wolf's innocence. Tony uncovers the truth about the Magic Wishing Well, and Wolf is once again free. But the mirror is gone again, and their journey continues.
Guest stars: Natasha Collins, William Osborne, Calum MacPherson, Liz May Brice, Frank Middlemass, Peter Vaughan, Edward Woodall, Craig Purnell, Lucy Punch, Bob Barrett, Donald Pelmear, Gabrielle Lloyd, Amelda Brown
7
Part 7
420 min | Mar 19, 2000

In search of The Magic Traveling Mirror, Virginia, Tony, Wolf and Prince find themselves in a strange town. Kissing town, the place where Snow White was saved from her deadly sleep by a prince's kiss. They all begin gambling to get enough money to buy The Mirror from an auction house. Wolf hits a jackpot but doesn't tell anyone. Wolf, determined to win Virginias love, then spends all of his money on a Singing Engagement Ring and other things for Virginia. The Huntsman outbids them at the auction and wins The Mirror. He then blackmails Tony. If Tony doesn't give him the Prince he will smash the mirror. Virginia is mad at Wolf for lying so she turns his proposal down. Tony comes out with a plan to get the mirror and save the Prince, but it fails and mirror is broken. The Evil Queen kills Relish the Troll king with a poison apple.
Guest stars: Graham Crowden, Bob Barrett, Gordon Milne, John Key, John Blakey, Charlotte Weston, Arturo Venegas, Graham Turner, Dido Miles, Danielle Harmer, Luke Healy, Jeremy Peters, Edward Highmore, Roger Sloman, Kate Robbins, Patrick Marley, Tom Chadbon, John Hallam, John Cater, Will
8
Part 8
420 min | Mar 19, 2000

On the back of the broken mirror Tony and Virginia find an inscription "Manufactured by the Dwarves of Dragon Mountain." They decide to go to Dragon Mountain hoping to find another mirror that could bring them back. Virginia is mad at Wolf and they decide to part ways. In the Mountain, they meet Dwarves who inform them that three Traveling Mirrors were made. The only one left is in possession of the Evil Queen. Tony's bad luck causes him to break all the magic mirrors. The Dwarves become angry and chase them so Virginia and Tony run to deeper into the mountain to escape. Tony's bad luck strikes again and he breaks his back. While looking for help, Virginia and Prince find Snow White's grave and the legendary Snow White shows herself.
Guest stars: Gemma Boyle, Hilary Tones, Camryn Manheim, Douglas Blackwell, Jeremy Peters, Edward Highmore, Craig Salisbury, Peter Burroughs, Mike Edmonds, Mark Pegg, Dicken Ashworth
9
Part 9
420 min | Mar 26, 2000

The Trolls, now teamed up with the Huntsman, have captured Virginia, Tony and Prince. Meanwhile, The Evil Queen prepares the false Wendell's coronation. Tony and Virginia manage to escape, but Prince is left behind. On their way to Wendell's castle to stop the coronation, they decide to take a shortcut through the Deadly Swamp. In the swamp, Virginia finds the body of "The Swamp Witch" (Snow White's evil stepmother.) Tony eats some magic singing mushrooms and drinks the swamp water, and Virginia joins him. The mushrooms and swamp water make them fall into a dream filled sleep and swamp vines begin to cover them.
Guest stars: Hilary Tones, Gemma Boyle
10
Part 10
420 min | Mar 26, 2000

Virginia and Tony are in the dungeon of Prince Wendell's Castle, and Virginia is devastated by her mother's actions. The Evil Queen plans to kill all the guests at the coronation ball and Wolf is helping her. Queen Cinderella makes an appearance and questions the false Wendell. Virginia must decide: her mother or lives of hundreds.
Guest stars: Edward Purver, Lucy Whybrow, Kim Thompson, Jeff Nuttall, Chris Crooks
---
Editions
| Barcode | Format | Region | Released | Edition |
| --- | --- | --- | --- | --- |
| 683904632425 | | 1, A | Nov 03, 2015 | |
| 683904633194 | | 1 | Jun 05, 2018 | |
| 4580936386400 | | | | |
| 707729127185 | | 1 | Feb 26, 2002 | Mini-Series |
| 707729109723 | | 1 | May 02, 2000 | |
| 683904529879 | | 1 | Mar 19, 2013 | |
| 707729103721 | | 1 | May 02, 2000 | |
| 685738997329 | | 1 | Feb 26, 2002 | Box Set 5 DVD |
| 683904547514 | | 1 | Jun 05, 2018 | |
| 8711983452787 | | 2 | May 29, 2001 | |
| 5706710430018 | | 2 | May 02, 2000 | |
| 8711983490901 | | 2 | | |
| 0685738272822 | | 2 | Oct 17, 2000 | |
| 7046686003013 | | 2 | May 23, 2007 | |
| 6416548444116 | | 2 | Dec 11, 2002 | |
| 391772368546 | | 2 | Dec 11, 2002 | |
| 5709624021594 | | Free | Feb 26, 2002 | |
| 685738272822 | | | | |
| 7391772368546 | | | | |
| 707729114161 | | | | |
| 4020628946241 | | | | |
| 7046685000303 | | | | |
| 707729110033 | | | | |
| 9314748907264 | | | | |
| 5690784025907 | | | | |
| 7502229852178 | | | | |
| 8711983490871 | | | | |
| 9165179109723 | | | | |
| 0685738997022 | | | | |
| 6857389973296 | | | | |
| 0685738996827 | | | | |
| 0685738997121 | | | | |
| 0685738377527 | | | | |
| 3333973144493 | | | | |
| 0685738997220 | | | | |
| 0685738996926 | | | | |
| 707729105008 | | 1 | May 09, 2000 | |
| 065935131496 | | | | |
| 685738272839 | | | May 01, 2000 | |
| 8711983409590 | | | | |
| 7035534102152 | | | | |
| 707729109273 | | | | |
| 8711983409095 | | | | |
---
---