The Americans (2012)
The Americans: Season 6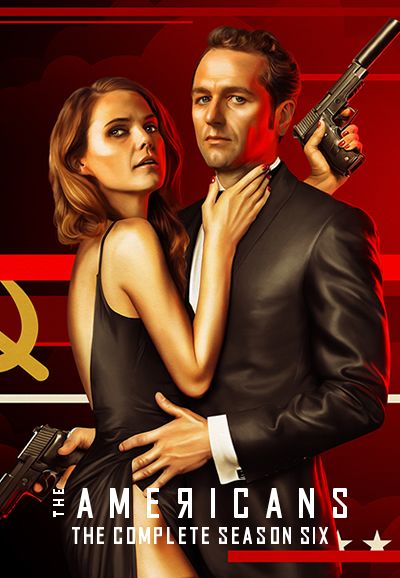 2013
Drama, Thriller, Crime, Mystery
The Americans is a period drama about the complex marriage of two KGB spies posing as Americans in suburban Washington D.C. shortly after Ronald Reagan is elected President. The arranged marriage of Philip and Elizabeth Jennings, who have two children - 13-year-old Paige and 10-year-old Henry, who know nothing about their parents' true identity - grows more passionate and genuine by the day, but is constantly tested by the escalation of the Cold War and the intimate, dangerous and darkly funny relationships they must maintain with a network of spies and informants under their control.
---
---
Director
Kevin Bray
Daniel Attias
Thomas Schlamme
Stefan Schwartz
Skav One
Chris Long
Roxann Dawson
Matthew Rhys
Writer
Peter Ackerman, Stephen Schiff, Josh Brand, Joel Fields, Hilary Bettis

,

Joseph Weisberg, Tracey Scott Wilson, Justin Weinberger, Sarah Nolen

Producer
Peter Ackerman, Graham Yost, Darryl Frank, Stephen Schiff, Chris Long

,

Josh Brand, Joel Fields, Justin Falvey, David Woods, Joseph Weisberg, Tracey Scott Wilson, Mary Rae Thewlis, Tyson Bidner, Crystal Whelan, William Lapp

Photography
Dan Stoloff, Joseph Bradley Smith
Musician
Nathan Barr
---
1
Dead Hand
50 min | Mar 27, 2018

In the season 6 premiere of The Americans: it's autumn, 1987, and as a major arms control summit looms, Elizabeth is pushed to her limits as never before. Philip, meanwhile, has settled into running the newly expanded travel agency – until an unexpected visitor makes a disquieting request.
Director: Chris Long
Writer: Joel Fields, Joe Weisberg
2
Tchaikovsky
50 min | Apr 03, 2018

Elizabeth targets an old source who could tip the balance of the upcoming summit, as Philip deals with business at the travel agency. Stan learns an old friend is back in town.
Director: Matthew Rhys
Writer: Joel Fields, Joe Weisberg
3
Urban Transport Planning
50 min | Apr 10, 2018

In the aftermath of a disastrous operation, Philip and Elizabeth clash about how to handle things with Paige. Stan struggles to contain the growing risks of Sofia and Gennadi's fraying relationship.
Director: Dan Attias
Writer: Tracey Scott Wilson
4
Mr. and Mrs. Teacup
50 min | Apr 17, 2018

After picking up a distressing piece of intelligence, Elizabeth takes extreme measures to get close to a Soviet negotiator. Philip shares some stunning news with Henry.
Director: Roxann Dawson
Writer: Peter Ackerman
5
The Great Patriotic War
50 min | Apr 24, 2018
As the summit fast approaches, Elizabeth enlists Philip's help for a mission that could yield game-changing intel.
Director: Thomas Schlamme
Writer: Hilary Bettis
6
Rififi
50 min | May 01, 2018

A sudden assignment pulls Elizabeth away from her family at a crucial moment. At the FBI, a major development leads Aderholt to approach Stan about an urgent investigation.
Director: Kevin Bray
Writer: Stephen Schiff, Justin Weinberger
7
Harvest
50 min | May 08, 2018

Philip and Elizabeth come together for a perilous operation unlike any they've ever had before. Stan and Henry spend a little quality time together.
Director: Stefan Schwartz
Writer: Sarah Nolen
8
The Summit
50 min | May 15, 2018

With the arms control summit under way, a shocking revelation from Philip throws Elizabeth - and her work - into turmoil. Stan follows a dangerous hunch.
Director: Sylvain White
Writer: Joshua Brand
9
Jennings, Elizabeth
50 min | May 22, 2018

Elizabeth wrestles with competing loyalties, and Philip has an encounter that turns into much more than he had bargained for.
Director: Chris Long
Writer: Joel Fields, Joe Weisberg
10
START
50 min | May 29, 2018

The Jennings face a choice that will change their lives forever.
Director: Chris Long
Writer: Joel Fields, Joe Weisberg
---
Editions
| Barcode | Format | Region | Released | Edition |
| --- | --- | --- | --- | --- |
| 9321337183435 | | | | |
| 024543524601 | | 1 | Oct 23, 2018 | |
| 024543524618 | | | | |
| 9321337184715 | | | | |
---
---