The Art Of More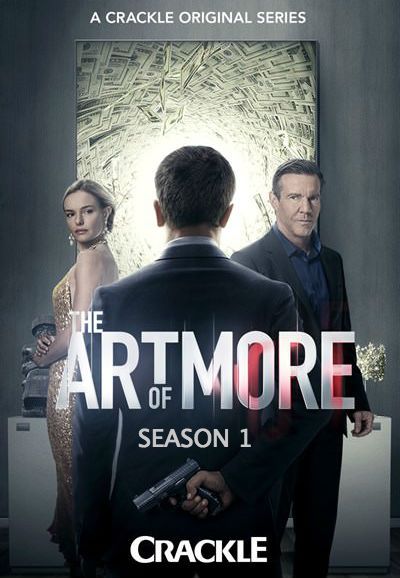 ---
Director
Writer
Chuck Rose, David Kob
Producer
Gary Fleder, Laurence Mark

, Irene Litinsky, Gardner Stern, Chuck Rose, Dennis Quaid, Elissa Lewis, Evan Tussman, Tamara Chestna

Photography
Pierre Jodoin
Musician
Mario Sévigny
---
Plot
The series follows a blue collar young man, Graham Connor, played by Christian Cooke, who leverages his way into this exclusive world by exploiting connections to antiquities smuggling rings he was exposed to as a soldier in Iraq. Cary Elwes stars as Arthur Davenport, a shrewd and eccentric world-class collector of art and illegal antiquities who mentors Connor. Quaid plays charismatic real estate shark/collector Samuel Brukner. Kate Bosworth plays Roxanna Whitney, daughter of the CEO of one of the two warring auction houses—and a leading account executive.
Episodes
Episode 1: Heavy Lies The Head
45 min Nov 19, 2015

After auction house Parke-Mason sells a coveted art collection, rookie dealer Graham Connor finds himself the new golden boy. But a smuggler from Graham's past threatens his hard-won success. Tensions mount when mogul Sam Brukner's collection sparks fierce competition between rival auction houses.
Episode 2: Whodunnit?
45 min Nov 19, 2015

A rock memorabilia auction is jeopardized when a Pete Townshend artifact is stolen. Two more smugglers from Graham's past arrive in New York, luring him back into the smuggling business. Roxanna Whitman, Graham's rival, signs a priceless art collection, only to find out it is not what it seems.
Episode 3: Mint Condition
45 min Nov 19, 2015

A couple discovers millions in gold coins buried in their yard, triggering fierce competition for their account. Graham joins Brukner on a weekend getaway in his effort to land his account. Uzay and Demir arrange for a Russian mob boss to buy one of the antiquities, setting up Graham in the process.
Episode 4: Just Say Faux
45 min Nov 19, 2015

An auction of Napoleon memorabilia brings an assortment of bidders. To increase the Swift collection's value, Roxanna enlists the aid of a forger. Graham steps up his game in order to finally land the Brukner account. Graham, Uzay and Demir meet up with the Russian mob boss to sell the mask.
Episode 5: One Ton Depot
45 min Nov 19, 2015

An auction from Antarctic explorer Robert Falcon Scott's expedition sparks fierce competition. Graham and the smuggling gang regroup in the aftermath of the Russian disaster. Graham brings girlfriend Elizabeth home on the anniversary of his father's death. Roxanna finds herself the target of blackmail.
Episode 6: Ride Along
45 min Nov 19, 2015

A new auction includes astronaut Sally Ride's suit. The FBI identify Hassan, forcing Graham to scramble on an antiquities shipment. Roxanna has a P.I. investigate Swift. In a new venture, Belinda unwittingly finds herself working with Uzay. Davenport discovers Graham's full involvement with Hassan.
Episode 7: The Quatrefoil
45 min Nov 19, 2015

A fund-raiser at the Museum of Modern Art is fraught with tension as friends and foes gather under one roof. Meanwhile, Graham is questioned by the FBI and uncovers a secret about Roxanna; and Brukner eyes a career in politics.
Episode 8: The Name Of The Game
45 min Nov 19, 2015

Hassan's attempt to get in touch with his family jeopardizes his freedom. Meanwhile, Parke-Mason pursue the account of an NFL legend; and a trap is set for Graham by Prescott that could ruin his career.
Episode 9: The Interview
45 min Nov 19, 2015

Brukner's recent transgressions are exposed on the eve of his auction; Roxanna mulls what to do with dirt she finds on Graham; Graham's betrayal is revealed to Brukner; Uzay and Demir try to persuade Hassan that they need to get rid of Graham.
Episode 10: The Card Players
45 min Nov 19, 2015

In the Season 1 finale, Hassan is caught in the crossfire of a deadly smuggling rivalry; Brukner carries out his plan of revenge; Uzay's sale goes awry; and Roxanna and Graham decide to find solutions to their problems together.
---
Editions
| Barcode | Format | Region | Release | Edition |
| --- | --- | --- | --- | --- |
| 043396502338 | DVD | 1 | 2017-03-28 | |
---