The Brokenwood Mysteries
The Brokenwood Mysteries: Season 3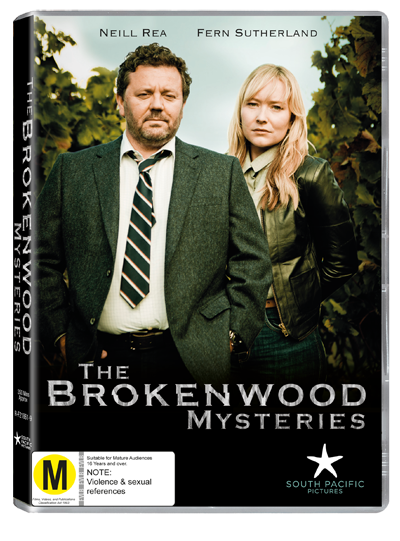 ---
Acorn Media (2014)
Drama, Suspense, Mystery
USA | English | Color | 6h 8min
The Brokenwood Mysteries comprises four two-hour murder mystery stories set in a seemingly quiet country town where the town's newest resident, Detective Inspector Mike Shepherd, finds that murder lurks in even the most homely location.
---
Cast
| | | |
| --- | --- | --- |
| | Neill Rea | Mike Shepherd |
| | Fern Sutherland | Kristin Sims |
---
| | |
| --- | --- |
| Producer | Chris Bailey, Sally Campbell, Tara Landry, Kelly Martin |
| Photography | Rewa Harre |
| Musician | Joel Haines, Marty Smith |
---
1
The Black Widower
120 min | Oct 29, 2016

The Frog and Cheetah's publican, Ray Neilson, has branched into tourism with his 'Lord of the Ringz Tours' tailored to non-English speaking tourists. But when Ray's wife Debbie is discovered dead under a giant foam spider in a supposed film location of Mirklewood things get 'mirky'. Especially when Debbie's cause of death is revealed to be from New Zealand's only native venomous spider – the Katipo. But if it was, how did one spider administer ten times the lethal dose? Things don't look good for Ray or the nearby arachnologist, Chandra Singh. But then as DSS Mike Shepherd and his team investigate other local tourism operators, they find none of them are particularly sad about Debbie's demise. Her back room deals with the council have seen them banned from the coveted Brokenwood forest. Was her death karma or revenge? Regardless of motive it was definitely murder.
Director: Mark Beesley
Guest stars: Shane Cortese
2
Over Her Dead Body
120 min | Nov 06, 2016

Brokenwood is in mourning as beloved local poet Declan O'Grady is being farewelled at St Judas Church after being struck down by cancer. But things go from bad to worse when his coffin accidentally falls from the hearse revealing that the corpse inside is not Declan but a young woman identifiable only by a notable scarlet tattoo. Mike, Kristin and Breen set about unravelling a strange set of circumstances. The last to see Declan's body was the hapless funeral director Warren Bugle who leads them back to Wadsworth Manor where a mysterious role playing game was conducted the night before Declan's death. It turns out the tattooed woman may have been a player in what was to ultimately be her final game.
Director: Murray Keane
Writer: Tim Balme
Guest stars: JJ Fong, Ajay Vaisisht
3
The Killing Machine
120 min | Nov 13, 2016

The annual Riverstone Beach Hop is a colorful festival that brings classic car enthusiasts together from far and wide to celebrate everything petrol powered and chrome plated. But on the morning of the event Charlie Baxter, the Chairman of the Classic Car Restoration Society, is found dead next to his beloved El Dorado with a lungful of gasoline. Was this a petrol siphoning accident or something more deliberate? And does it have anything to do with the unidentified dead body found in Charlie's garage the day before? Then again, the last person to see Charlie alive may have been Jared Morehu's best mate Greg McQueen who has just pulled into town driving a hot rod called – The Killing Machine, with Jared's ex-girlfriend riding shotgun.
Director: Mike Smith
Writer: Greg McGee
Guest stars: David Fane
4
A Merry Bloody Christmas
120 min | Nov 20, 2016

With December approaching Brokenwood is alive and well with Christmas spirit. That is until a gruesome sight confronts Mike and his team; Santa Claus with his throat slit. Or as Mike insists – 'not Santa, but a man dressed in a Santa suit'. The man is in fact the much-loved local Mayor, Evan Whitestone, who dresses as Santa every year for the Christmas parade. But with local elections looming, attention turns to his four rivals for the mayoral chains. Each of them has an axe to grind with Evan or, in this case - a cut throat razor.
Director: Murray Keane
Writer: Tim Balme
Guest stars: Shane Cortese
---
Editions
| Barcode | Format | Region | Released | Edition |
| --- | --- | --- | --- | --- |
| 9322225219465 | | | | |
| 054961255498 | | 1 | Mar 21, 2017 | |
| 054961255399 | | A | Mar 21, 2017 | |
---
---