The Dukes of Hazzard
The Dukes Of Hazzard: Season 1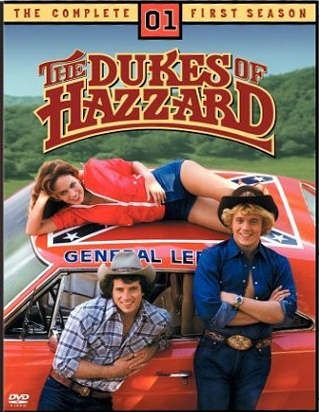 ---
Warner Bros. (1979)
Comedy, Adventure, Family, Action
USA | English | Color | 10h 37min
The Duke Family---Cousins Bo and Luke, assisted by their cousin Daisy and their Uncle Jesse, fight the system and root out the corrupt practices of Hazzard County Commissioner Boss Hogg and his bumbling Sheriff Rosco P. Coltrane. The show became an instant hit, never failing to win its time slot during its original run on CBS for seven seasons from 1979-1985. The Duke boys, a pair of 'Robin Hood' types complete with flaming bows and arrows, are assisted in their adventures by their car, an orange 1969 Dodge Charger named 'The General Lee.' "The Dukes of Hazzard" is set in Georgia, and the show's southern influence is felt throughout. Country singing superstar Waylon Jennings performed the famous theme song to the show ("Good Ol' Boys"), and acts as 'The Balladeer,' narrating the adventures of each episode. Furthermore, many of the plots revolved around the Dukes' history as an ex-moon-shining family. The story followed Bo and Luke until season 5, because during episo
---
---
1
One Armed Bandits
45 min | Jan 26, 1979

Sherrif Coltrane is hissier than a sack of rattlesnakes! He sets up a slot machine operation to fund his election, but a pair of two-armed bandits - Bo and Luke - find a way to give the proceeds to charity.
Director: Rod Amateau
Writer: Gy Waldron
Guest stars: Dennis Haskins, Ernie Brown, Dan Fitzgerald, Gillaaron Houck, Lou Walker, Sandra Dorsey, Ralph Pace, Jason Lively, Champ Laidler, Ben Jones, Tisch Raye
2
Daisy's Song
45 min | Feb 02, 1979

What kind of music-publishing outfit would bilk Daisy out of $50? Well, here's a hint, Dukesters: where there's corruption, there's Boss Hogg. And this time, the FBI is keeping an eye on the scam!
Director: Bob Kelljan
Writer: Gy Waldron
Guest stars: Ronny Schell, Clayton Landey, Ginny Parker, Terry Browning, Candy Bleick, Wallace Merck, Bill Gribble, Wallace Wilkinson, Bob Cleveland, J. Roy Tatum, Ben Jones
3
Mary Kaye's Baby
45 min | Feb 09, 1979

Bo and Luke are unaware that 1) the borrowed car they're driving is loaded with moonshine and 2) the pregnant hitchhiker they've picked up is carrying over $100,000 in stolen mob loot.
Director: Rod Amateau
Writer: William Putnam
Guest stars: Cliff Pellow, Colby Chester, Jeannie Wilson
4
Repo Men
45 min | Feb 16, 1979

The car's a wreck. But the engine's a honey, and Bo and Luke have to have it. So they make a deal with a car dealer who's as crooked as a switchback trail and whose scheme could land them behind bars.
Director: Ron Satloff
Writer: Bob Clark
Guest stars: Jerry Rushing, Claude Humphrey, Larry Bishop, Judith Baldwin, Rod Amateau
5
High Octane
45 min | Feb 23, 1979

Will a batch of kick-tail gasoline solve the nation's fuel crisis? Uncle Jesse fires up the moonshine still for a patriotic cause. And a lovely female revenue agent fires up Bo's dancin'-and-romancin' flames.
Director: Don McDougall, William Keyes
Writer: William Kelley, William Keyes
Guest stars: Charlene Watkins, Champ Laidler, Ralph Pace, Bob Hannah
6
Swamp Molly
45 min | Mar 09, 1979

Way back in the '30s, Molly sprang Uncle Jesse out of a heap of trouble with the Feds. Now she wants to make one last moonshine run... and she wants Jesse and the other Dukes to help.
Director: Don McDougall
Writer: Katharyn Michaelian Powers
Guest stars: Neva Patterson, Mary Jo Catlett, Bill Cort, Bob Shaw
7
Luke's Love Story
45 min | Mar 16, 1979

Luke's rival in Hazzard's stock car derby has million-dollar legs and a lead foot... and she's got his heart revved up. Boss Hogg worries about reclaiming the derby trophy because his moma's ashes are inside it.
Director: Hy Averback, Kris Kincade, Nance McCormick, Bruce Taylor
Writer: Kris Kincade, Nance McCormick
Guest stars: Roz Kelly, Marya Small, David Hayward, Gary Grubbs, Patrick Wright, Darryl McCollough
8
The Big Heist
45 min | Mar 29, 1979

Bo and Luke robbers? That accusation is like going to church shirtless. It don't feel right! But if the Dukes didn't pull off the heist, who was in the General Lee when it roared away from the crime scene?
Director: Bob Claver
Writer: Bruce Howard
Guest stars: Fred McCarren, Stu Nisbet, Bill Meadows, Kris Marquis
9
Limo One is Missing
45 min | Apr 05, 1979

Leave it to Cooter to drive everyone wild. When government agents driving the U.S. President's limo through Hazzard stop at the Boar's Nest, Cooter hot-wires the vehicle and sets out on a joy ride.
Director: Don McDougall
Writer: Paul Savage
Guest stars: Charles Cyphers, Del Monroe, Mayf Nutter, Terry Wills, Gordon Hurst
10
Deputy Dukes
45 min | Apr 12, 1979

There ought to be a law. Instead, there's Bo and Luke. They've been deputized and sent to Springfield to retrieve a prisoner. One detail the boys aren't told: the prisoner is notorious Public Enemy #1!
Director: William Asher
Writer: Marty Roth
Guest stars: Stella Parton, Leo Gordon, Robert F. Hoy, Pat Renella, Suzanne Niles, Tara Preston, William Benedict, Norman Alden, Gary Graham
11
Money to Burn
45 min | Apr 19, 1979

The government was going to burn the cash anyway, so who'd miss a cool million in ragged bills? Besides, Boss Hogg has masterminded his scheme so that Bo and Luke are the fall guys.
Director: Rod Amateau
Writer: William Raynor, Myles Wilder
Guest stars: Norman Bartold, Dan Barrows, Hoke Howell, Damu King, Rick Hurst
12
Route 7-11
45 min | May 03, 1979

The rig is rigged! Bo and Luke become drivers of an 18-wheeler, not knowing that the trailer is a rolling gambling casino and that its games aren't on the level.
Director: Bob Claver
Writer: Fred Freiberger
Guest stars: Jo Ann Pflug, Teddy Wilson, Paul Brinegar, Sammy Jackson
13
Double Sting
45 min | May 10, 1979

A fine mess they've gotten into this time! After a health quarantine confines the Duke men and the police to the jailhouse, only Daisy is left to pursue bank robbers who disguise themselves as Laurel and Hardy.
Director: Gy Waldron
Writer: Gy Waldron
Guest stars: Arte Johnson, Avery Schreiber, Burton Gilliam, Patrick Cranshaw, Joseph Burke, Miriam Byrd-Nethery
---
Editions
| Barcode | Format | Region | Released | Edition |
| --- | --- | --- | --- | --- |
| 085393226428 | | 1 | Jun 01, 2004 | The Complete First Season |
| 883929240692 | | 1 | 2012 | |
| 7321931684033 | | 1 | May 02, 2006 | |
| 085393986827 | | 1 | Jun 01, 2004 | The Complete First Season |
| 883929617807 | | 1 | Nov 14, 2017 | |
| 7321900684033 | | 2 | Aug 15, 2005 | 5 Disc Series |
| 7321950684038 | | | Aug 10, 2005 | Saison 1 |
| 5051888178423 | | | | |
| 5709165362729 | | | | |
| 0400089492459 | | | | |
| 9325336031698 | | | | |
| 9781419816024 | | | | |
---
---