The Flame Trees of Thika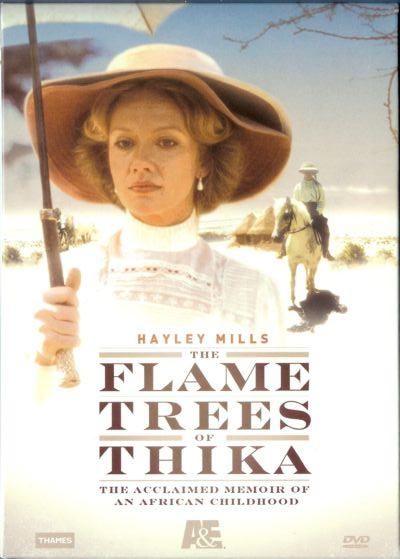 A&E Video (1981)
Drama, Adventure, Action
UK | English | Color | 7h
Elspeth and her unconventional parents decide to settle down in Kenya and begin a coffee plantation. This is a time of discovery for Elspeth, as she encounters the incredible beauty and cruelty of nature, and new friendships with both Africans and British expatriates. A side plot involves the beautiful and bored British Lettice Palmer who enters into an affair with a handsome safari guide. Eventually, however, the excitement of Elspeth's life is disrupted by the onset of WW I, and the changes it brings
---
---
1
The Promised Land
60 min | Aug 31, 1981

Robin Grant, his wife Tilley and 10 year-old daughter Elspeth arrive in East Africa in the early years of the 20th century with the intention of establishing a coffee plantation. When they arrive, they find that the land, access and the availability of farm labor aren't anywhere near what was promised in the prospectus. Living in tents, they set about building themselves a home and befriending some of the local natives, who offer to help the build the house. They soon start working the land but life is hard and they begin to doubt the wisdom of their decision.
Director: Roy Ward Baker
Writer: John Hawkesworth
2
Hyenas Will Eat Anything
60 min | Sep 07, 1981

The Grants get new neighbors when Hereward and Lettice Palmer arrive. He was an officer in the British Indian Army and neither seem prepared for the hardship they must face. Lettice almost goes to pieces when she finds their headman has been badly beaten and lay dying. She tells her husband that that she's not sure she wants to stay. Mr. Roos offers to show Robin's workers how to handle the plow animals but Robin doesn't quite agree with his handling of the local Africans, including Sammy. Elspeth receives a gift of two chameleons which she names George and Mary.
Director: Roy Ward Baker
Writer: John Hawkesworth
3
Happy New Year
60 min | Sep 14, 1981

At the end of 1913, Tilly and Robin travel to Nairobi with the Palmers to ring in the new year. They leave Eslpeth in the care of Mrs. Nimmo, whose husband is still away. On New Year's eve, Mrs. Nimmo has a party and invites Alec Wilson and another couple. A good time is had by all - even when one of the guests begins to shoot up the place. A friend of the Palmers, Ian Crawford, arrives after acquiring horses in Abyssinia and Elspeth receives a very special gift. Crawford is very much attracted to Lettice but she resists his advances.
Director: Roy Ward Baker
Writer: John Hawkesworth
4
Friends in High Places
60 min | Sep 21, 1981

Elspeth and Sammy are in put in danger when they face a herd of rampaging elephants. Mrs. Nimmo attends to Sammy's wife who has had a miscarriage, but her recommendation that the woman be transported to the hospital in Nairobi is overruled when the family brings in the local medicine man. Robin has been blasting old trees and stumps, but tragedy ensues when Sammy's young son steals blasting caps from a locked shed. Njombo becomes mysteriously ill and while the doctor can find nothing wrong with him, he is convinced that a curse has been placed on him, most likely by Sammy who seems to blame him for his recent losses.
Director: Roy Ward Baker
Writer: John Hawkesworth
5
A Real Sportsman
60 min | Sep 28, 1981

The Palmers receive their new piano and face a challenge in getting it moved to the farm. Hereward is worried about Lettice and whether she has the stamina to bear living in Africa. He notes that about the only activity she engages in is to go on safari with Ian Crawford. As Lettice and Hereward's marriage begins to disintegrate, it is apparent to almost everyone that Ian and Lettice are in love. When one of Lettice's beloved pekingese is carried away by a leopard, Hereward, Robin and Alec Wilson set off to kill it. They eventually turn to Mr. Roos for some professional advice.
Director: Roy Ward Baker
Writer: John Hawkesworth
6
Safari
60 min | Oct 07, 1981

With Robin and Elspeth staying behind at the farm, Tilly joins the Palmers and Ian Crawford on safari. Lettice finally admits to Ian that she loves him. Things come to a boil between Ian and Hereward but Crawford's bearer Ahmed intervenes, severely wounding Palmer. At the farm meanwhile, Elspeth takes Njomo's advice and gets the local medicine man to give her a charm to protect Twinkle. She's hurt however when Twinkle goes off on her own and doesn't return home. Everyone hears that World War I has started in Europe and Robin and the Major decide to go to Nairobi see what is happening.
Director: Roy Ward Baker
Writer: John Hawkesworth
7
The Drums of War
60 min | Oct 12, 1981

With Robin away, Tilly decides to go to Nairobi to do what she can for he war effort. As a result, Elspeth must go lives with the Robinsons, a wealthy merchant family who have a resident governess for their children. Elspeth doesn't adapt very well however and decides to run away. Hereward is in the army in France while Robin and Ian Crawford have joined the local forces but Tilly gets some bad news after a battle in the south. When Robin gets orders to join his old regiment in France, Tilley make plans to return to England, at least temporarily.
Director: Roy Ward Baker
Writer: John Hawkesworth
---
Editions
| Barcode | Format | Region | Released | Edition |
| --- | --- | --- | --- | --- |
| 733961718256 | | 1 | Mar 29, 2005 | |
| 759731416221 | | 1 | Jan 30, 2018 | |
| 5028157205333 | | 2 | Mar 26, 2001 | |
| 5027626466541 | | 2 | Nov 07, 2016 | 2 Disc DVD |
| 733961718270 | | | | |
| 733961718263 | | | | |
| 5030697009463 | | | Nov 21, 2005 | |
| 026359971136 | | | | |
| 8711983955592 | | | | |
| 9780767078900 | | | | |
---
---