The Irish R.M.
The Irish R.M.: Season 3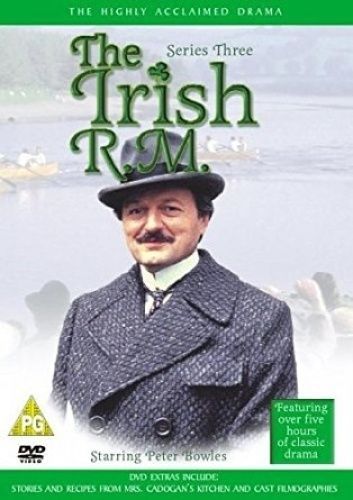 ---
Channel Four Films (1985)
Comedy, Drama
UK | English | Color | 5h 10min
Directed by Robert Chetwyn THE IRISH R.M. is based on the stories of Somerville & Ross and tells of monocled Major Sinclair Yeats, played by Peter Bowles. An English army officer who resigns his commission to become a Resident Magistrate in the West of Ireland, Major Yeates finds himself living in a ramshackle old manor house surrounded by local community's colourful inhabitants. Major Yeats struggles with his new position which turns out to be at the mercy of the Irish.
---
---
Director
Roy Ward Baker
Producer
Barry Blackmore
Musician
Tony Britten
---
1
The Muse in Skebawn
50 min | Jun 01, 1985

With Philippa gone to England to tend to her ailing mother, Major Yeates's problems multiply. A shifty entrepreneur brings moving pictures into Skebawn, create havoc that the Major must subdue while fending off the unwanted advances of Miss Bobby Bennell.
Director: Roy Ward Baker
Writer: Alfred Shaughnessy
2
Major Apollo Riggs
50 min | Jun 08, 1985

The Major's sister, Babs, looks after him in Philippa's absence. Cousin Andrew also arrives to help and begins to fix everything in sight, including a crumbling chimney and a mysterious well. Cold water and strange spirits are unleashed as Andrew's enthusiasm goes a bit too far.
Director: Roy Ward Baker
Writer: Julia Jones
3
A Friend of Her Youth
50 min | Jun 15, 1985

Babs fondly reminisces about her old friend, Julian Chichester, who is coming to stay at Shreelane. But no sooner does Chichester arrive than he begins to scorn the Major's household, including a beloved canine. Flurry decides to teach Chichester a lesson or two with the canine as an unwitting accomplice.
Director: Roy Ward Baker
Writer: Bill Craig
4
In The Curranhilty Country
50 min | Jun 22, 1985

Yeates's day of hunting goes badly, and he soon decides to abandon a troublesome new car
Director: Roy Ward Baker
Writer: Alfred Shaughnessy
5
Lisheen Races
50 min | Jun 29, 1985

A stern official from Dublin Castle observes Yeates' court conduct; Yeates finds Sally's horse hidden in the loft.
Director: Roy Ward Baker
Writer: Bill Craig
6
The Devil You Know
50 min | Jul 05, 1985

An old friend's offer of a resident magistrate position in a more civilized location tempts Yeates.
Director: Roy Ward Baker
Writer: Hugh Leonard
---
Editions
| Barcode | Format | Region | Released | Edition |
| --- | --- | --- | --- | --- |
| 054961812196 | | 1 | Feb 21, 2006 | |
| 054961245390 | | 1 | May 30, 2017 | |
| 5036193091568 | | 2 | Feb 06, 2006 | |
| 054961240937 | | Free | | |
| 054961395231 | | | | |
| 5036193090059 | | | | |
| 061240937549 | | | | |
| 054961304936 | | | | |
---
---