The Last Ship: Season 3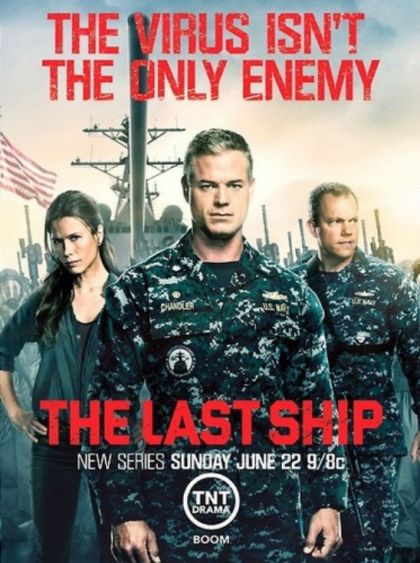 ---
Writer
Hank Steinberg, William Brinkley

, Steve Kane, Hiram Martinez, Jill Blankenship

Producer
Brad Fuller, Michael Bay

, Andrew Form, Jack Bender, Michael Katleman

Photography
Rodney Charters, Lukas Ettlin

, Cort Fey

Musician
James S. Levine, Nathan Whitehead

, Jim Dooley
---
Plot
Their mission is simple: Find a cure. Stop the virus. Save the world. When a global pandemic wipes out eighty percent of the planet's population, the crew of a lone naval destroyer must find a way to pull humanity from the brink of extinction. Executive Producer Michael Bay presents The Last Ship, starring Eric Dane, Rhona Mitra and Adam Baldwin.
Episodes
Episode 1: The Scott Effect
45 min Jun 12, 2016

Tom Chandler is sent to Asia to investigate a possible mutation of the Red Flu; Captain Slattery and his crew deliver the cure to Southeast Asia.
Director: Michael Katleman
Writer: Steven Kane

Episode 2: Rising Sun
45 min Jun 12, 2016

CNO Tom Chandler must find a way to return to his old crew and to investigate a dangerous, new enemy.
Director: Michael Katleman
Writer: Hank Steinberg

Episode 3: Shanzhai
45 min Jun 19, 2016

Chandler and the crew race to find answers in an Asian Dodge City; Slattery begins to unravel the truth about his predicament.
Director: Paul Holahan
Writer: Jorge Zamacona

Episode 4: Devil May Care
45 min Jun 26, 2016

Chandler must confront his suspected new foe; Slattery learns more about the virus mutation; as the situation worsens, pressure begins to mount on President Michener.
Director: Paul Holahan
Writer: Nic Van Zeebroeck

Episode 5: Minefield
45 min Jul 03, 2016

As Chandler's position worsens, his mission becomes increasingly complicated; President Michener faces pressure from the regional leaders.
Director: Peter Weller
Writer: Mark Malone

Episode 6: Dog Day
45 min Jul 10, 2016

Chandler prepares for the final part of his plan as his mission comes to a head; President Michener considers the fate of his presidency.
Director: Michael Nankin
Writer: Onalee Hunter Hughes, Jill Blankenship

Episode 7: In the Dark
45 min Jul 24, 2016

The Nathan James must evade an overwhelming threat. A revelation in St. Louis puts President Michener in a terrible position.
Director: Steven Kane
Writer: Katie Swain

Episode 8: Sea Change
45 min Jul 31, 2016

America copes with tragedy while Chandler further investigates the possible virus mutation.
Director: Jennifer Chambers Lynch
Writer: Sarah H. Haught

Episode 9: Paradise
45 min Aug 07, 2016

Chandler gets a lead that could help answer threatening questions. Kara does some digging in the White House.
Director: Paul Holahan
Writer: Jorge Zamacona

Episode 10: Scuttle
45 min Aug 21, 2016

Chandler finds himself making a difficult decision when an order comes in from the White House.
Director: Mairzee Almas
Writer: Ira Parker

Episode 11: Legacy
45 min Aug 21, 2016

Chandler faces his powerful enemy in a final showdown. Kara joins someone that can help with her mission.
Director: Paul Holahan
Writer: Hiram Martinez

Episode 12: Resistance
45 min Aug 28, 2016

Chandler returns to America to find out what has really been happening.
Episode 13: Don't Look Back
45 min Sep 11, 2016

The fight for America comes to an end; Chandler faces a challenge that could change his life forever.
Director: Peter Weller
Writer: Jill Blankenship, Onalee Hunter

---
Editions
| Barcode | Format | Region | Release | Edition |
| --- | --- | --- | --- | --- |
| 883929563500 | Blu-ray Disc | A | 2017-05-02 | Blu-ray + Digital HD |
| 9398700035363 | Blu-ray Disc | | | |
| 4006448364526 | Blu-ray Disc | | | |
| 7340112736453 | Blu-ray Disc | | | |
| 5051888227299 | Blu-ray Disc | | | |
| 883929590414 | Blu-ray Disc | | | |
| 883929563517 | DVD | 1 | 2017-05-02 | |
| 4006448766726 | DVD | 2 | 2017-02-24 | |
| 9398700036773 | DVD | 4 | | |
| 5051892204613 | DVD | | | |
| 6009707516719 | DVD | | | |
---