The Shield
The Shield: The Complete Series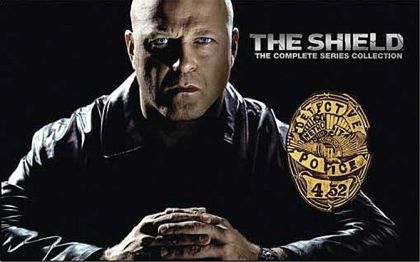 Sony Pictures (2002)
Drama, Adventure, Thriller, Suspense, Crime, Crime, Action, Action, Foreign
USA | English | Color | 63h
This collection contains:
- The Shield: Season 1 (2002)
- The Shield: Season 2 (2003)
- The Shield: Season 3 (2004)
- The Shield: Season 4 (2005)
- The Shield: Season 5 (2006)
- The Shield: Season 6 (2007)
- The Shield: Season 7 (2008)
---
---
Director
Scott Winant
Guy Ferland
Paris Barclay
John Badham
Stephen T. Kay
Clark Johnson
Peter Horton
Terrence O'Hara
Felix Enriquez Alcala
Gary Fleder
Nick Gomez
Stephen Gyllenhaal
Davis Guggenheim
Vondie Curtis-Hall
Frank Darabont
Brad Anderson
David Mamet
Craig Brewer
Scott Brazil
D.J. Caruso
Michael Fields
Philip G. Atwell
Michael Chiklis
Leslie Libman
David Von Ancken
Dean White
Kurt Sutter
Gwyneth Horder-Payton
Bill Gierhart
Rohn Schmidt
Writer
Ted Griffin, Shawn Ryan, Kevin Arkadie, Diego Gutierrez, Glen Mazzara

,

Adam Fierro, Gary Lennon, Kim Clements, Elizabeth Craft, Sarah Fain, Reed Steiner, Charles H. Eglee, Kurt Sutter, Randy Huggins, John Hlavin, Scott Rosenbaum, Angela Russo-Otstot, Jameal Turner, James Manos Jr., Lisa Randolph, Lia Langworthy, Jennifer R. Richmond, Tony Soltis, Renee Palyo, Emily Lewis, Elizabeth A. Hansen, Evan Bleiweiss

Producer
Scott Brazil, Shawn Ryan, Kevin G. Cremin, Glen Mazzara, Michael Chiklis

,

Adam Fierro, Charles H. Eglee, Dean White, Kurt Sutter, Scott Rosenbaum, Craig Yahata

Photography
Rohn Schmidt, Richard Cantu
Musician
Vivian Romero
---
1
S1E1: Pilot
60 min | Mar 12, 2002

While the Strike Team ramps up their control of the streets, David tried to crack corruption in the Barn by recruiting Terry to help him take down Vic, only to result in Terry's death. Meanwhile, Dutch and Claudette investigate the murder of Nancy Reborg only to discover her missing daughter has been sold off by her addict father to a child molester.
Guest stars: Michael Reid MacKay, Ricki Lopez, Max Perlich, Jim Ortlieb, Tamlyn Tomita, Brian Boone, Denis Forest, Cathy Cahlin Ryan, Jodie L. Gullett, Jeremiah Birkett, Michael Auteri, Page Kennedy, Andrea Marcellus, Yancey Arias, Brooklyn McLinn, Chelsey Cole, Kenny Johnson, Juan G
2
S1E2: Our Gang
60 min | Mar 19, 2002

Internal Affairs investigates the shooting death of Det. Crowley, but Aceveda speaks starts his own investigation. Meanwhile, Claudette and Dutch investigate the shooting of a churro vendor that ends up in the Strike Team busting up a gang initiation
Guest stars: Reed Diamond, Guy Torry, Iona Morris, April Grace, Frank Grillo, Juan Garcia, Juan Diego, David Raibon, Joyce Guy, Dianna Miranda, Nate Reese, Valeri Ross, Jorge-Luis Pallo, Roberto Montesinos, Monique Lea, Marisol Ramirez, Pablo Santos, Marita De Lara
3
S1E3: The Spread
60 min | Mar 26, 2002

In a routine sweep to nab every outstanding suspect, the detectives divvy up the warrants. But when they cast their nets, they bring up far bigger fish than expected. Danny and Julien uncover a gun-smuggling operation; and Mackey and his team encounter a pro-basketball star who's in town to play the Lakers, when they bust in on drug dealers. Meanwhile, Claudette and Dutch try to catch a man who has been raping women in an attempt to procreate.
Guest stars: Elimu Nelson, Jenya Lano, Heather Salmon, DJ Rabiola, Kirk Baltz, Andy Mackenzie, Michael Auteri, Ra Hanna, Ana Argueta, Staci Snell, Bree Benton, Ron Daniels, Melanie Myers, Kevin Repo Thomas, Malcolm Wain
4
S1E4: Dawg Days
60 min | Apr 01, 2002

Mackey attempts to broker a peace agreement between rival rappers whose feud is spilling into the streets. Danny is attacked after identifying a shooter, Julien helps a woman whose son's body has been stolen, and Dutch and Claudette search for a mission migrant worker. Meanwhile, Capt. Aceveda finds a powerful ally in ""Kingmaker"" Jorge Machado.
Guest stars: Marc McClure, Dex Elliot Sanders, Mark Kiely, Walter Jones, John Diehl, Chene Lawson, Linda Medina, Marlene Warfield, Roy Jones, Christopher Perez, Maurice Blake, Ralph Rangel, German Leonne, Brian Britt, Godofredo Henriquez, Cecilia Johnson, Jessica Booker, Natalia Swad
5
S1E5: Blowback
60 min | Apr 08, 2002

David insists that Vic take uniformed cops in with them to bust an Armenian gang's drug delivery. After the bust, Julien sees the Team take a portion of the drugs for themselves. But in the end Shane ends up having the drugs and the vehicle they're in stolen from them. While the search for the drugs and the truck goes on, Mackey learns that his son is autistic.
Guest stars: Patrick Cavanaugh, Amy Moon, Lee Cherry, Kimberly McCullough, Kenneth Davitian, Robert Miano, Nina Jane Barry, E. Roger Mitchell, Daniel Henry Murray, Kevin Allardice, Gary Douglas Kohn, Peter Higgins, Kahli MacIntrye, Billy Neustice, Edgar Agaronian, Judi Beecher, Kurt
6
S1E6: Cherrypoppers
60 min | Apr 15, 2002

When the body of a young hooker is found in the district, Dutch and Claudette get the full resources of the Barn for 24 hours and the help of the FBI to search for Dutch's serial killer. Meanwhile, The Strike Force busts an underage prostitution ring, and Capt. Acevaeda continues to investigate Mackey.
Guest stars: Matt Corboy, Richard Portnow, Kim Miyori, Elizabeth Rodriguez, Eduardo Garcia, Will McCormack, Jay Harrington, Jane Cho, Svetlana Ivy Dizon, Kelvin Yu, Ken Abraham, Michael Lee, Frank Merino, Josh Todd, Clay Cooper, Nava Plotski, Ah Chang, Heather Hopper
7
S1E7: Pay in Pain
60 min | Apr 22, 2002

When Mackey and Vendrell hook up with a cop from another precinct to investigate the shooting, Vendrell sets off an explosive confrontation with a suspect by making a racial slur. And Mackey seldom a paragon of restraint defuses the situation. But before this tense hour is over, Mackey's complex relationship with Vendrell becomes even more complicated. Meanwhile, Dutch and Wyms search for a serial killer and bring in a psychic on a complaint from the son of one of her clients, and David calls internal affairs after getting Julien's affidavit.
Guest stars: Wayna Green, Stacy Barnhisel, Vivian Smallwood, Carlos Sanz, Kimberly McCullough, Miguel Perez, Davenia McFadden, April Grace, Dee Freeman, Rick Gonzalez, Lance E. Nichols, Muriel Whitaker, Frederick Lopez, Ernesto Bautista, Cleandre Norman, Ernie Lee Banks, Tony Genaro
8
S1E8: Cupid & Psycho
60 min | Apr 29, 2002

Allegations against the Strike Team are front-page news, and the team is broken up pending the investigation. Mackey threatens to reveal that Officer Lowe is gay if he won't recant his statement about the Strike Team. In the meantime, Vic and Claudette find themselves following the trail of a batch of ""cupid"" meth, while Shane and Dutch try to get along on a case.
Guest stars: Christopher Neiman, K.K. Dodds, Johnny Whitworth, Derek Hamilton, Dick Anthony Williams, Jamie Anderson, Jeremiah Birkett, Jamie Martz, Bobbie Norman, Sandy Mulvihill, Jonathan Neil Schneider, Arrington, Amy Bollenbacher, Page Kennedy, Robert Silver
9
S1E9: Throwaway
60 min | May 06, 2002

A planted gun in a truck-jacking case causes complications for the Strike Team, and now they're left to clean up their own mess. While the rift between Officers Lowe and Sofer deepens, causing Capt. Aceveda to intervene. Also, Detective Wyms deals with the mess of her family during a visit from her daughter.
Guest stars: Tangi Miller, K.K. Dodds, Mystro Clark, Rolando Molina, Roscoe Lee Browne, Page Kennedy, Zia Harris, Nina Jane Barry, George Antonio Ramos, Leonard O. Turner, Robert Zepeda, Michael Gene Carter, Amy Bollenbacher, Liz Jemielita, Ralph Drischell, Frank Ertl, Mario Aguilar
10
S1E10: Dragonchasers
60 min | May 13, 2002

Mackey helps Connie quit using crack cold-turkey in her desperate attempt to keep her son, leaving Vendrell and Lemansky to investigate a strip-club mugging ring. Meanwhile, Dutch follows his instincts on a serial killer case and Danny is bitten by an HIV-infected perpetrator.
Guest stars: Frank Grillo, Michael Kelly, Sandra Purpuro, Nichole Hiltz, Taryn Carter, Jazzmun
11
S1E11: Carnivores
60 min | May 20, 2002

Mackey and the Strike Team mediate a dispute between Rondell Robinson and the Nation of Islam while Wagenbach and Wyms investigate a brutal home invasion in the tight lipped Korean community. Meanwhile, Aceveda revisits his past.
Guest stars: David Jung, Walter Jones, Katy Boyer, Mailon Rivera, Cedric Pendleton, June Kyoto Lu, Sandra Purpuro, Sandy Mulvihill, Jonathan Higgins, David Backus, Ralph Ahn, June Cho, Esther K. Chae, Sophia Santi, David Zepeda, Peter Kim, Samuel Sung, Jasmine Alexander, Erica Lolli-D
12
S1E12: Two Days of Blood
60 min | May 27, 2002

While Vic answers Assistant Chief Gilroy's call for help in covering up a hit and run before Dutch intuits the facts of the case, Shane and Lemmonhead follow the trail of a gunrunner with a penchant for cockfights. Meanwhile, Aceveda turns to Claudette after a double homicide raises ire and fear within an ignored community.
Guest stars: Geoff Meed, Tyra Ferrell, Carlos Mencia, Marquita Terry, Robert LaSardo, John Scherer, Dick Anthony Williams, Luis Saguar, Courtney McLean, Marcia Jeffries, Lavelle Roby, Alysia Powell, Rigo Sanchez, Letty Lopez, Brian Britt, Vincent Harris
13
S1E13: Circles
60 min | Jun 03, 2002

In the aftermath of a riot, cops are being lured into ambush shootings by a rash of bogus 911 calls. Surprisingly Mackey and Captain Aceveda must work together to stop these attacks and solve the problems in The Grove, while Assistant Chief Gilroy tries to pit the two against each other to save his own job.
Guest stars: Lana Parrilla, Cedric Pendleton, Arlen Escarpeta, Rick Allen, Marlieek Straughter, P.B. Smiley, Aurelia Sweeney, Alex Veadov, Pamala Tyson, Galen Yuen, Damen Fletcher, Will Badgett, Whitney Shannon, Roman Arabia, Roddy Schaef
14
S2E1: The Quick Fix
60 min | Jan 07, 2003

While Vic searches for his wife and children, the Strike Team allow more drugs into Farmington through a corrupt connection. But when their latest shipment turns bad, the head to Tijuana to uncover the person behind their poisoned cocaine. Meanwhile, Dutch and Claudette try to track down the man responsible for fire necklacing the captains of two separate gangs.
Guest stars: Danny Pino, Emilio Rivera, Cedric Pendleton, Elizabeth Rodriquez, Jonathan Higgins, T.J. Hall, Maurice Chasse, Stacey Ann Hollenberg, Kristen Bell, Omar Anguiano, Yomi Perry, Chelsea Rendon, Fatal Instinct, Terry Cooley, John Marrott, Joaquin Garrido, Emiliano Torres, Er
15
S2E2: Dead Soldiers
60 min | Jan 14, 2003

As Vic gets closer to finding his family, the Strike Team focus their attention to Armadillo after he burns down Tio's HQ. Now Vic must prevent Claudette from finding out the truth about his connection to Tio and his men. Meanwhile, Dutch is followed around by the new civilian auditor to solve a meter-maid murder, and Danny and Julien try to clear up issues between feuding neighbors.
Guest stars: Danny Pino, Cedric Pendleton, Dylan Haggerty, Veena Bidasha, Navid Negahban, Lisa Renee Pitts, V.J. Foster, Rafael J. Noblé, Michael Dunn, Mann Alfonso, Lee Reherman, Daniel Edward Mora, Anthony Vatsula, Daniel Curtis Lee, Robert Garcia, Anthony Rosales
16
S2E3: Partners
60 min | Jan 21, 2003

Still fuming from the death of Tio and his brawl with Armadillo, Vic takes a day off and leaves the Strike Team with Aceveda, only to end up helping an old partner bust the man who helped him lose his job. Meanwhile, Dutch and Claudette search to find the people behind the torture and mutilation of a woman who may still be alive, and Julien fails to back up Danny's side of the story from her shooting.
Guest stars: Carl Weathers, Melanie Lynskey, Marc Vann, Garland Whitt, Susan Santiago, Donielle Artese, Anje Cornell, Ernie Sanchez, Colleen Kanel, Guillermo Cespedes
17
S2E4: Carte Blanche
60 min | Jan 29, 2003

Now that Vic is back to work, he and Shane go undercover as dirty cops to find the man behind a robbery/murder. Meanwhile, Dutch and Claudette track down an old rival of Claudette's after a turned in gun is connected to a previous case. And in an attempt to get the Asian vote in the election, David assigns Julien and Danny to watch over a Korean parish.
Guest stars: Shaun Duke, Cheryl White, Veena Bidasha, Chris Payne Gilbert, Don Maloney, Jonathan Neil Schneider, David Caprita, Terrence Flack, Woon Young Park, Esther K. Chae, Mario Prado, Mahryah Shain, Nansi Aluka, Kasha Kropinski, Aron Kader, VaZ And Rea's, Tariqu Jalil, Robert I
18
S2E5: Greenlit
60 min | Feb 04, 2003

David works with Vic and the Strike Team to take down a dealer giving heroin to school kids, while Dutch and Claudette help a woman find her Alzheimer addled mother.
Guest stars: Danny Pino, Elizabeth Anne Smith, Andi Chapman, Monnae Mchaell, Art Frankel, Emilio Rivera, Rainbow Borden, Jonathan Hernandez, David Jean-Thomas, Helen Costa, Roberto Enrique, Enrique Trujillo, Monica Garcia, Thomas Bankowski, Paul Haung
19
S2E6: Homewrecker
60 min | Feb 11, 2003

Detectives Wagenbach, Mackey and Wyms investigate a massacre at a women's shelter, and Captain Aceveda works with Lowe on the case of a stolen bicycle.
Guest stars: Marguerite MacIntyre, Matthew John Armstrong, Veena Bidasha, Corey Pearson, Jon Huertas, Shawn Woods, Marc Goldsmith, Avner Garbi, Cody Arens, Shawn H. Smith, Diana Yanez, Matthew Glave, Elizabeth Janas, Eric Garcia
20
S2E7: Barnstormers
60 min | Feb 18, 2003

Vic and Emma try to help a woman who's in an abusive relationship. Vic and the Strike Team begin to make plans for the money train take down, even though the greenlight still has them on their toes. When David tells Dutch that he embarrassed the department with the Bob and Marcy case and that Claudette is now lead on all their cases, he's forced to take any action necessary to prove himself in a new homicide. Danny finally makes a stand against Yassirah.
Guest stars: Marcos Ferraez, Nichole Hiltz, Marguerite MacIntyre, Melanie Lynskey, Keith Diamond, Karen Malina White, Mike Bruner, Jason Padgett, Mahryan Shain, T.J. Hall
21
S2E8: Scar Tissue
60 min | Feb 25, 2003

When Vic discovers that Ronnie has been burned as payback, the rest of the team does everything they can to put an end to him. Meanwhile, Claudette makes headway on her investigation against Vic after a conversation with Corrine, and Dutch takes Danny under his wing as they try to find the suspect of a Thai Town beating.
Guest stars: Danny Pino, Marguerite MacIntyre, David Raibon, Sung Kang, Michael Sean Tighe, Frank Gallegos, Erick Carrillo, Philippe Bergeron, Regina Randolph, J. Anthony Pena, Asanio Lara, Christopher Shea, Louis Mendoza, Victor E. Kobayashi, Kiyoko Yamaguchi
22
S2E9: Co-Pilot
60 min | Mar 04, 2003

Flashback to the first day of the barn. Under pressure to get results, Vic and his new Strike Team make an impression on the streets. Dutch and Claudette realize they make a good team, and David discovers he doesn't have as much power as he thought he would.
Guest stars: Terry Wilkerson, Jamie Brown, Ray Baker, Reed Diamond, Walter Jones, Richard Yniguez, Karlton Johnson, Dayo Ade, Cynthia Graham, Marcio Rosario, Jules Fleming, Michael Auteri, Rina Fernandez, Cesar Garcia, Jaunita Guzman, Keith Davis
23
S2E10: Coyotes
60 min | Mar 11, 2003

When Lanie's report on the Barn is leaked to the press, everyone suddenly fears for their jobs, including David who's mentioned as the reason for most of the problems. Gilroy skips bail and winds up on Vic's doorstep looking for help, so while Vic and Shane deal with him Lemonhead is forced to show the newest member of the Strike Team the ropes. Meanwhile Claudette faces some of her own demons as she and Dutch try to uncover the culprit behind a possible robbery/homicide and Danny comes to a startling realization.
Guest stars: John Diehl, Seidy Lopez, Cory Hardrict, Ron Canada, Erick Carrillo, Cristos Andrew, Deji Olasimbo, Orlando Valencia, Aaron Andre Frazier, Guy Perry
24
S2E11: Inferno
60 min | Mar 18, 2003

With Ronnie's face healed he comes up with a plan to take down the Money Train, and the Strike Team is all in. Unfortunately, a federal criminal comes back to Farmington, and the Team has to use every connection trick, and resource to bring him in to prove the Barn is still a force. Meanwhile, Dutch and Claudette investigate the rape of a young girl which leads to information that puts the case in a new light. Plus, an old friend from the past reappears to make Julien's life hell.
Guest stars: Jeff Kober, Ashley Bashioum, Diane Ayala Goldner, Elsa Fisher, Reggie Currelley, Rosero, Dean Lemont, Annika P. Smith, April Scott, Talmadge Ragan, Nicole Bush
25
S2E12: Breakpoint
60 min | Mar 25, 2003

While the Strike Team puts the finishing touches on the money train take down, Vic goes it alone and works with Dutch and Claudette to find a missing kid. David gets an unwanted visit from the Chief and Julien receives an unpleasant surprise.
Guest stars: Ron Canada, Frank Grillo, Joel Bissonnette, Roy Fegan, Don McManus, John Scherer, Conn Barrett, Dean Lemont, Simon Brooke, Mick McCallum, Eddie Espinoza, Barry Sigismondi, James Martin Kelly, Jason Earles, Elijah Allan-Blitz
26
S2E13: Dominoes Falling
60 min | Mar 31, 2003

When a gang execution hits close to home for Claudette, Vic, Tavon, and Dutch work together to find the culprit before anyone else gets hurt. Shane, Lemonhead, and Ronnie are forced to choose between hitting the money train without Vic or letting it go. Meanwhile, Danny receives some life changing news and Julien's harassment reaches a whole new level.
Guest stars: Dominic Comperatore, T.J. Hall, Brent Stimely, Rick Garcia, Mario Larraza, Ric Sarabia, Jonathan Roger Neal, Gilbert Glenn Brown, Darris Love, Herzl Tobe, Lancer Dean Shull, Ron Canada, Frank Grillo, Tracie Thoms, Michele Gregory
27
S3E1: Playing Tight
60 min | Mar 09, 2004

The Strike team's attempt to play by the book comes to an abrupt end when they discover that two gangs, the Byz Latz and the One-Niners are attempting to alter the balance of power by acquring MP5s. Claudette and Dutch investigate the murders and feet decapitation of 4 Armenian men by the Armenian mob in their search for the stolen cash from the money train. Meanwhile, Danny who is doing temp work at a high school while waiting for an appeal, discovers she might me be able to get her old job back.
Guest stars: Caroline Macey, Sean Jeffrey Jones, Sheila-Sheila, Edward Rodrigo Diaz, Juan Carlos, Jay Brown, Vick Sabitjian, Rico Bueno, Wiley Pickett, Aris Alvarado, Hunter Bodine, Herzl Tobey, Nigel Gibbs, Cal Gibson, David Raibon, Chris Williams
28
S3E2: Blood and Water
60 min | Mar 16, 2004

Tension within the group begins to mount as the Strike Team attempt to rectify a mistake Vic made when he decided to use some of the cash from the stolen money train during a botched gun-running sting. Meanwhile, Dutch and Claudette seek the help of a college honor student named Esteban who was the only survivor in the murder of two latin gang members, one of them being his close friend.
Guest stars: Bill Duggan, Amaris Dupree, R. Ernie Silva, José Ramón Rosario, Guillermo Diaz, Jeremy Ray Valdez, Ron Canada
29
S3E3: Bottom Bitch
60 min | Mar 23, 2004

A prostitute seeks the help of the police in her quest to bring down her pimp. Claudette assigns Vic against his wishes to the case, which puts him on the verge of going over the edge. Dutch uncovers a disturbing trend of rapes and a politician is arrested for solicitation.
Guest stars: Rudy Moreno, Heather McPhaul, Faruq Tauheed, Julanne Chidi Hill, Marilyn Sanabria, Teres Byrne, Larry Cedar, Christina Lusita, Mageina Tovah, Brent Sexton, Jeanette Miller
30
S3E4: Streaks and Tips
60 min | Mar 29, 2004

The newly arrived Decoy Squad and the Strike Team go head to head in the investigation to solve a car-jacking case. Dutch gets in over his head on an attempted murder case.
Guest stars: Kimberly McCullough, Tim deZarn, Tangie Ambrose, T.J. Hall, Chris Palmquist, Paul Saucido, Kiran Rao, Charlie Paulson, Orlando Ashley, Mae Mercer, Eric Lange, Chuy Garcia, Tom Choi, Derek Mears
31
S3E5: Mum
60 min | Apr 05, 2004

Vic struggles with Claudette's new supervision of the Strike Team. Marked bills lead Aceveda and a federal agent closer to the truth about the Armenian money-train heist in an episode with a recurring motif of people not reporting crimes against them.
Guest stars: Laura Gray, Wilmer Calderon, Manuel G. Jimesez, K. T. Thangavelu, Zahn McClarnon, Albert Santos, Fred Spencer, Nathanial Moon, Max Hernández, Katherine Anderson, Hunter Bodine, Peggy Miley, Kurt Caceres, Benjamin Parrillo, Afemo Omilami, Baadja-Lyne Odums
32
S3E6: Posse Up
60 min | Apr 12, 2004

When the ex-wife and child of Julien's former partner, Tommy, are murdered, Tommy becomes a suspect, prompting Julien to team up with Mackey to conduct their own investigation. Elsewhere, Shane goes undercover to catch a group attacking gay prostitutes, and Claudette and Dutch investigate a rape case against Aceveda's orders.
Guest stars: J.C. MacKenzie, Willam Belli, Mia Wesley, Tommy Hinkley, Nina Jane Barry, James Leo Ryan, Jim Zulevic, Francisco Viana, Lavelle Wilson, Doug Sinclair, Arnell Powell, Shawn Carter Peterson, Michael Esparza, Aleiandro Furth
33
S3E7: Safe
60 min | Apr 19, 2004

Vic and the Strike Team decide to take risky measures to protect themselves from being linked to the Money Train heist. Unfortunately, their plan is interrupted when one of Vic's open cases is suddenly linked to a Narco Corrido song.
Guest stars: Bunnie Rivera Siler, Yelyna De Leon, Joe Ordaz, Luis Robledo, Ken Garcia, V.J. Foster, Ruben Garfias, Daniella Garcia-Lorida, Steve Sotelo, Julieta Espinoza, Alejandro Patino
34
S3E8: Cracking Ice
60 min | Apr 26, 2004

An oversight puts Waylon and Trish in serious danger during an undercover job and Claudette is to blame. Meanwhile, Tommy makes a drastic decision when he realizes nobody in the Barn can help him get back on the job.
Guest stars: Nadia Shazana, Paula Jai Parker, Khary Payton, Max Hernandez, Jernard Burks, Cheryl Francis Harrington, Jon Ecklund, Christopher Guyton, Elizabeth Greer, Bert Kreischer, Donna Pieroni, Benita Marti, Kerry Leigh Michaels, Lucille M. Oliver, Raleigh Friend, Ken Cosby, Rit
35
S3E9: Slipknot
60 min | May 03, 2004

When two high profile murders are linked to each other, Aceveda orders Wyms to get the entire Barn involved before gang and racial violence breaks out. Mackey uses the case to leverage himself and the Strike Team back into the streets of Farmington.
Guest stars: Rashaan Nall, Noel Guglielmi, Dwayne L. Barnes, Paul Benjamin, William Stanford Davis, M. Neko Parham, Gary Cruz, Nigel Gibbs, Veronica Del Palacio, La Trice Harper, Lonnie Hughes, Oren Williams, Roger Marks, Yoann Cifuentes, Tom Holiday, Tom Yi, Steve Cell, Xuyen Tu Val
36
S3E10: What Power is...
60 min | May 10, 2004

Aceveda finds himself in a near fatal confrontation, and enlists Vic to help him take down the suspects in order to help service his own personal agenda. Meanwhile after losing her position of power, Claudette rejoins Dutch on the search for the cuddler rapist as they get a stunning break in the case.
Guest stars: Rif Hutton, Larry Sullivan, DeLane Matthews, Wilmer Calderon, Rebecca Pidgeon, Clark Gregg, Hunter Bodine, Paul Saucido, Sofie Calderon, Katherine Anderson, Patrick Montes, James Budig, Wanya Green, Lenore Perry, Victor Cohn-Lopez, Angela Gardner, Yuji Hasegawa, Jocko Si
37
S3E11: Strays
60 min | May 17, 2004

During a routine bust on bangers, Vic and the Team discover a money laundering ring that reaches far and wide in the crime community. Meanwhile, Dutch takes the chilling confession of the man who was arrested in the serial-rape case, and Danny goes undercover.
Guest stars: Rebecca Pidgeon, Vicellous Reon Shannon, DeLane Matthews, Dominic Hoffman, Lionel Mark Smith, Clark Gregg, Sandy Mulvihill, Jim Cody Williams, Larnell Stovall, Mark Luna, Keith Davis
38
S3E12: Riceburner
60 min | May 24, 2004

When Aceveda assings The Strike Team to serve a high risk warrant against a mob killer to service his political agenda, they find themselves embroiled in a hostile struggle with the Korean community. Now the Team must find out how to put an end to the situation before they end up casualties of a racial fued. Meanwhile, one of Vic's informants works with Danny on finding stolen chairs, while having eyes for her.
Guest stars: Tom Yi, Rif Hutton, Daniel Dae Kim, Lydia Look, Douglas Roberts, James Budig, Atticas Todd, Maurice Sherbanee, Simon Rhee, Champagne Powell, Bill H. McKenzie, Wayon Lopez, Wanda Lee Evans, Glen Badyna, Elizabeth Jayne Hong, Yvans Jourdain, Suyan Kim, Susan Oh, C.W. Pyun, J
39
S3E13: Fire in the Hole
60 min | May 31, 2004

When a mole in the treasury department is discovered and the framed suspect in the Armenian money train robbery turns up missing, the Strike team race to find the suspect before their cover is blown. Meanwhile, Claudette attempts to make amends with the Decoy Squad by going undercover to help them on a case.
Guest stars: Mo, Michael Phenicie, James Budig, Kenneth Colom, Jon Ecklund, Ted Emporellis, Patrick Wolff, Sharif Rashed, Tony Rivard, Ric Drasin, Verda Bridges, Herman Wilkins, Jayden Lund
40
S3E14: All In
60 min | Jun 07, 2004

With an Armenian hit-man hot on their trail, the Strike team sweeps the streets of the Armenian community to find him before he finds them. After catching a break, Aceveda's suspicions grow about the Strike Team's involvement with the Money Train robbery. Meanwhile, Dutch and Claudette investigate a case that could repeal hundreds of convictions, which leaves Claudette having to choose between her conscience and her career.
Guest stars: Karmin Murcelo, Marcos Ferraez, Dominic Hoffman, Stana Katic, Anthony Azizi, Gichi Gamba, Mike Batayeh, Vahe Bejan, Oded Gross, Ryan Templeton, Angela Sarafyan, Paul Hewitt, Hrach Titizian, Kurt Sutter, Adam Harrington
41
S3E15: On Tilt
60 min | Jun 14, 2004

When Aceveda confirms that the Strike Team is the target of an Armenian mob hit, Mackey must take matters into his own hands. Meanwhile, Whym's career is on the line when she disobeys Aceveda's orders to put a case to rest that may prove the innocence of convicted felons.
Guest stars: Andre 3000, Michael Benyaer, Michael Tomlinson, Stana Katic, Yasmine Delawari, Kenneth Colom, Ray Stoney, Cari Golden, Breena Shepard, Nikos Psarras, Aixa, Ramon Hilario, Krystal Fernandez, Harace Carpenter, Mashari Laila Bain, Scott Damian, Dennis W. Hall, Kurt Sutter
42
S4E1: The Cure
60 min | Mar 15, 2005

Vic is no longer the cop he used to be, acting adrift after his past actions have caught up to him. The strike team has been dissolved, leaving Mackey to menial busts that keep him off the streets. When Aceveda moves on to his new City Council position, Captain Monica Rawling takes over the Barn and empowers Vic to implement her controversial anti-gang policies.
Guest stars: Nigel Gibbs, Lee Reyes, Robert Wu, Marcuis Harris, Howard Alonzo, Christian Reed, Dannon Green, Michael Papajohn, Elijah Runcorn, James Tumminia, Neil Lewis, Linda Castro, Fabiola Cayemitte, Myzel Robinson, Taylor McKinney, Brandon Smith, Wells Rosales, Sheri Goldner, Cat
43
S4E2: Grave
60 min | Mar 22, 2005

Mackey tries to help an old acquaintance find a wayward teenager, but the search quickly turns ugly when the missing teen appears to have been involved in a shoot-out. Meanwhile, Shane heads out into the field with his new partner Army, teaching him shady police tactics and seeing how far he'll go to be partnered up. Plus, Aceveda spends his last day trying to bury Vic for good, which makes things difficult for Rawling trying to take his place.
Guest stars: Laurence Mason, Alex Fernandez, Donna Cooper, Dominic Hoffman, Joe Renteria, Jack Weber, Robert Wu, Kelvin Brown, Elihah Kelley, Marcus Brown, Marisa Lauren, Chaney Kley, Peter Pasco, Jane Lanier, Kevin Nichols, Bert Rosario, Gregory White, Noah Sife, Josh Phillips, Ben On
44
S4E3: Bang
60 min | Mar 28, 2005

With Farmington on the brink of a gang war, Monica and Vic race to find the catalyst and stop the bloodshed, enlisting Antwon's help along the way. Still in the doghouse, Dutch decides to take action in thawing the relationship between Claudette and the D.A. Danny and Julien get up close and personal with the Farmington 1-Niners, while Monica looks to Vic for support when the implementation of her property seizure policy challenges her morality.
Guest stars: Laurence Mason, Alex Fernandez, Six Reasons, Leontine Guilliard, Deborah Van Valkenburgh, Andrew Abelson, Tanya Alexander, Michael J. Pagan, Izzy Diaz, Jarvis George, Neil Lewis, T.J. Rotolo, Kamil Beale, Tequan Richmond, Quinton Medina, Christina Woods, Gary Rowland, Ro
45
S4E4: Doghouse
60 min | Apr 04, 2005

When Monica puts Vic on the trail of an escaped fugitive in Farmington, he must continue to prove his worth while playing it straight. Claudette gets suspicious of the D.A's motives when she and Dutch are assigned to investigate a major drug dealer who ends up being a minor offender. David seeks an illicit outlet for the troubling feelings caused by his rape. Vic decides to bring Shane closer as his fears about Shane's connection to Antwon Mitchell rise.
Guest stars: Noel Guglielmi, Laurence Mason, Abby Brammell, Marshall Bell, Mel Winkler, Katherine Kirkpatrick, Dean Napolitano, Roberto Montesino, Marina Palmier, Jarvis George, David Jennings, Sean Michael Boozer, Vanetta Smith, Kila Kitu, Laura Roth, Edward Hendershott, Paul Matth
46
S4E5: Tar Baby
60 min | Apr 11, 2005

A tip from Lemonhead's juvie would leads Vic and Monica to take down a major heroin operation with connections to Antwon Mitchell. Monica continues to battle Aceveda as she tries to sell her new policies to the community, and Julien begins to doubt her methods. Claudette loses trust in Dutch when she suspects he made a backroom deal with the D.A. And Shane and Army find themselves over their heads with Antwon when he blames them for Vic's heroin bust.
Guest stars: Abby Brammell, Laurence Mason, Lily Knight, Gary Bullock, Chaney Kley, Sergio Enrique, Ryan Gesell, Bradley James, Robert F. Harrison Jr., Michelle Anne Johnson, Howard Mungo, Florence Regina, Rodney J. Hobbs, Michael Edward Thomas, Bree'Anna Banks, Fylicia King, Jerry
47
S4E6: Insurgents
60 min | Apr 18, 2005

Vic and Monica stake a deal with the DEA to shut down Mitchell's tar heroin operation. When the bust comes up empty, Vic's suspicions of Shane grow, until Shane proves himself by coming up with a key piece of evidence that reveals a large stash of tar being stored at a local church. Meanwhile, Dutch and Claudette's friendship continues to feel strain as they try to tie a young woman's murder to a suspected serial killer. Plus, Julien takes a stand against Monica's policy, then goes to David for support when she suggests he consider transferring out of Farmington.
Guest stars: Kevin Cooney, Laurence Mason, Ray Campbell, Michael McCafferty, Chaney Kley, Robert Wu, Christian Reed, Greg Eagles, Byron Cotton, Joesph Bertot, Tonita Castro, Julian, Sy Richardson, Bill Lee Brown, Keith Pillow, Debbie Fan, Steve Turner, Gregory Prather, Jerome Caldwell
48
S4E7: Hurt
60 min | Apr 25, 2005

Just as Monica and Vic get close to a big break in the Garage Sting, Chief Phillips unexpectedly hands over the bust to the Organized Crime Unit. He blames the decision on an emerging PR scandal involving a videotape of Vic at the church bust that was leaked to the Assistant Chief through Aceveda's office. Vic uses his leverage with the Byz Lats to find a Russian mob leader before the mobster flees the country. Monica threatens two foster care social workers with jail after a young girl is found close to death in her foster home, then tells Julien if he doesn't put in for a transfer, she'll request one for him herself.
Guest stars: Nigel Gibbs, Lombardo Boyar, Matt Spangler, Giovanni Lopes, Mark Ivanir, Melody Garrett, Bob Rumnock, Sean Blakemore, Garrett M. Brown, Cyd Strittmatter, Jordyn Barber, Tara Buck, Greg Davis, Jr., Kirk Zipfel, Michael J. Gonzalez, Tico Wamai
49
S4E8: Cut Throat
60 min | May 02, 2005

Monica and Vic rush to get their informants off the street after two C.I's are found brutally murdered. Meanwhile, as Dutch and Claudette investigate a brutal beating and robbery, a case from the past forces Dutch to take one in the line of duty. Plus, Vic suspects he's being set up when Shane comes to him after his situation with Antwon and Halpern spins out of control.
Guest stars: Derek Basco, Tom Ayers, Natalia, Diego Villarreal Garcia, Marc Anwar, Stacy Meadows Junior, Kamau Holloway, David Hawthorne, Jose Zuniga, Kevin Maurice Jackson, Pat Healy, David Marciano, Laurence Mason, Abby Brammell, Michael Pena
50
S4E9: String Theory
60 min | May 16, 2005

Monica orders her units to turn the streets of Farmington inside-out when two officers mysteriously disappear after answering a 911 call. Shane tries to make amends with his old crew after Vic agrees to help him get out from under Antwon, but things don't work out as planned. Dutch and Claudette convince Monica to let them take active roles in the case of the missing officers, but soon find themselves at a dead end with the only witness being clinically insane.
Guest stars: Joel Stoffer, Anthony Anderson, David Marciano, Michael Pena, Laurence Mason
51
S4E10: Back in the Hole
60 min | May 23, 2005

Vic and Monica go head to head with Antwon, and do everything in their power to get him to admit to being involved with the cop killings. Monica is shocked when Vic and Shane confront her with the information they've been hiding regarding Antwon and Angie's body. Shane and Army wonder if they'll be able to pass the lie detector test Monica is forcing them to take. Meanwhile, after another young black woman is murdered, Dutch and Claudette hope to prove their suspicions correct with their recently relocated Texan.
Guest stars: Michael Peña, Anthony Anderson, Camillia Sanes, Onahoua Rodriguez, Melissa Paull, Richard Augustine, Lennie Loftin, Ray Campbell, José Zúñiga, Abby Brammell
52
S4E11: A Thousand Deaths
60 min | May 30, 2005

Vic and the Strike Team use their leverage on the One-Niners to track down anyone involved with the cop killings. Their hunt leads them down an unexpected path with the Russian mob. Monica puts pressure on the team to come clean about any of their dealings with Antwon. Dutch and Claudette investigate a gang shooting and soon realize their key witness is close to the Barn, and has something to hide.
Guest stars: Michael Peña, David Marciano, Nigel Gibbs, Onahoua Rodriguez, Laurence Mason, Jimmy Jean-Louis, Lennie Loftin, Petey Pablo
53
S4E12: Judas Priest
60 min | Jun 06, 2005

Vic and his crew track down the Russian who was involved with the cop murders, but they lose control during his interrogation and the hit man dies in an explosion before they can get any answers. Meanwhile, Aceveda is blackmailed by the man who assaaulted him. Plus, Rawling's seizure is on the verge of being shelved.
Guest stars: Anthony Anderson, David Marciano, Nigel Gibbs, Camillia Sanes, Rebecca Pidgeon, Darrow Igus, Cathy Lind Hayes, Cliff Weissman, RonReaco Lee, Kurt Caceres, Faleolo Alailima
54
S4E13: Ain't That a Shame?
60 min | Jun 13, 2005

Monica, Vic and the strike team work together to put Antwon Mitchell back behind bars after his deal with the DEA released him from prison. When Vic reveals his suspicions of David's connection to both Antwon and an inmate's murder, David must protect his political future at any cost. When the murder of an over-protective father leads Claudette and Dutch back to a foster home they had previously investigated, Monica makes an unpopular decision that helps seal her fate.
Guest stars: Jose Zuniga, Joe Chacon, Priscilla Esparolini, Henry Watson, Brian McLaughlin, Tom Schmid, Al Cruz, Anise Fuller, Gloria Garayua, Tay Blessey, Isabel Mares, Pete Vasquez, Melody Garrett, Chaney Kley, Kevin Cooney, Onahoua Rodriguez, Kenneth Colom, Autumn Chiklis, Me
55
S5E1: Extraction
60 min | Jan 10, 2006

As racial tension in the area escalates, the Strike Team attempts to end a race war, while Claudette and Dutch investigate a riot at a high school. Meanwhile, an Internal Affairs officer begins his investigation of Vic and the Strike Team by first zeroing in on Lem. A pregnant Danny refuses to reveal the identity of the father, and Julien begins training a rookie cop named Tina Hanlon.
Guest stars: Shontae Saldana, Stevens Gaston, Carla Jimenez, Javier Mendoza, Brian Burnett, Alina Cenal, David Wendell Boykins, Jesse Garcia, Inger Tudor, Stevie Johnson, Matthew C. Drake, Nigel Gibbs, Jeff Bowser, Jesse Escochea, Allen Maldonado
56
S5E2: Enemy of Good
60 min | Jan 17, 2006

During an interrogation, Kavanaugh reviews the Strike Team's corrupt past and attempts to weaken Lem's loyalty to Vic by bringing up the connection to Terry's murder. Meanwhile, the Strike Team investigates a multiple homicide. Dutch and Claudette suspect that a minister might have been involved in an attempted murder. Tina gets in over her head while on duty with Julien.
Guest stars: Lina Gallegos, Robert Covarrubias, Miguel Nájera, Luis Villalta, Kalena Coleman, Larry Jenkins, Lobo Sebastian, Scott Seymour, Dave Matos, Gregg Sargeant
57
S5E3: Jailbait
60 min | Jan 24, 2006

The Strike Team tries to develop a strategy to deflect the Internal Affairs investigation as Vic finally comes face to face with Kavanaugh. Meanwhile, Tina goes undercover to help take down a sex-trafficking ring; and friction between Claudette and Dutch deepens when she reopens one of their past cases.
Guest stars: Natalie Amenula, Julian Garcia, Allen Maldonado, Rogelio Ramos, Joe Gerrety, Kelwin Hagen, Gianin Loffler, Stephen Hornyak, Kendall Clement, Julia Vera, Jesse Garcia
58
S5E4: Tapa Boca
60 min | Jan 31, 2006

With the IAD investigation in full force, Vic seeks legal representation from Becca Doyle for the Strike Team. Also, a suspicious Vic decides to confront Emolia after he begins to doubt her loyalty to him. Meanwhile, Dutch and Claudette investigate the ghastly murder of a pregnant woman. Tina continues to make mistakes while on duty.
Guest stars: Steven Kozlowski, David Grammer, J.R. Smith, Marilyn A. Harris, Terrance Ellis, Joe Stevens, Benita Marti, John Acosta, Rubin Rubio, Nashawn Kearse, Sahara Garey
59
S5E5: Trophy
60 min | Feb 07, 2006

Via a bug planted in the clubhouse, Kavanaugh monitors the Strike Team as they investigate an illegal prescription drug ring that is proving to be deadly for the people of Farmington. While working on a missing person's case, Dutch attempts find out what Claudette is hiding.
Guest stars: Cullen Douglas, Earnestine Phillips, Said Faraj, Matthew C. Drake, Matthew Solomon, Luis Villalta, Onahoua Rodriguez, Leonard Kelly-Young, Jennifer Echols, Hemky Madera, Pavel Lychnikoff, Eloy Mendez, Abel Soto, Alan Desatti, Katia Bokor
60
S5E6: Rap Payback
60 min | Feb 14, 2006

As the Strike Team is preoccupied with gang violence, Kavanaugh decides to make the Barn his base of operations. An evasive serial killer from Dutch and Claudette's past reenters their life. Meanwhile, additional strain is placed on their working relationship when Tina learns something personal about Julien.
Guest stars: Alice Lin, ATA, J. David Shanks, Elisa R. Perry, Tanee McCall, Ray Campbell, Luis Villalta, Frantz St. Louis, Chaney Kley, Vien Hong, Joe Camareno, Jessa French, J.J. Boone, Joe Scudda, Mohammad Parks
61
S5E7: Man Inside
60 min | Feb 21, 2006

Claudette further aggravates her illness as she continues to aggressively interrogate Kleavon Gardner. The Strike Team works with the Chief of a citywide task force to investigate the murder of a drug dealer's girlfriend and her daughter. Meanwhile, Kavanaugh attempts to discover how Vic acquired the $65,000 that was given to Corrine, and Ronnie is up next for questioning in the IAD investigation.
Guest stars: Kareem Grimes, Aryan Morgan, Ken Medlock, Rico E. Anderson, Jennifer Lynn Wetzel, Chaney Kley, Jeff Leaf, Jackson Kuehen, Jimmy Johnson, Mirayda Levi, Paul Ben-Victor, J.J. Boone, Frank Alvarez, Ray Campbell, John Hillard
62
S5E8: Kavanaugh
60 min | Feb 28, 2006

Kavanaugh seeks the help of Antwon Mitchell in his ongoing quest to take down the Strike Team. In the midst of this, Kavanaugh has a lot on his mind as his ex-wife reenters the picture, and he reluctantly agrees to let Vic send Emolia undercover to infiltrate a Salvadoran gang that is stockpiling grenades.
Guest stars: Onahoua Rodriguez, Gina Torres, Luis Antonio Ramos, Ray Proscia, De'Angelo Wilson, Anthony Anderson, Melanie Myers, David Batiste, Robert Vazquez, Eric Christie, Matthew Pollino, Desire Galvez, James Dalesandro, Kelly Bellini
63
S5E9: Smoked
60 min | Mar 07, 2006

The Strike Team attempts to make bail for Lem who is now in jail, but they discover that Kavanaugh has frozen their accounts. Claudette returns to work to help Dutch investigate the murder of a man who's body was found in the dumpster. Meanwhile, Tina jeopardizes her future at the Barn after she endangers the life of an undercover detective. Corrine confronts Danny about Vic's unfaithfulness and the identity of the baby's father.
Guest stars: G-Thang, Laura Harring, Kenya Williams, Rickey T. Chaney, V.J. Foster, E. Roger Mitchell, Christopher May, Chaney Kley, Autumn Chiklis, Patricia Forte, Joanie Tomsky, David Marciano, Monté Russell, Laurence Mason
64
S5E10: Of Mice and Lem
60 min | Mar 14, 2006

To the dismay of his friends, a weary Lem is thinking about accepting a deal from the D.A. where he has to plead guilty to the heroin charges. With no other choice, Vic reluctantly meets with Antwon in order to ensure Lem's safety in prison. Meanwhile, unforeseen circumstances that are beyond Claudette and Dutch's control might cause irrevocable damage to their friendship.
Guest stars: Derk Cheetwood, Anthony Anderson, Laura Harring, Joe Camareno, John Cygan, David Marciano, L. Michael Burt, J. David Shanks, Gina Torres, Scott Serridge, Christopher Judd, Danielle Barbosa, Mark Gantt, Derek Webster, Nigel Gibbs
65
S5E11: Post Partum
60 min | Mar 21, 2006

As Vic prepares to help Lem get out of the country to begin a new life in Mexico; Kavanaugh and Aceveda attempt to capitalize on the situation by using this as means to try to take down the leader of the Strike Team. Dutch decides to file for a transfer. Meanwhile, Shane tries to cut off the investigation by taking extreme measures and Danny finally confronts the father of her child.
Guest stars: Onahoua Rodriguez, Ammar Daraiseh, Jordi Caballero, Laura Harring, Melanie Myers, Yul Spencer, Lance Irwin, David Batiste, James Molina, Autumn Chiklis, Bon Ogle, Forest Whitaker, Leeah D. Jackson, Ally Walker, David Marciano, Kwesi Boakye
66
S5E12: Wins and Losses - Promosode
60 min
67
S6E1: On the Jones
60 min | Apr 02, 2007

With the Barn grieving over the loss of one of their own, Vic's out to avenge his friend's murder, but finds himself in the crosshairs of Kavanaugh. Claudette assigns the Strike Team to investigate the torching of a methadone clinic. Meanwhile, Julien and Tina look into a robbery/assault at a porno shop, and Dutch makes a horrifying discovery in San Marcos.
Guest stars: Efia Pearson, Ray Auxias, Jontille Gerard, Joey Vieira, Louisa Abernathy, L. Michael Burt, Joseph D. Reitman, Harvey Silver, Forest Whitaker
68
S6E2: Baptism by Fire
60 min | Apr 09, 2007

Kavanaugh acquires what he needs in order to apprehend Vic who is preoccupied with getting revenge on Guardo. Claudette finds herself under the political microscope as a result of the San Marcos incident, and Danny receives some news about her future at the Barn.
Guest stars: Forest Whitaker, Lela Loren, Al Israel, Jordi Caballero, Miguel Nájera, Benny Hernandez, Lorenzo Eduardo, Saul Huezo, Edward Meza, Alexis Hernandez, Julian Scott Urena, Jerry Hernandez, Michele Moreno
69
S6E3: Back to One
60 min | Apr 16, 2007

Consumed by bloodlust, Vic finally gets the chance to avenge his friend's murder, despite Shane's pleas against it. Meanwhile, Ronnie is assigned by Claudette to help Dutch and Billings investigate a robbery homicide at a pharmacy.
Guest stars: Ken Jeong, Dennis Keiffer, Rodney Holland, Tom O'Keefe, Donald Roman Lopez, Nicole Randall Johnson, Lindsay Hollister, Julie Dretzin, Lela Loren, Luis Antonio Ramos
70
S6E4: The New Guy
60 min | Apr 23, 2007

Claudette gives Vic a chance to save his job if he agrees to train his potential replacement. An unsolved rape case from the past that Dutch and Claudette were working on resurfaces. Meanwhile, Aceveda meets someone that can help him further his political career.
Guest stars: Chaney Kley, Aaron Todd Kessee, Kevontay Jackson, Angela Hughes, Jules Theodore, Jackie Chavez, Jennifer Lynne Wetzel, Maria Lazam Hanson, E.L. James, Maggie Hustberry, Darryl Alan Reed, L. Michael Burt, Jontille Gerard, Trent J. Cameron, Fred Toma, F.J. Rio, Terrah Bennett Smith, Hosea Chanchez, Cherrelle Noyd
71
S6E5: Haunts
60 min | Apr 30, 2007

After being badly beaten, Shane's life spirals even more out of control as his guilt continues to eat away at him and his marriage begins to fall apart. Vic and Ronnie try to learn who was responsible for Shane's attack. Meanwhile, under the new leadership of Kevin Hiatt, Claudette assigns the Strike Team to investigate the San Marcos murders. Dutch and Billings make progress in a serial rapist case.
Guest stars: Carl Weathers, Brian Howe, Patrick St. Esprit, Gary Wolf, Angela Hughes, Cherrelle Noyd, Clifton Collins Jr., L. Michael Burt, Jontille Gerard, Chaney Kley, Edward Padilla, Matthew Pollino, Brittany McCulty, Skyy John, F.J. Rio, Omar Benton Ricks, Gina Marie Fields, Roy Vongtama
72
S6E6: Chasing Ghosts
60 min | May 07, 2007

Vic redirects his attention to finding out who really killed Lem after he learns for certain that Guardo wasn't involved. The Strike Team investigates the murder of a politician's daughter. Later, Cassidy confronts her father about his unethical past.
Guest stars: Khanya Mkhize, Dylan Kenin, Sue Turner-Cray, Amin Joseph, Kyle Davis, Rebecca Lowman, Victor Togunde, Michael Bofshever, Lela Loren
73
S6E7: Exiled
60 min | May 14, 2007

After Vic disowns him, Shane turns to the Armenian mob for help. Vic gets more involved with the San Marcos investigation, while Dutch and Billings are able to track down someone who survived the massacre.
Guest stars: F.J. Rio, Kevin McCorkle, Ludwig Manukian, Benny Hernandez, Craig Ricci Shaynak, Karla Zamudio, Baxter Humby, Zahn McClarnon, Carmen Corral, Margarita Reyes, Ramona DuBarry, Clifton Collins Jr., Katey Sagal, Al Faris
74
S6E8: The Math of the Wrath
60 min | May 21, 2007

Vic learns about his true status at the Barn from Hiatt. Shane gets involved with the daughter of an Armenian mob boss. Claudette begins to question Hiatt's loyalty.
Guest stars: Franka Potente
75
S6E9: Recoil
60 min | May 28, 2007

As progress is being made in the San Marcos investigation, Vic receives bad news about his career. Meanwhile, Shane and Diro become business partners as she prepares to take over the Armenian mob.
Guest stars: Franka Potente, Wrenna Monet, Baxter Humby, Vinicius Machado, Javier Ronceros, Ludwig Manukian, Benny Hernandez, William Charlton, Michael Bofshever, Seth Peterson, F.J. Rio, Jessica Lugo, Patrick O'Connor
76
S6E10: Spanish Practices
60 min | Jun 04, 2007

Claudette notices Hiatt's mistake when he makes an arrest, and Billings delivers shocking news to the department. Vic forms an alliance with Aceveda, while he waits for his review board hearing. Meanwhile, Shane's life keeps spiraling out of control.
Guest stars: Franka Potente
77
S7E1: Coefficient of Drag
60 min | Sep 01, 2008

Vic challenges Shane and deals with threats to his family; a federal agent arrives in Farmington to investigate a recent wave of violence.
Guest stars: Laurie Holden, Michele Hicks, F.J. Rio, Anna Maria Horsford, Hector Luis Bustamante, Matt Corboy, Jos Viramontes, Necar Zadegan, Autumn Chiklis
78
S7E2: Snitch
60 min | Sep 08, 2008

As a local gang war heats up, Vic positions himself as a valuable commodity to the warring parties; Corrine and Cassidy confront Vic.
Guest stars: Laurie Holden, Scoot McNairy, Nigel Gibbs, F.J. Rio, Ludwig Manukian, Hector Luis Bustamante, Anna Maria Horsford, William Charlton, Mike Gomez, Autumn Chiklis
79
S7E3: Money Shot
60 min | Sep 15, 2008

Vic works an angle to make himself valuable to the Armenian mob; Corrine finds herself in a surprising legal jam; Tina targets a producer of adult entertainment.
Guest stars: Laurie Holden, Michele Hicks, Larry Clarke, Ludwig Manukian, Joseph D. Reitman, Alle Ghadban, Yorgo Constantine, Matt Corboy, Ryun Yu, Autumn Chiklis
80
S7E4: Genocide
60 min | Sep 22, 2008

The gang war erupts in unexpected ways that Vic cannot control; Dutch and Billings' homicide investigation grows into something more disturbing; Cassidy reaches out to Danny.
Guest stars: Laurie Holden, F.J. Rio, Ludwig Manukian, Michael Bofshever, Kyle Gallner, Jose Pablo Cantillo, Autumn Chiklis, Frances Fisher
81
S7E5: Game Face
60 min | Sep 29, 2008

Claudette encounters a murderous old nemesis; Vic confronts Olivia about her political connections; Dutch's case gets personal.
Guest stars: Laurie Holden, Anna Maria Horsford, Bob Morrisey, Ray Campbell, Kyle Gallner, J.C. MacKenzie, Kimberly McCullough, Kareem Grimes, James Hiroyuki Liao, Tanner Richie, Frances Fisher
82
S7E6: Animal Control
60 min | Oct 06, 2008

Vic sets into motion plans to end the gang threat as his relationship with Cassidy deteriorates; Dutch and Billings investigate a possible sleepwalking murderer.
Guest stars: Laurie Holden, Michele Hicks, Brian J. White, Scott Michael Campbell, Jose Pablo Cantillo, Sal Lopez, Ludwig Manukian, F.J. Rio, Chelse Swain
83
S7E7: Bitches Brew
60 min | Oct 13, 2008

A prostitute from Vic's past is the key to taking down a violent drug dealer; Dutch worries about Claudette's health; Danny takes drastic measures to protect her child.
Guest stars: Laurie Holden, Patrick St. Esprit, Michele Hicks, F.J. Rio, Mageina Tovah, Billoah Greene, Paul Dillon, J.C. MacKenzie, Yasmine Abriel
84
S7E8: Parricide
60 min | Oct 20, 2008

A local priest may be protecting drug dealers; Dutch and Billings close in on attempted cop killers; Corrine learns uncomfortable truths about Vic.
Guest stars: Laurie Holden, Michele Hicks, F.J. Rio, Billoah Greene, Silas Weir Mitchell, Paul Dillon, Brandon Fobbs, Yasmine Abriel
85
S7E9: Moving Day
60 min | Oct 28, 2008

Vic closes in on Shane, Mara and their sick young son; Claudette dismantles the Strike Team; Pezuela offers Acevada "assistance" for his mayoral campaign; Rita Denton (Frances Fisher) comes on to Dutch; and Billings' ex-wife and daughter are fearful when a registered sex offender moves into their neighborhood.
Guest stars: Laurie Holden, Michele Hicks, Nigel Gibbs, F.J. Rio, Paul Dillon, Francesco Quinn, Cooper Huckabee, Hannah Cox, Ping Wu, Natalie Dreyfuss, Ronnie Gene Blevins, Autumn Chiklis, Frances Fisher
86
S7E10: Party Line
60 min | Nov 04, 2008

While Shane remains holed up in L.A. with Mara and Jackson, Corinne decides to cooperate with Dutch and Claudette, who's now spearheading the LAPD effort to bring down Vic. Meanwhile, Vic plays Aceveda, Pezuela, Beltran and ICE against each other. But Ronnie's tempted to simply give up and run to Mexico. "And you should run too man" he tells Vic.
Guest stars: Laurie Holden, Michele Hicks, Nigel Gibbs, F.J. Rio, Francesco Quinn, DeLane Matthews, Autumn Chiklis
87
S7E11: Petty Cash
60 min | Nov 11, 2008

Corrine agrees to be Vic and Shane's go-between and also agrees to cooperate with Claudette and Dutch as she does so. Meanwhile, Vic comes to an understanding with Aceveda and seeks one out with Olivia; and Claudette assigns Ronnie to work with Julian to investigate the murder of a high-school football star, keeping Ronnie out of the barn and unable to intercept the letter Shane sent to Claudette detailing the Strike Team's "sins."
Guest stars: Laurie Holden, Michele Hicks, Francesco Quinn, Virginia Watson, Peter Macon, Jemal T. McNeil, Stu "Large" Riley, David Raibon, Clement E. Blake, Mark Allan Stewart, Autumn Chiklis
88
S7E12: Possible Kill Screen
60 min | Nov 18, 2008

Olivia joins forces with the Strike Team to catch a Mexican drug king and his shipment. Meanwhile, Dutch cleans up Billings' mess, and the death of a woman associated with the Strike Team prompts an investigation by Claudette.
Guest stars: Laurie Holden, Michele Hicks, Francesco Quinn, Paul Dillon, Jordan Marder, Frances Fisher
89
S7E13: Family Meeting
60 min | Nov 25, 2008

Officers in the Barn investigate a woman's disappearance and the arrival of a large drug shipment; lives change forever.
Guest stars: Laurie Holden, Andre 3000, Michele Hicks, Julia Campbell, Kyle Gallner, Francesco Quinn, Peter Macon, Stu "Large" Riley, Paul Dillon, Autumn Chiklis
90
S7E14: -- DELETE ME --
60 min
---
Editions
| Barcode | Format | Region | Released | Edition |
| --- | --- | --- | --- | --- |
| 683904633385 | | 1 | Nov 06, 2018 | |
| 826831071848 | | 1 | May 14, 2019 | |
| 043396422339 | | 1 | Sep 03, 2013 | |
| 043396287327 | | 1 | Nov 03, 2009 | |
| 5035822928817 | | 2 | Jun 08, 2009 | |
| 8712609645873 | | 2 | | |
| 4030521726642 | | | | |
| 5051162286110 | | | | |
| 5050350928801 | | | | |
| 4030521732728 | | | | |
| 9317731092442 | | | | |
| 3333290012123 | | | | |
| 683904111784 | | | | |
| 3333290000625 | | | | |
---
---