The Sinner: Season 1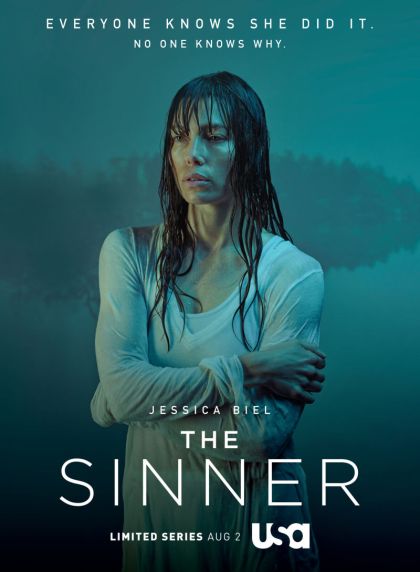 ---
Iron Ocean Films (2017)
Thriller, Mystery
USA | English | Color | 1h
A young mother is overcome by an inexplicable fit of rage and commits a startling act of violence and to her horror has no idea why. The event launches an inverted and utterly surprising crime thriller whose driving force is not the "who" or the "what" -- but the "why" -- as an investigator finds himself obsessed with uncovering the woman's buried motive. Together they travel a harrowing journey into the depths of her psyche and the violent secrets hidden in her past.
---
---
Director
Antonio Campos
Writer
Derek Simonds, Petra Hammesfahr
Producer
Derek Simonds, Michelle Purple, Antonio Campos, Jessica Biel
Photography
Jody Lee Lipes, Radium Cheung
Musician
Ronit Kirchman
---
1
Part I
45 min | Aug 01, 2017
An unassuming housewife stabs a beachgoer to death, which sparks an investigation and creates confusion in a small town.
Director: Antonio Campos
Writer: Derek Simonds
2
Part II
45 min | Aug 08, 2017
Cora tries to block Ambrose's continuing investigation, while Mason struggles to come to terms with secrets from Cora's past.
Director: Antonio Campos
Writer: Derek Simonds
3
Part III
45 min | Aug 15, 2017
Ambrose unearths a startling secret about Cora that changes the course of the investigation; Mason takes matters into his own hands.
Director: Antonio Campos
Writer: Derek Simonds
4
Part IV
45 min | Aug 22, 2017
With Ambrose's help, Cora struggles to recover missing memories, which lead Ambrose to a new suspect.
Director: Brad Anderson
Writer: Liz W. Garcia
5
Part V
45 min | Aug 29, 2017
After the discovery of a body in the woods, more questions arise.
Director: Cherien Dabis
Writer: Jesse McKeown
6
Part VI
45 min | Sep 05, 2017
When Ambrose begins to waver, Cora convinces him to take a risk for the case.
Director: Judy Lee Lipes
Writer: Tom Pabst
7
Part VII
45 min | Sep 12, 2017
Cora finally remembers the night in question.
Director: Tucker Gates
Writer: Liz W. Garcia
8
Part VIII
45 min | Sep 19, 2017
Cora's fate is determined.
Director: Tucker Gates
Writer: Jesse McKeown, Tom Pabst
---
Editions
| Barcode | Format | Region | Released | Edition |
| --- | --- | --- | --- | --- |
| 9317731140822 | | | | |
| 191329046500 | | | | |
| 191329046494 | | 1 | Feb 13, 2018 | |
| 5053083143152 | | | | |
| 5053083143565 | | | | |
---
---