The Westerner
The Westerner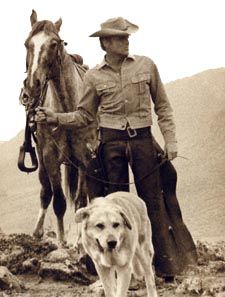 ---
Four Star Productions (1960)
Western
USA | English | Color | 5h 30min
Laconic cowboy Dave Blasingame wanders the Wild West with his faithful dog Brown and the occasional companionship of pal Burgundy Smith.
---
---
Writer
Sam Peckinpah
Producer
Sam Peckinpah, Hal Hudson
Photography
Lucien Ballard, Edward Cronjager, Howard Schwartz, Carl E. Guthrie, Archie R. Dalzell

,

Guy Roe, Frank G. Carson, George E. Diskant

Musician
Rudy Schrager, Joseph Mullendore, Herschel Burke Gilbert
---
1
Jeff
30 min | Sep 29, 1960
Dave is out to kill a man named Danny Lipp, who runs a run down bordertown Saloon. In the End, he leaves after only beating up Danny Lipp.
Director: Sam Peckinpah
Writer: Sam Peckinpah, Robert Heverly
Guest stars: Marie Selland, William Sharon, Warren Oates, Warren Tucker, Michael Green, Charles Horvath, Geoffrey Toone, Diana Millay
2
School Days
30 min | Oct 07, 1960
When a man murders a schoolteacher, Dave finds him, and shoots him. But the man still gets away. When Dave finds him, he is dying, with his two brothers by his side. The brothers try to pin his ""murder"" on Dave.
Director: André De Toth
Writer: Sam Peckinpah, Robert Heverly
Guest stars: R.G. Armstrong, Maggie Mahoney, John Anderson, Richard Rust, William Tracy, Bill Quinn, Bill Mims, Dub Taylor
3
Brown
30 min | Oct 21, 1960
A smooth talker ends up with Dave's dog, Brown
4
Mrs. Kennedy
30 min | Oct 28, 1960
Trouble's brewing when Dave is hired to work for a rancher whose wife has eyes for Dave.
Guest stars: Paul Richards
5
Dos Pinos
30 min | Nov 04, 1960
When Dave looks for room and board in a small town, he gets more than his fair share of fun when he learns of the gun happy Cantina named Puak. He also finds a wounded deputy
Guest stars: Red Morgan, Malcolm Atterbury, Adam Williams, Jean Willes
6
The Courting of Libby
30 min | Nov 11, 1960
Dave courts Libby
Guest stars: Joan O'Brien
7
Treasure
30 min | Nov 18, 1960
Dave and his dog Brown take shelter during a dust storm, and find a bag full of gold coins. But when the prospector who owns the coins comes along, he is anxious to get the gold back from Dave.
Guest stars: Malcolm Atterbury, Michael Morgan, Leonard P. Geer, Henry A. Gobble, Victor Izay, Arthur Hunnicut
8
The Old Man
30 min | Nov 25, 1960
Dave wants his horse and Rifle back after they are stolen by a bunch of land grabbers
Guest stars: Arthur Hunnicut
9
Ghost of a Chance
30 min | Dec 02, 1960
Dave meets up with a ghost
10
Line Camp
30 min | Dec 09, 1960

Dave and Brown find a dead man on the trail. They take him to a cattle camp, where he meets an old friend of his. But when Daves friend gets drunk and picks a fight with Dave, Dave has no choice to shoot his old friend.
Director: Tom Gries
Writer: Tom Gries
Guest stars: Robert Culp
11
Going Home
30 min | Dec 16, 1960
On his way home, Dave sees two women pushing a cart with a adly wounded man inside. Dave helps protect the Trio from the bounty hunters after the $2000 reward out for the man's capture.
Director: Elliot Silverstein
Writer: Jack Curtis
Guest stars: Jimmy Lee Cook, Michael T. Mickler, Rudy Dolon, John Brinkley, Jack Kruschen, Virginia Gregg, Mary Murphy
12
Hand on the Gun
30 min | Dec 23, 1960
A young man provokes a gunfight between Dave and another cowhand.
Director: Sam Peckinpah
Writer: Bruce Geller
Guest stars: Hank Gobble, Wayne Tucker, Ben Cooper, Michael Ansara, John Pickard
13
The Painting
30 min | Dec 30, 1960
When Dave is fired from the ranch, he is hired to track down a very rare and expensive painting. But when Daves friend finds out about it, he tries to snooker it from Dave for considerably less than it is worth.
Director: Sam Peckinpah
Writer: Bruce Geller
Guest stars: Charles La Rocca, Wadde Waddle, Tom Steele, Hank Gobble, Paul Sorenson, Madlyn Rhue
---
Editions
| Barcode | Format | Region | Released | Edition |
| --- | --- | --- | --- | --- |
| 826663170139 | | 1 | May 16, 2017 | |
---
---