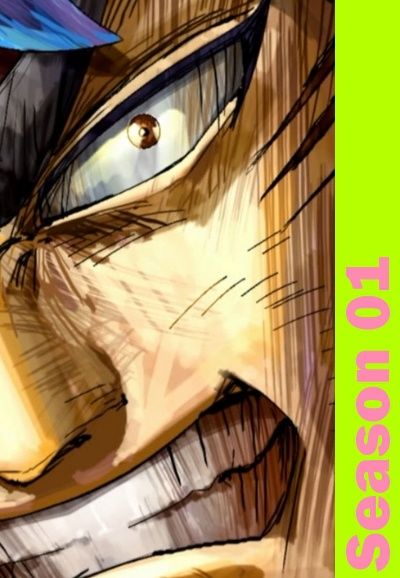 ---
Funimation (2011)
Animation, Comedy, Adventure, Anime, Action
USA | English | Color | 5h
In the world where the taste and texture of food are very important there is Toriko, a hunter of precious foods regularly hired by restaurants and the rich. A man with inhuman skills to capture the ferocious, evasive and rare animals to complete his ultimate dinner course and then the chef Komatsu, his current accomplice: a weak timid person who was inspired by Toriko's greatness and accompanies him on all his journeys on his quest for the course of his life.
---
---
1
Arrival on Gourmet Island! The Gourmet Hunter Toriko Appears!
25 min | Apr 02, 2011

After eating the Hungry-la Bird that they captured, Luffy and Toriko team up again to save Nami and Komatsu who have been kidnapped by the Cocoalas.
2
A Giant Monster of an Unexplored Region! Toriko, Capture the Gararagator!
25 min | Apr 09, 2011

Toriko, the legendary Gourmet Hunter, is hired by timid chef Komatsu to help track down a delicious Gararagator for a very important dinner. Will the intrepid adventures taste sweet success - or become their dinner's dinner?
3
The Mellowness of the Seven-colored Juice! Get the Rainbow Fruit!
25 min | Apr 16, 2011

The International Gourmet Organization hires Toriko to harvest the legendary Rainbow Fruit, but the famed hunter will have to prove he's tougher than an entire nest of Troll Kongs before he can finish the job!
4
Prepare It! The Poisonous Puffer Whale! The Heavenly King Coco Appears!
25 min | Apr 23, 2011

Toriko and Komatsu set out to capture a Puffer Whale, but this daring quest to satisfy their exotic appetites may be the death of them both! Lucky for them, King Coco is along for the ride!
5
The Deadly Cave Battle! Fire, Five-Fold Spiked Punch!
25 min | Apr 30, 2011

Komatsu is kidnapped by a gourmet hunter who wants to use the boy as bait. Toriko and Coco are his only hope for survival, but they've got their hands full battling a deadly Devil Python!
6
Knocking Master! Puffer Whale, Time for Gourmet!
25 min | May 07, 2011

Komatsu finds himself face-to-face with a Devil Python, and the secret weapon Toriko gave him might get the young chef killed! Even if he survives, a daunting task lies ahead: removing the poison from a priceless Puffer Whale!
7
The Strongest Wolf That Ever Lived! The Battle Wolf Is Reborn!
25 min | May 14, 2011

Amidst the emergence of a horrifying new breed of evil, Toriko and Komatsu are hired by the IGO to track down the elusive and delicious Regal Mammoth and its priceless Jewel Meat!
8
The Threat Appears! Rumble at the Gourmet Coliseum!
25 min | May 21, 2011

Toriko's epic rumble with the legendary Battle Wolf is derailed by an unexpected new arrival and the interference of an insanely evil representative of the Gourmet Corp!
9
That Which Is Passed Down! Activate, Gourmet Cells!
25 min | May 28, 2011

Toriko fights and defeats the GT Robo. He then adapts the baby battle wolf as his pet, which he names Terry Cloth. Mansam tells Komatsu about Gourmet Cells but does not provide any more details. The Bishoku-kai are revealed to be after the Regal Mammoth as well. At the end the group has a feast (Mansam's Full Course).
10
The Man Who Has an Invincible Domain! His Name Is Sani!
25 min | Jun 04, 2011

Toriko and the gang are on the hunt for a Regal Mammoth when they cross paths with the Heavenly King, Sunny. With GT Robots on the prowl and Rock Drums dead ahead, they'll need Sunny's help to survive!
11
Regal Isle Dash! Search for the Jewel Meat!
25 min | Jun 11, 2011

While the villainous GT Robots continue their search for mammoth meat, Toriko has his hands full battling an ornery Obasaurus, and Komatsu learns the powerful secrets of the Gourmet Cells.
12
The Demon Game! Clear Devil Athletics!
25 min | Jun 18, 2011

Toriko's daring attempt to navigate the Devils' Playground brings him face-to-face with a Soldier Frog, an Axeox, and an Avian Beast with hallucinogenic breath! Meanwhile, a GT Robot stalks the Regal Mammoth.
13
The Strongest Helper! Clash, Coco vs. GT Robo!
25 min | Jun 25, 2011

Toriko's quick thinking saves Sunny and Komatsu from being crush by a mammoth, but there are greater threats looming. A giant GT Robot is ready to rumble, and the Gourmet Hunters are all out of strength.
14
A Deadly Threat! Coco's Winning Equation
25 min | Jul 02, 2011

While Toriko searches for the priceless Jewel Meat, Sunny and Coco wage separate battles against deadly GT Robots! Will Sunny's hair leash and Coco's poison rifle be enough secure victory?
15
An Aesthetic becomes tough! Sunny's Manly Fight
25 min | Jul 09, 2011

Sunny's battle with the GT Robot is complicated by the arrival of a Mega Octopus, and something extremely evil hunts Toriko and his famished friends!
16
Rin's Final Wish! The Awakening of Super Toriko!!
25 min | Jul 16, 2011

Rin's tragic end sends Toriko into a rage, but the price of fueling his passionate attack may cost him his life. Meanwhile, Komatsu takes a heroic stand when the GT Robot tries to rob the chef of his favorite knife!
17
Super Toriko's Fist of Rage! This is the Strongest Spiked Punch!
25 min | Jul 30, 2011

A bite of the delicious Jewel Meat energizes Toriko, who uses a vicious Ten-Fold Spike Punch to put the hurt on a GT Robot! When the dust finally settles on the battlefield, dinner will be served!
18
The DNA's Carved Taste! Toriko, Search for the Blue Blood Corn!
25 min | Aug 06, 2011

Komatsu must find an exquisite sauce to top a dish of very rare fish, and Toriko prepares to venture deep into the deadly Wu Jungle in search of food fit for a Battle Wolf!
19
A Talent for Fighting!! Look, Terry, the Quality of a Champion!
25 min | Aug 13, 2011

Time is running out for Komatsu to complete his fishy dish, and Toriko watches as Terry faces off against a beastly Zombie Wood. Will the Battle Wolf show his true power - or fall to his ferocious foe?
20
For Terry's Sake! Burst By Broiling Heat, BB Corn!
25 min | Aug 20, 2011

Toriko and Terry finally find the deliciously elusive BB Corn, and Komatsu must depend on a special blend of spices to survive an encounter with a giant lizard!
21
The Gourmet Corps' Assassin! Toriko's Attack Instantaneously Evolves!
25 min | Aug 27, 2011

Toriko must take his powers to the next level if he hopes to defeat a ravenous assassin from the Gourmet Corps. Elsewhere, Komatsu learns of the legendary ingredient with the power to stop - or start - wars!
22
The Pressure of Madness! Grinpatch vs. Toriko
25 min | Sep 03, 2011

Toriko continues his battle with the corn-stealing, straw-wielding villain known as Grinpatch, and Komatsu desperately races to make it home before a rare dish of fish becomes nothing more than bubbles!
23
A Restaurant of Amusement! The Gluttonous City Gourmet Town!
25 min | Sep 10, 2011

Toriko and Komatsu travel to the city of culinary dreams for a special dinner with a living gourmet legend! Elsewhere, the sinister Gourmet Corps reveal the secrets behind their desperate desire for the Jewel Meat!
24
A Time of Dreams! Setsuno's Century Soup!
25 min | Sep 17, 2011

Komatsu and Toriko are treated to an ultra-exclusive tour of Setsuno's kitchen, including the top secret area where she prepares Century Soup! Inspired, they set off in search of the genuine article, but trouble lies ahead!
25
Meeting in a Barroom! The Powerful and Numerous Gourmet Hunters!
25 min | Sep 24, 2011

Toriko, Komatsu, and a ravenous army of Gourmet Hunters set off in search of the legendary Century Soup. Their journey will take them to Ice Hell, but they'll have to survive a Sharkrocodile attack to arrive in one piece!
26
The Gourtmet Hunter Troops' Challenge! Arrival in the Frigid Hell!
25 min | Oct 01, 2011

Tundra Dragons and killer icicles are just a few of the obstacles standing between Toriko and the Century Soup. If the elements don't kill him, there is a mean, green, GT Robot waiting to finish the job!
27
Hurry While It's Hot! A Survival Race On Ice!
25 min | Oct 08, 2011

Zonge stumbles upon a group of angry Growlruses, Toriko and company go head-to-head with a herd of ferocious Freezer Bison, and a villainous vice chef unleashes an army of beastly insects!
28
The Explosive Fire Shakes Ice Mountain! The Identity of the Masked Man!
25 min | Oct 15, 2011

Toriko and Komatsu team up to turn a deadly Silver Grizzly into a scrumptious soup. A villainous member of the Gourmet Corps is hot on their trail, but help is on the way in the form of a Heavenly King!
29
Glorious Bug Tamer! Tommyrod vs Toriko!
25 min | Oct 22, 2011

When Toriko's hand is frozen solid during a deadly encounter with a Gourmet Corps bug tamer, the burden of collecting the Century Soup falls squarely on the small shoulders of Komatsu! Is the little chef up to such a big task?
30
Gratitude and Pride! Takimaru's Full-Out Corkscrew Shot!
25 min | Oct 29, 2011

Toriko fights to survive a deadly swarm of insects, and Takimaru fights for his life against an unbreakable opponent. Meanwhile, Komatsu's quest to collect the Century Soup is monitored by GT Robot!
31
The Victory! Match and Takimaru's Desperate Attack
25 min | Nov 06, 2011

Takimaru relies on lessons from his past to settle the score with his flexible foe, and Match puts his blade to the ultimate test against an opponent clad in Crash Turtle armor!
32
The Gourmet Reviver and the Legendary Soup's Location!
25 min | Nov 13, 2011

Toriko heats things up in a heroic attempt to end the insect onslaught! Elsewhere, Komatsu finally reaches the location of the Century Soup - only to find that there is no soup!
Director: Uda Kounosuke
33
A Competitive Fight! Fierce-Fighting Toriko vs. Tommyrod!
25 min | Nov 20, 2011

Director: Uda Kounosuke
34
Desperate Struggle! Tommyrod's Explosive Serious Mode!
25 min | Nov 27, 2011

35
Miraculous Power! Saiseiya Teppei Joins The Fray!
25 min | Dec 04, 2011

36
The Last Drop! Whose Hands Will The Century Soup Fall Into?
25 min | Dec 11, 2011

37
Splendid Healing! Here Comes the Gourmet Reviver, Yosaku!
25 min | Dec 25, 2011

38
Race to Finish! Will It Be Toriko's Recovery, or Komatsu's Soup?!
25 min | Jan 08, 2012

39
To the World of Ultimate Bliss! Taste the Century Soup!
25 min | Jan 15, 2012

40
A Housewarming Party! Everyone Gathers at Sweets House!
25 min | Jan 22, 2012

41
The Gourmet King Deciding Battle! Find the Ultimate Sweets!
25 min | Jan 29, 2012

42
The Dish of Bonds! Partners Are Forever
25 min | Feb 05, 2012

43
Wkite Hot! Toriko vs the IGO President
25 min | Feb 12, 2012

44
The Vegetable Garden in the Ether, Vegetable Sky!
25 min | Feb 19, 2012

45
Discovery! The King of Vegetables, the Ozone Herb!
25 min | Feb 26, 2012

46
Confession in the Sky! An Indestructible Combo is Formed!
25 min | Mar 04, 2012

47
Shocking Encounter! A Mysterious Creature Appears!
25 min | Mar 18, 2012

48
Toriko Plunges In! The Truth of Gourmet World!
25 min | Mar 25, 2012

49
An Astonishing Rescuer Appears! The True Meaning of a Partner!
25 min | Mar 31, 2012
50
The Reunion of Toriko and Luffy! Find the Seafood Fruit!
25 min | Apr 07, 2012
51
Shock! The Broken Knife and Sharpener Melk!
25 min | Apr 14, 2012
52
Tension! Toriko's Knife Vs Melk's Kitchen Knife!
25 min | Apr 21, 2012
53
Ultra Gravity! Take On Heavy Hole!
25 min | Apr 28, 2012
54
Hidden Truth! Melk The First Appears!
25 min | May 05, 2012
55
Debut! Succeeding as the Second Generation and the Melk Stardust!
25 min | May 12, 2012
56
A Work Made with All Her Might! The Completed Melk Knife!
25 min | May 19, 2012
57
Super Celebs! The Dream Trip on the Gourmet Coach!
25 min | May 26, 2012
58
He Finally Appears! The Last of the Four Heavenly Kings, Zebra!
25 min | Jun 02, 2012
59
Unleash the Roar! The Release of the Condemned Criminal Zebra!
25 min | Jun 09, 2012
60
Warning Issued! Zebra Lands on Sand Garden!
25 min | Jun 16, 2012
61
Komatsu Disappears! The Demonic Desert Labyrinth!
25 min | Jun 23, 2012
62
Sealed Voice! The Different Dimension of Gourmet Pyramid!
25 min | Jun 30, 2012
63
Bizarre! The Mysterious Ancient Document and the Creature in the Coffin!
25 min | Jul 07, 2012
64
Episode 65
25 min | Jul 14, 2012
65
Explosion of Combination Techniques! Taking the World's Best Cola!
25 min | Aug 04, 2012
66
Surpass Father! Mid-Summer Gatsugatsu Curry!
25 min | Aug 18, 2012
67
Episode 70
25 min | Aug 18, 2012
68
A New Stage! Toriko's Determination and the Return of "Him"!
25 min | Aug 31, 2012
69
UWAAH! The Astonishing Surprise Apples!
25 min | Sep 14, 2012
70
Chicken Egg! Memories of Old Man Yocchi and his Wife
25 min | Sep 21, 2012
71
Glistening of a Crystal! Shining Gourami!
25 min | Sep 28, 2012
72
Episode 76
25 min | Oct 05, 2012
73
Sani's New Technique! The Fruits of Magnificent Training!
25 min | Oct 12, 2012
74
A Combined 30-Fold! 36 Ren Twin Kugi Punch!
25 min | Oct 19, 2012
75
Intuition Cooking! Komatsu and the Shining Gourami!
25 min | Oct 26, 2012
76
A Super Extravagant Production! The Ultimate Meal Service!
25 min | Nov 03, 2012
77
The Finest Chitose Ame! Komatsu and Yun's Tale
25 min | Nov 10, 2012
78
A Gathering at Autumn Mountain! Terrym Yun, Kiss, and Quin!
25 min | Nov 17, 2012
79
Reunion! Take-chan of Otogi Castle!
25 min | Nov 24, 2012
80
Episode 84
25 min | Dec 01, 2012
81
Dramatic Transformation - The Beauty Parlor, Barber Gourmet!
25 min | Dec 08, 2012
82
Episode 86
25 min | Dec 15, 2012
83
Merry Itadakimasu! Gourmet Santa's Presents!
25 min | Dec 22, 2012
84
Heaven or Hell?! Plunge into Gourmet Casino!
25 min | Dec 29, 2012
85
Episode 89
25 min | Jan 05, 2013
86
Episode 90
25 min | Jan 12, 2013
---
Editions
| Barcode | Format | Region | Released | Edition |
| --- | --- | --- | --- | --- |
| 704400091421 | | 1 | Mar 19, 2013 | |
| 704400091452 | | 1 | Aug 26, 2014 | |
| 704400091476 | | 1 | Apr 11, 2017 | |
| 704400091407 | | | Jan 08, 2013 | |
| 704400091438 | | | May 07, 2013 | |
| 9322225192294 | | | | |
---
---