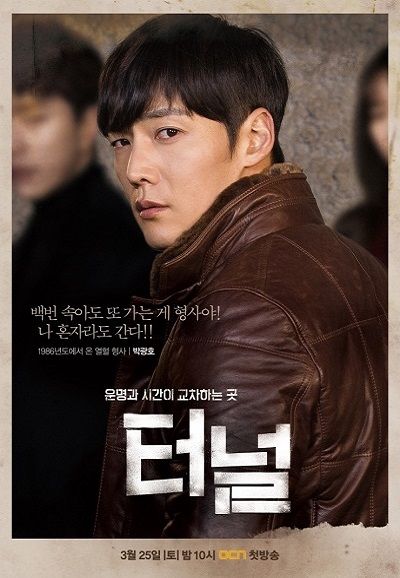 2017
Drama, Science Fiction, Thriller, Crime
South Korea | Korean | Color | 5h
The story of a detective who accidentally travels from the past to the present. He goes from walking along the ridges of rice paddies for clues in 1986, straight into 2016. Wherever he goes, he causes trouble and creates problems, but his antics are funny and bizarre because he is an old-fashioned detective from the past trying to adjust to life in modern day.
---
| | | |
| --- | --- | --- |
| | Choi Jin-Hyuk | Park Kwang-Ho |
| | Kang Ki-Young | Song Min-Ha |
| | Jo Hee-bong | Jeon Sung-Sik |
| | Yoon Hyun-Min | Kim Sun-Jae |
| | Kang Ki Young | Song Min Ha |
| | Kim Byung-Chul | Kwak Tae-Hee |
| | Cha Hak-Yeon | Park Gwang-Ho |
| | Lee Yoo-Young | Shin Jae-Yi |
| | Byung Chul Kim | Kwak Tae Hee |
| | Yoo Young Lee | Shin Jae Yi |
| | Yang Joo-Ho | Reporter Oh |
| | Hak Yeon Cha | Park Kwang Ho (young) |
| | Hee Bong Jo | Jeon Sung Sik |
| | Jin Hyuk Choi | Park Gwang Ho |
| | Lee Shi-Ah | Shin Yeon-Sook |
---
1
I'll Come Save You
60 min | Mar 25, 2017
In the town of Hwayang, series of murders that took young women's lives away is making everyone feel anxious. Serious Crimes Unit of Hwayang Police Station works day and night to catch the culprit behind the incidents, but for months, they make no progress. At last, Kwang Ho makes a breakthrough and tracks down the murderer behind the murders.
2
Where Am I?
60 min | Mar 26, 2017
When Kwang Ho wakes up, he finds himself in the year of 2016 where a police officer with the same name as him has gone missing. In order to find a way back to his world, he decides to go along with it as everyone in Hwayang Police Station thinks he's the new recruit who's been recently transferred. He gets busy right away as his team becomes in charge of a mysterious murder case.
3
I'm Really Coming
60 min | Mar 31, 2017
The fifth body of the serial murders that started in 1986 has finally been found after 30 years. Kwang Ho is certain that he will be able to go back to his wife after solving this case. He finds a clue by using his memory of the time before he was sent from the past. Meanwhile, Sun Jae and Jae Yi cooperate in order to catch the criminal.
4
Like Attracts Like
60 min | Apr 01, 2017
Kwang Ho puts out the fire that broke out on the first floor of his apartment and realizes that the lady who studies maniacs, Jae Yi, is living downstairs. Meanwhile, Sung Shik gets suspicious of Kwang Ho's identity and tails him. While Kwang Ho still hasn't figured out the way to go back to the past, an organized case of theft occurs in his jurisdiction.
5
Killer Among Us
60 min | Apr 07, 2017
Sun Jae gets desperate to catch the killer and feels frustrated as the crimes keep happening. Meanwhile, another murder case occurs at an isolated rest area in a downpour. Kwang Ho is left with the suspect at the isolated rest area.
6
Me? Jealous?
60 min | Apr 08, 2017
Kwang Ho seeks for ways to chase after the younger Kwang Ho who was born in 1988. Sun Jae opens up to the older Kwang Ho who understands his trauma, but thinks Kwan Ho's behavior is strange sometimes. Meanwhile, a mysterious identity theft that left no clue occurs.
7
The Real Kwang-Ho
60 min | Apr 14, 2017
Sun Jae finds Kwang Ho who was born in 1988. He begins a secret investigation on his own to prove that Kwang Ho born in 1958 is fake. Meanwhile, Kwang Ho of 1958 doesn't know that Sun Jae has found the other Kwang Ho and continues to look for him with Sung Shik.
8
The Truth
60 min | Apr 15, 2017
Kwang Ho can't believe the irony of fate. He finds out that Sun Jae was the son of Seo Yi Soo. At first, Sun Jae doesn't believe in Kwang Ho's story, but he has no other option than to believe him. Kwang Ho decides to tell Sun Jae the whole truth.
9
Another Murder
60 min | Apr 21, 2017
The real culprit of the murder that occurred 30 years ago gets revealed. Another victim with the dots on the ankle appears. Kwang Ho and Sun Jae pick Jung Ho Young as a prime suspect, but they have a hard time catching Jung Ho Young.
10
Jung Ho-Young's Bait
60 min | Apr 22, 2017
Sun Jae receives a call from Jung Ho Young again. Professor Shin talks to Jung Ho Young through the speaker and tells him that she's the only one that believes in him. Meanwhile, Professor Mok tells Kwang Ho and Sun Jae a clue that could lead them to the suspect.
11
Who Is The Real Murderer?
65 min | Apr 28, 2017
Jung Ho Young finally gets caught. Sun Jae and Kwang Ho interrogate him and find out some new facts. Jae Yi gets hospitalized and recalls the incident for Jung Ho Young's arrest warrant. Meanwhile, new evidence is found in Jung Ho Young's car.
12
The Last Talk
65 min | Apr 29, 2017
Jung Ho Young, who was the witness to the murder of Sun Jae's mother, commits suicide in his prison cell which leads to an impasse in the investigation. Meanwhile, Kwang Ho discovers another evidence that is crucial in solving the case.
13
The Return
65 min | May 12, 2017
Kwang Ho returns to the past in midst of a fight with Professor Mok. Jae Yi gets confused when she learns that Kwang ho is her real father. Meanwhile, everyone at Hwayang Police Station and Kwang Ho try their best to catch Professor Mok.
14
The Father and Daughter
65 min | May 13, 2017
Kwang Ho comes back to the present time and heads to the police station to catch Professor Mok. The whole team finds out that Kwang Ho travelled from the past. Jae Yi, also known as Yeon Ho, reunites with Kwang Ho as father and daughter. Meanwhile, another murder case occurs in the middle of the night.
15
The Fountain Pen
65 min | May 19, 2017
Kwang Ho finds out that Yeon Ho had been kidnapped by Mok Jin Woo and goes after him with the whole team. Mok Jin Woo threatens to kill Yeon Ho if she doesn't tell him where the fountain pen is. While Yeon Ho persuades Mok Jin Woo that she has the pen, she also psychologically interrogates Mok Jin Woo of his past.
16
The Return
65 min | May 20, 2017
Yeon Ho psychologically analyzes Mok Jin Woo and helps Kwang Ho and Sun Jae to get a confession from him. After dealing with everything in the present time, Kwang Ho decides to return to the past. Yeon Ho and Sun Jae have a hard time letting him go, but Kwang Ho insists to return to Yeon Sook.
---
Editions
| Barcode | Format | Region | Released | Edition |
| --- | --- | --- | --- | --- |
| 841887036191 | | 1 | Jul 17, 2018 | 2 DVDs |
| 9555329253053 | | 1, A | | |
---
---