Unbreakable Kimmy Schmidt: Season 2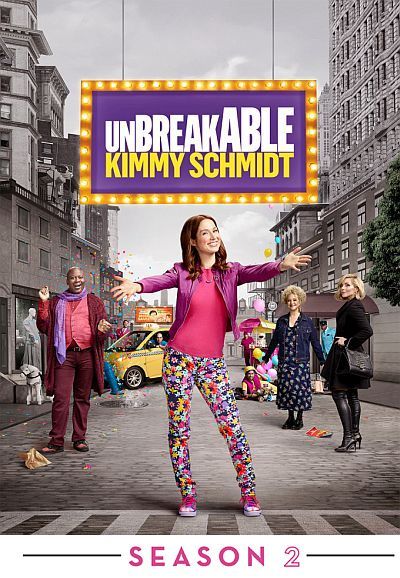 ---
---
Plot
29-year-old Kimmy Schmidt adjusts to life after her rescue from a doomsday cult in Indiana where she and three other women were held for 15 years. Determined to be seen as something other than a victim and armed only with a positive attitude, Kimmy decides to restart her life by moving to New York City, where she quickly befriends her street-wise landlady, Lillian Kaushtupper, finds a roommate in struggling actor, Titus Andromedon, and gains a job as a nanny for the melancholy and out-of-touch socialite, Jacqueline Voorhees. With their help, Kimmy struggles to adapt to an unfamiliar world and jump-start the adult life that had been taken from her.
Episodes
Episode 1: Kimmy Goes Roller Skating!
25 min Apr 15, 2016

Titus's ex-wife sues him for spousal support. Kimmy still has feelings for Dong. Jacqueline's Sioux family gets fed up with her.
Director: Tristram Shapeero
Writer: Tina Fey
Guest starring: Fred Armisen
Episode 2: Kimmy Goes on a Playdate!
25 min Apr 15, 2016

Kimmy helps Jacqueline put her life back together after the divorce. Titus donates his old clothes and makes a connection with a construction worker.
Director: Jeff Richmond
Writer: Robert Carlock

Episode 3: Kimmy Goes to a Play!
25 min Apr 15, 2016

Titus develops a one-man show about his past life as a geisha. While Jacqueline tries to make Julian jealous, Lillian battles gentrification.
Director: Linda Mendoza
Writer: Sam Means

Episode 4: Kimmy Kidnaps Gretchen!
25 min Apr 15, 2016

Kimmy stages an intervention when ex-mole woman Gretchen joins another cult. Titus takes Mikey the construction worker on his first gay date.
Director: Robert Carlock
Writer: Allison Silverman

Episode 5: Kimmy Gives Up!
25 min Apr 15, 2016

Kimmy needs to study for the GED, but she's worried about Dong getting deported. Jacqueline puts Buckley on Dyziplen to treat his hyperactivity.
Director: Ken Whittingham
Writer: Josh Siegal, Dylan Morgan

Episode 6: Kimmy Drives a Car!
25 min Apr 15, 2016

Hipsters invade the neighborhood when Titus rents his apartment on Airbnb. Kimmy finally reaches her limit with Jacqueline's self-centered attitude.
Director: Shawn Levy
Writer: Dan Rubin
Guest starring: Zosia Mamet, Evan Jonigkeit
Episode 7: Kimmy Walks Into a Bar!
25 min Apr 15, 2016

Jacqueline's gala plans hit a snag when Deirdre Robespierre throws a party the same night. Kimmy stops to pee at a bar and meets a cute Army vet.
Director: Maggie Carey
Writer: Leila Starchan
Guest starring: Anna Camp, Samuel Page
Episode 8: Kimmy Goes to a Hotel!
25 min Apr 15, 2016

On Fake Christmas, Kimmy and Dong take a trip to the Poconos, and a Jewish family claims that Jacqueline's prized Mondrian is rightfully theirs.
Director: Steve Buscemi
Writer: Tina Fey, Sam Means

Episode 9: Kimmy Meets a Drunk Lady!
25 min Apr 15, 2016

A drunk Uber passenger convinces Kimmy to stop repressing her emotions. Meanwhile, a broken R. Kelly cassette tape pushes Titus over the edge.
Director: Claire Scanlon
Writer: Meredith Scardino
Guest starring: Tina Fey
Episode 10: Kimmy Goes to Her Happy Place!
25 min Apr 15, 2016

Kimmy has her first therapy session with Andrea, but it's Lillian who helps her get in touch with her anger. Mikey comes out to his family.
Director: John Riggi
Writer: Robert Carlock, Emily Altman
Guest starring: Tina Fey
Episode 11: Kimmy Meets a Celebrity!
25 min Apr 15, 2016

A celebrity psychologist with a TV talk show drives a wedge between Kimmy and her former bunker-mate Cyndee. Titus gives a teenage boy dating advice.
Director: Tristram Shapeero
Writer: Josh Siegal, Dylan Morgan
Guest starring: Jeff Goldblum, Brandon W. Jones, Sara Chase
Episode 12: Kimmy Sees a Sunset!
25 min Apr 15, 2016

Kimmy tries to help Andrea with her drinking problem. Jacqueline dates a pro bono lawyer for his money. Titus and Mikey talk about moving in together.
Director: Beth McCarthy-Miller
Writer: Dan Rubin, Azie Dungey
Guest starring: Tina Fey, David Cross, Ice-T
Episode 13: Kimmy Finds Her Mom!
25 min Apr 15, 2016

While Kimmy reunites with her mom at Universal Studios, Titus heads to Miami. Jacqueline invites Russ and his family to Thanksgiving dinner.
Director: Michael Engler
Writer: Tina Fey, Sam Means
Guest starring: Lisa Kudrow, David Cross, Josh Charles, Harris Yulin, Fred Armisen, Jon Hamm
---
Editions
| Barcode | Format | Region | Release | Edition |
| --- | --- | --- | --- | --- |
| 025192391897 | DVD | 1 | 2017-03-14 | |
| 9317731131684 | DVD | | | |
---