V: The Final Battle
V: The Final Battle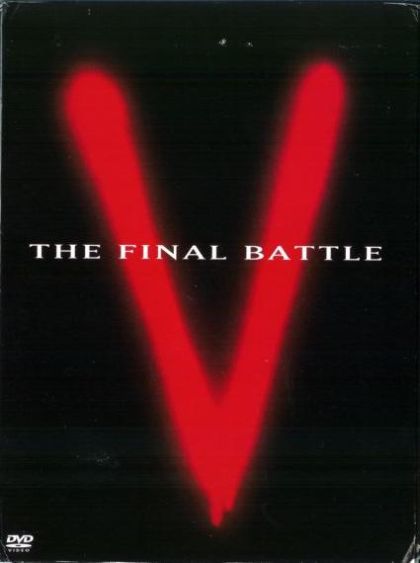 Warner Bros. (1984)
Science Fiction, Thriller
USA | English | Color | 4h 16min
A small group of human resistance fighters fight a desperate guerilla war against the genocidal extra-terrestrials who dominate Earth.
---
---
Director
Richard T. Heffron
Writers
Kenneth Johnson, Harry Longstreet, Craig Buck, Brian Taggert, Renee Longstreet

,

Peggy Goldman, Diane Frolov
Producers
Kenneth Johnson, Robert Singer, Patrick Boyriven, Daniel H. Blatt, Dean O'Brien
Photographers
Stevan Larner
---
1
V: The Final Battle: Part 1
| May 05, 1984
The Resistance lead an attack on a Visitor processing plant, but are soundly beaten by the Visitors. They decide that their current tactics aren't effective, they need an event that will wake up the world to help them defeat the Visitors.
2
V: The Final Battle: Part 2
| May 06, 1984
Donovan is reunited with his son and joins the international Resistance headed by Ham Tyler and Chris Farber. The first priority is freeing Julie who has been captured and is being held in the visitor mother ship. Meanwhile, Robin who is pregnant by a Visitor goes into labor.
3
V: The Final Battle: Part 3
| May 07, 1984
Donovan turns himself over to the aliens in order to save his son. Diana hears her colleagues are plotting against her. She tells her leader that only she can succeed because of a spy she has in the Resistance. Willie, a friendly alien, submits to tests so Julie can develop a biological weapon against the Visitors. The weapon, a red dust, is then used against the Visitors with much success.
---
Editions
| Barcode | Format | Region | Released | Edition |
| --- | --- | --- | --- | --- |
| 085391414629 | | 1 | Aug 06, 2002 | |
| 7321921141461 | | 1 | Sep 26, 2012 | |
| 7321900141468 | | 2 | Sep 30, 2003 | |
| 7321931141468 | | 2 | Oct 16, 2002 | |
| 7321944141462 | | 2, 4 | Aug 06, 2002 | |
| 7321917141468 | | 2 | Aug 06, 2002 | |
| 321931141468 | | 2 | Oct 16, 2002 | |
| 9325336010471 | | 4 | | |
| 7321940141466 | | | | |
| 7321958141465 | | | | |
| 9780790768113 | | | | |
| 6321921141462 | | | | |
| 5051893196924 | | | | |
| 8809194304206 | | | | |
| 7321938141461 | | | | |
| 085391414636 | | | | |
| 085391407935 | | | | |
| 5014781148924 | | | Mar 24, 1997 | |
| 085391414667 | | | | |
---
---