Wentworth
Wentworth: Season 2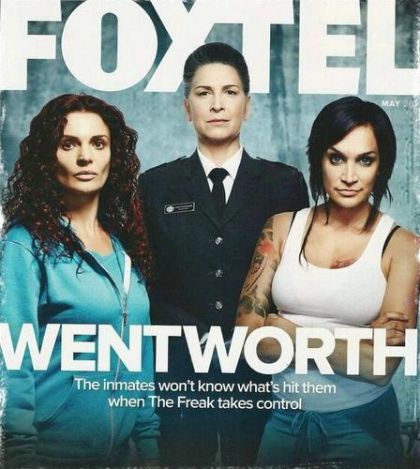 ---
2013
Drama, Crime
Australia | English | Color | 9h 9min
Fans of the iconic Prisoner series which pushed boundaries over three decades ago and still today boasts a loyal following worldwide, will remember Bea Smith as gutsy and fearless, ruling Wentworth Correctional Centre with an iron fist.
But who was Bea Smith before prison? How did a wife and mother from the suburbs become a top dog without rival?
Wentworth is a dynamic, often confronting, drama series that begins with Bea's early days in prison. Set in the present day, it is a modern adaptation of Prisoner contemporising legendary characters and their stories for today's audience. This ten-part series takes the viewer inside to an uncompromising environment exploring the politics of women in a world without men, and how such a threatening experience both challenges and often changes those confined and working behind the razor wire.
---
---
1
Born Again
60 min | May 19, 2014

Three months after Jacs Holt's death, new arrival Governor Joan Ferguson instantly makes an enemy of Franky, while Bea finds a new purpose.
Director: Kevin Carlin
Writer: Pete McTighe
2
Whatever It Takes
60 min | May 26, 2014

Bea attempts to get revenge on Brayden by goading Harry into an act of violence, whilst Franky's determination to maintain power pushes her to extreme lengths.
Director: Kevin Carlin
Writer: John Ridley
3
Boys in the Yard
60 min | Jun 02, 2014

Following the failure of Harry to avenge their daughter's death, Bea hatches a daring plot to lure Brayden Holt to the jail.
Director: Catherine Millar
Writer: Timothy Hobart
4
The Danger Within
60 min | Jun 09, 2014

Simmo warns Bea of an impending hit against her by the Holts, in retaliation for her attack on Brayden. With the induction of three new prisoners into Wentworth, Bea is jumping at shadows, not sure from which of them will attack.
Director: Catherine Millar
Writer: Marcia Gardner
5
Twist the Knife
60 min | Jun 16, 2014

As Bea discovers Simmo has a weakness she can exploit for her own ends. Meanwhile Fletch and Will face off in a confrontation that will end their friendship for good.
Director: Dee McLachlan
Writer: Pete McTighe
6
The Pink Dragon
60 min | Jun 23, 2014

Simmo's attempt to kill Bea ends in tragedy, while Liz faces her greatest dilemma – to snitch or not to snitch.
Director: Dee McLachlan
Writer: Marcia Gardner
7
Metamorphosis
60 min | Jun 30, 2014

When Ferguson psychologically manipulates Vera she crosses a point of no return, whilst Maxine orchestrates a desperate bid to see her spurned lover.
8
Sins of the Mother
60 min | Jul 07, 2014

Following Ferguson's shock revelation that she has an informer amongst the inmates, an isolated Franky sets out to expose the snitch. But in her growing paranoia, it seems just about everyone has motive and opportunity. When jail-wide drug tests are instigated, following the discovery of a discarded pregnancy test, Franky uses the bedlam to try and force a confession.
9
The Fixer
60 min | Jul 14, 2014

When the lab results point to Doreen being pregnant, Ferguson threatens to have Doreen's lover, Nash's, parole revoked unless she lies about the father. After being publicly accused by Harry Smith of an inappropriate relationship with Bea, Will comes to believe that Harry is behind his campaign of harassment.
10
Jail Birds
60 min | Jul 21, 2014

Liz is finally released and attempts to contact her estranged children, but her reintroduction to life outside is far from easy. Added to her troubles is Boomer's lust for revenge, which will not stop at the walls of Wentworth. Meanwhile Derek Channing tries to build his case against Ferguson, but soon realises that she will not be taken down easily.
11
Into The Night
60 min | Jul 28, 2014

As Bea and Franky go to war for control of the prison, Bea puts her daring plan in motion. Meanwhile, Fletch is on a downward spiral of self-destructive behaviour as his final day at Wentworth looms.
12
Fear Her
60 min | Aug 04, 2014

The extent of Bea's plan is revealed as she makes the final moves to avenge Debbie's death. Meanwhile Franky realises she is losing the support of the women and is forced to consider a deal.
---
Editions
| Barcode | Format | Region | Released | Edition |
| --- | --- | --- | --- | --- |
| 9398711517582 | | B | | |
| 9398700019264 | | | | |
| 4250148713072 | | | | |
| 054961253791 | | 1 | Mar 07, 2017 | |
| 9398711517599 | | | | |
| 5027626469344 | | | | |
---
---