Wentworth
Wentworth: Season 3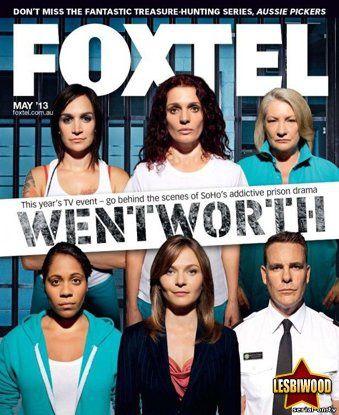 ---
2013
Drama, Crime
Australia | English | Color | 9h 15min
Fans of the iconic Prisoner series which pushed boundaries over three decades ago and still today boasts a loyal following worldwide, will remember Bea Smith as gutsy and fearless, ruling Wentworth Correctional Centre with an iron fist.
But who was Bea Smith before prison? How did a wife and mother from the suburbs become a top dog without rival?
Wentworth is a dynamic, often confronting, drama series that begins with Bea's early days in prison. Set in the present day, it is a modern adaptation of Prisoner contemporising legendary characters and their stories for today's audience. This ten-part series takes the viewer inside to an uncompromising environment exploring the politics of women in a world without men, and how such a threatening experience both challenges and often changes those confined and working behind the razor wire.
---
---
1
The Governor's Pleasure
60 min | Apr 06, 2015

When Bea is sentenced to life without parole for the killing of Brayden Holt, Ferguson makes it very clear she now owns Bea, setting up a battle for control of the prison.
Director: Kevin Carlin
Writer: Stuart Page
2
Failing Upwards
60 min | Apr 13, 2015

Following the riot, Bea must balance an uneasy peace with Ferguson with the needs and expectations of the women. Ferguson wants to stamp out drugs inside the prison and for obvious reasons Bea finds herself on common ground with the Governor. But when it becomes clear that Ferguson wants Franky's head for it, Bea must wonder if, rather than help her cement her position as Top Dog, it may indeed be a ruse to undermine it. Meanwhile, Liz has a difficult reunion with her daughter Sophie and is unsure when Doreen proposes she be the alternate carer when the baby comes. Will is in a happy place and seems to finally be able to put the past behind him is shocked when he is the focus of a murder investigation.
Director: Kevin Carlin
Writer: Adam Todd
3
Knives Out
60 min | Apr 20, 2015

Franky's under fire. With her supply cut and her powerbase decimated, she's on her own when prisoners come after her to claim what they're owed. Bridget identifies Franky as someone she could really help, but Franky refuses to engage, venting her frustration by trashing the Education Unit. Meanwhile Bea is concerned at the police interest in Will, and shocked when he makes a startling confession.
Director: Catherine Millar
Writer: Pete McTighe
4
Righteous Acts
60 min | Apr 27, 2015

After being slotted for an aggressive confrontation with Ferguson, Liz's world is rocked with the arrival of a new prisoner. Franky has commenced her sessions with Bridget, and in a candid moment admits to a desire for revenge against Bea. When Bea is shivved in the yard, Franky comes under suspicion, but Bea quickly realises Jodie, freshly released from the Slot where she was terrorised by Ferguson, was behind the attack at the Governor's behest.
Director: Catherine Millar
Writer: John Ridley
5
Mercy
60 min | May 04, 2015

As Fletch makes a difficult return to work at Wentworth, he is troubled by an incident that leads him to suspect his accident was no accident at all.
Director: Steve Jodrell
Writer: Adam Todd
6
Evidence
60 min | May 11, 2015

Ferguson is blindsided by Jodie's complaint to the ombudsman. Channing attempts damage control, but Jodie's accusations of brutality promise to be very damaging for the Governor
Director: Steve Jodrell
Writer: Stuart Page
7
The Long Game
60 min | May 18, 2015

Bea struggles to accept that she had a psychotic episode, despite the CCTV evidence. When her blood is found to have traces of LSD, she realises that her attacker caused the meltdown. She smuggles evidence out of the psych unit, understanding she'll need to play the long game if she's going to defeat Ferguson. Meanwhile Bridget struggles to force Franky to accept that she has an emotional block. But when she challenges Franky to talk about her mother, she elicits a confession she wasn't expecting.
Director: Kevin Carlin
Writer: Marcia Gardner, Pete McTighe
8
Goldfish
60 min | May 25, 2015

When Ferguson's pet goldfish dies, she identifies her lack of emotion at the death as a potential weakness, rather than strength. But in seeking a renewed connection with Doreen, Ferguson unwittingly makes herself vulnerable when she calls Doreen - Jianna. Bea sees this as a possible chink in her armour and tasks Doreen with uncovering the truth behind the name.
Director: Kevin Carlin
Writer: John Ridley
9
Freak Show
60 min | Jun 01, 2015

Amid further allegations she manipulated Jodie Spiteri to horrifically self-harm, Ferguson angles to remove her most ardent accuser, Bridget Westfall. The arrival of Doreen's newborn heralds dark times for mother and child. Meanwhile, Bea finds herself at her lowest ebb as she realises the toll the war against Ferguson is having on those closest to her. Nearing the point of stepping down as top dog, she is thrown a lifeline from an unlikely ally. Finally, after much agonising, Vera is unable to deny to herself the truth about Ferguson.
Director: Catherine Millar
Writer: Adam Todd
10
A Higher Court
60 min | Jun 08, 2015

Franky's parole hearing is brought forward. Under the pump and certain that Ferguson is planning to ambush her chances, Franky offends former lover Kim, who retaliates by planting drugs, in the form of heroin-filled balloons, in Franky's cell. Faced with an imminent cell toss, Franky has no option but to swallow the evidence. So Franky fronts the parole board, under-prepared, and with a gutful of heroin that may just kill her. But Ferguson has a surprise planned, and just when it seems parole might be possible. Meanwhile, Doreen faces an agonising choice. Does she keep her baby in prison with her? Or does she ask her sister to take care of Joshua, and get him out of Ferguson's reach for good?
Director: Catherine Millar
Writer: Stuart Page
11
The Living and the Dead
60 min | Jun 15, 2015

When Fletch follows Bea's instructions to use Jianna as a means to unsettle Ferguson, he unwittingly sets Vera up to take the fall. Vera, for her part, is consumed with a desire for revenge against Lucy for infecting her with Hep C. Meanwhile, Bea's manipulations of Fletch result in him finally recovering his memory and alerting Will, who is on the verge of being arrested for Harry's murder, to the truth behind Ferguson's manipulations. As the forces align against Ferguson, she begins to unravel, realising she is in a fight of her life, professionally and personally.
Director: Steve Jodrell
Writer: John Ridley
12
Blood and Fire
60 min | Jun 22, 2015

Ferguson is losing control, and the walls are closing in. Fletch and Vera band together in an attempt to overthrow the Governor, while Bea discovers the final piece of the puzzle to help solve Harry's murder. Meanwhile, Franky is preparing for her release. But when Jess makes a sudden, drastic move, all plans are thrown out the window and the stage is set for a dramatic showdown.
Director: Steve Jodrell
Writer: Pete McTighe
---
Editions
| Barcode | Format | Region | Released | Edition |
| --- | --- | --- | --- | --- |
| 9398712356784 | | B | | |
| 054961253890 | | 1 | Jun 06, 2017 | |
| 9398712356791 | | | | |
| 5030697031402 | | | | |
---
---