Why Him?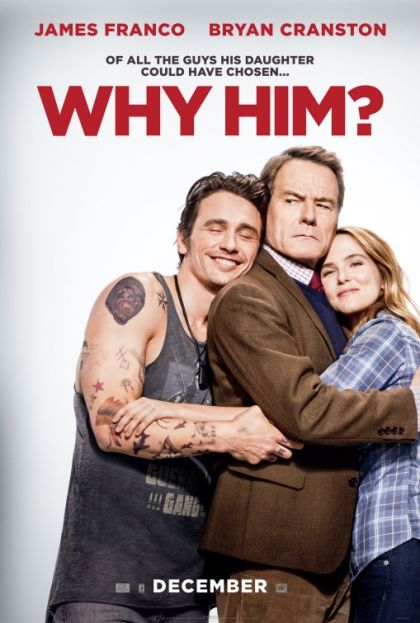 ---
Director
Writer
John Hamburg, Jonah Hill

, Ian Helfer

Producer
John Hamburg, Shawn Levy

, Ben Stiller, Georgia Kacandes, Dan Levine, James Franco, Jonah Hill, Scott Robertson

Photography
Kris Kachikis
Musician
Theodore Shapiro
---
Trailer
Plot
Ned, an overprotective dad, visits his daughter at Stanford where he meets his biggest nightmare: her well-meaning but socially awkward Silicon Valley billionaire boyfriend, Laird. A rivalry develops and Ned's panic level goes through the roof when he finds himself lost in this glamorous high-tech world and learns Laird is about to pop the question.
---
Editions
| Barcode | Format | Region | Release | Edition |
| --- | --- | --- | --- | --- |
| 4010232070173 | Blu-ray Disc | Free | 2017-05-24 | 1 Disc Blu-ray |
| 024543317678 | Blu-ray Disc | A | 2017-03-28 | Blu-ray + DVD + Digital HD |
| 7340112736651 | Blu-ray Disc | A | 2017-05-15 | Single Disc |
| 024543317685 | Blu-ray Disc | | | |
| 9321337171692 | Blu-ray Disc | | | |
| 024543416494 | Blu-ray Disc | | | |
| 8712626098256 | Blu-ray Disc | | | |
| 024543331506 | Blu-ray Disc | | | |
| 024543317630 | DVD | 1 | 2017-03-28 | |
| 6009707515644 | DVD | 2 | | 1 Disc |
| 9321337171685 | DVD | 4 | | |
| 5039036080071 | DVD | | | |
| 024543317647 | DVD | | | |
| 5039036080101 | DVD | | | |
| 8712626098249 | DVD | | | |
| 4010232070166 | DVD | | | |
| 024543317654 | DVD | | | |
| 024543331490 | Ultra HD Blu-ray | A | 2017-03-28 | |
| 4717415185197 | Ultra HD Blu-ray | | | |
---
Report an error for
'Why Him?'
at Collectorz.com Core