Years of Living Dangerously
Years of Living Dangerously: Season 2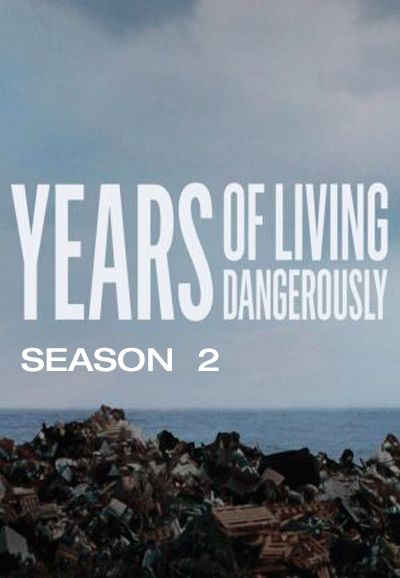 ---
2014
Documentary
How do we deal with global warming? SHOWTIME presents "Years of Living Dangerously". Hollywood's biggest names join together with leaders in the world of journalism to report on climate change. Hear from those directly affected and those who are actively looking for solutions. An eight-part mini series, the show will feature actors Matt Damon, Don Cheadle and Alec Baldwin as will as award winning journalists Thomas Friedman, Nicholas Kristof, Mark Bittman, and political commentator Chris Hayes. Produced by James Cameron, Jerry Weintraub, Arnold Schwarzenegger, 60 Minutes producers Joel Bach, David Gelberm and climate expert Daniel Abbasi
---
---
1
A Race Against Time
60 min | Oct 29, 2016

The energy market has an estimated global value of $6 trillion — a number that could be greatly affected by an increase in renewable sources, especially solar. In his first television project since retiring as host of CBS's "The Late Show," David Letterman travels to India for the first time to find out what the world's soon-to-be most populous country is going to do to expand its inadequate energy grid, power its booming economy and bring basic electricity to 300 million citizens who have never plugged in. Letterman interviews the prime minister, travels to rural villages where power is a luxury few can afford and finds out why the U.S. may play a key role in India's energy future. "Saturday Night Live" cast member Cecily Strong travels to Florida and Nevada to investigate what's blocking the growth of solar energy in the U.S. — and she gets the real story from industry insiders and a retired commissioner now willing to tell their stories.
Guest stars: David Letterman, Cecily Strong
2
Gathering Storm
60 min | Nov 02, 2016

If nothing is done to curb carbon emissions, Miami is in danger of being underwater by the end of the century. Jack Black is there to find out if and how the city and other low-lying coastal areas can survive rising seas. He finds a political and business community in denial and talks to a few lone legislators, residents, activists and scientists trying to do something before it's too late. Ian Somerhalder journeys to the Bahamas to investigate the future threat of superstorms, caused by rising sea temperatures, whose devastating effects could reach biblical proportions. At the Woods Hole Oceanographic Institute, he joins scientists on a deep dive to explore blue holes, underwater caves that have collected the remnants of past storms for centuries.
Guest stars: Jack Black, Ian Somerhalder
3
The Uprooted
60 min | Nov 09, 2016

New York Times columnist Tom Friedman investigates the increasing population of climate refugees — migrants forced to leave their homes due to climate change-induced sea-level rise, natural disasters and destroyed livelihoods. He travels from the COP21 climate conference in Paris to the Sahel region of a parched and war-torn Africa, where he hears from refugees themselves. He explores this new wave and what the future may bring. Actor Don Cheadle is on the ground in California, where the worst drought in 1,200 years is devastating the nation's most populous state and the world's seventh-largest economy. He investigates how Gov. Jerry Brown's administration is fighting the drought while also fighting climate change. Along the way, Cheadle meets a scientist who warns of a global water and food crisis as well as a family of farmers whose lives may never be the same as they struggle to find water in the parched Central Valley.
Guest stars: Tom Friedman, Don Cheadle
4
Fueling The Fire
60 min | Nov 16, 2016

Action hero, politician, climate crusader and Years of Living Dangerously executive producer Arnold Schwarzenegger sets out to explore the military's relationship with a changing climate, including how our armed forces are dealing with an increasing number of climate-related disasters and how the military is working to reduce its own carbon footprint. Schwarzenegger travels to Kuwait to visit soldiers and travel in a fuel convoy (where more than 3,000 soldiers have been killed or injured since 9/11). He learns how serious a threat the military perceives climate change to be, talks to top-level military leaders and meets the brave men and women who are dealing with climate change threats and disasters on the front lines. The battle to save the Amazon in Brazil — the "lungs of the planet" — is the ultimate race against time. There are ever-increasing threats from cattle ranching, drought, deforestation, massive hydroelectric dams and illegal mining. Supermodel and activist Gisele Bündchen travels to her home country to see the extent of the damage and investigates what's being done to save the rainforest for all of us. Deep in the Amazon, she joins the national environmental police on a mission to put an end to illegal deforestation; in Alta Floresta, she meets with Greenpeace for a flyover of the forest, which reveals huge patches of deforested land, logs piled high on trucks and barges, drought-stricken fields, burnt rainforests and vast cattle ranches that were once lush, thousand-year-old tropical rainforests.
Guest stars: Arnold Schwarzenegger, Gisele Bündchen
5
Collapse Of The Oceans
60 min | Nov 23, 2016

Joshua Jackson investigates the one place on Earth where the impacts of climate change are most profound yet practically invisible: the oceans. Josh travels to Australia's Great Barrier Reef to look at the devastating impacts of ocean warming on the world's largest reef system, and he explores the predicted impact of ocean acidification. In the Philippines, he looks at the impact of climate change in a place where hundreds of millions of people rely on healthy reefs for food, income and protection from storms.
Guest stars: Joshua Jackson
6
Priceless
60 min | Nov 30, 2016

Animal species around the world are disappearing at an alarming rate, and climate change is only worsening the trend. Former "Daily Show" correspondent Aasif Mandvi sets off on a quest to understand just how much of a threat climate change poses to endangered species. He travels to Kenya's wildlife preserves to meet the people on the front lines of conservation efforts, discovering that increased drought and irregular rainfall are compounding poaching and loss of habitat. Actress and activist Nikki Reed explores what some believe to be the ultimate solution for climate change: putting a price on carbon. She joins a group of passionate students at Ponoma College in Southern California on a mission to put it into action and travels to Vancouver, a carbon-pricing success story, for a sit-down with the mayor.
Guest stars: Aasif Mandvi, Nikki Reed
7
Safe Passage
60 min | Dec 07, 2016

"West Wing" star Bradley Whitford travels to Capitol Hill to explore the growing movement to get Republicans to admit that climate change is real and to commit to doing something about it. He tells the story of Jay Butera, who has spent the past 10 years lobbying Republicans on climate. For Butera, it's not about brow-beating lawmakers with facts; it's about providing solutions they can get behind to forge a bipartisan majority to act. Whitford follows Butera and some of the members of Congress he's convinced, to see if this movement can be sustained. Almost one-fifth of all carbon emissions in the world come from the transportation sector. Actor Ty Burrell takes to the road to see the environmental revolutions being made in electric vehicles (EVs) and automated vehicles (AVs). Burrell visits Silicon Valley to learn about AV advancements and hear how big automakers are pouring major capital into AV technology. In Atlanta, where some of the country's most generous EV incentives were recently killed, Burrell makes a visit to see the effects and hear firsthand from EV advocates.
Guest stars: Bradley Whitford, Ty Burrell
8
Uprising
60 min | Dec 14, 2016

Even though coal plants are shutting down across the country, coal remains a major source of energy, and burning it emits toxic pollutants and climate-altering carbon dioxide. America Ferrera journeys to Illinois, where a still-functioning coal plant is creating tension between those who want to shut it down and those — like the local mayor — who want to keep it open. She meets a group of activists fighting hard to close it in favor of an option that can provide clean energy and green jobs. Sigourney Weaver explores China's explosive economic growth and the impact it is having on the environment not just locally but on a massive global scale. In New York, she sits down with the former U.S. ambassador to China before traveling to Hong Kong and China to see whether the world's biggest polluter is fulfilling promises to reduce emissions — even as its populations and industry continue to grow.
Guest stars: America Ferrera, Sigourney Weaver
---
Editions
| Barcode | Format | Region | Released | Edition |
| --- | --- | --- | --- | --- |
| 024543314394 | | 1 | Apr 18, 2017 | |
---
---