Adventures of the Super Sons #3
Action Detectives, Part Three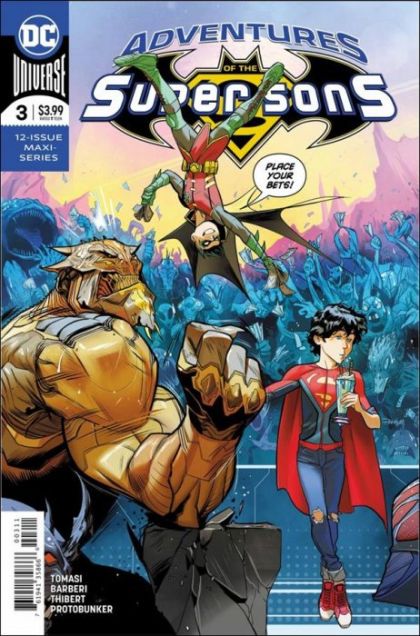 Rel: Oct 03, 2018 - Pub: Dec 2018
Super-Heroes
Modern Age | Color | USA | English
The Super Sons find themselves tumbling through space and time without so much as a GPS to guide them! Having battled the intergalactic group of teen hoodlums known as the Gang, Superboy and Robin barely escape. However, they do end up having a shootout with gunslingers on a Western-like world before engaging in a swordfight to save a princess on a medieval-like planet. The Sons need to find their way back to Earth before the Gang does a planetary smash-and-grab with the whole planet!
---
Writer
Peter J. Tomasi
Penciller
Carlo Barberi
Inker
Art Thibert
Colorist
Protobunker Studio, Protobunker Studio
Letterer
Rob Leigh
Cover Artist
Dan Mora
Editor
Marie Javins, Paul Kaminski

,

Andrew Marino

Editor in Chief
Robert 'Bob' Harras
---
Space Cabbie
Brainiac 6
Robin (Damian Wayne)
Ice Princess
Superboy (Jon Kent)
Joker Jr.
Kid Deadshot
Rex Luthor
Shaggy Boy
---
---