Batman
Detective Comics, Vol. 3 #962B
Intelligence, Finale: Judgment Day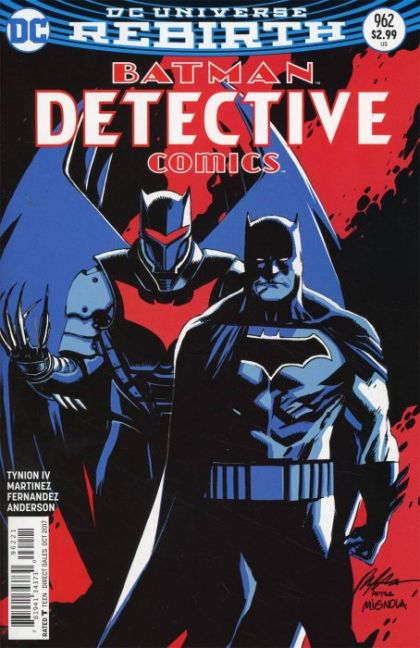 Rel: Aug 09, 2017 - Pub: Oct 2017
Super-Heroes
Modern Age | Color | USA | English
Variant Rafael Albuquerque Cover
"INTELLIGENCE" finale! Ascalon, the deadly artificial intelligence created by the Order of St. Dumas, is ready to replace Azrael and purify Gotham City...and all that stands in the way of the world's most flawless computer brain is the mind of Batman himself!
---
Writer
James Tynion IV
Penciller
Alvaro Martinez
Inker
Raul Fernandez
Colorist
Brad Anderson
Letterer
Sal Cipriano
Cover Artist
Rafael Albuquerque
Editor
Mark Doyle, Chris Conroy

,

Dave Wielgosz
---
Clayface (Basil Karlo)
Azrael (Jean-Paul Valley)
Zatanna (Zatanna Zatara)
Ra's al Ghul
Batman (Bruce Wayne)
Lucas 'Luke' Fox
Orphan (Cassandra 'Cassie' Cain)
Batwoman (Katherine 'Kate' Rebecca Kane)
Ascalon
Nomoz
Jean-Paul Valley, Sr.
---
---