Errand Boys #1A
Part 1 / Souvlaki Special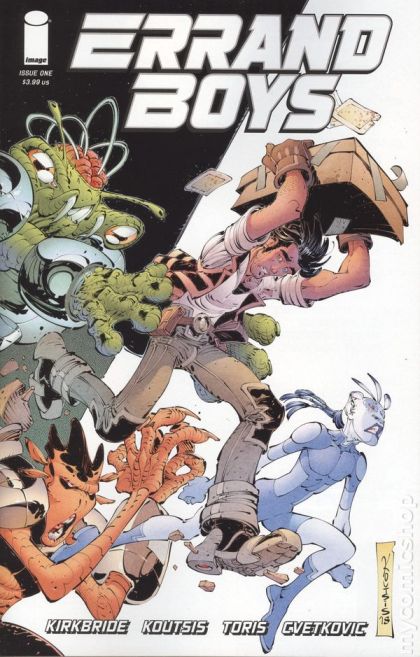 Rel: Oct 03, 2018 - Pub:
Science Fiction
Modern Age | Color | USA | English
Regular Nikos Koutsis Cover
In the future, if you can't find a decent job, you run errands-the dangerous, often illegal kind. 30-year-old Jace Lopaz is a hard-worn scoundrel and a lifelong solo act-until he's saddled with his 13-year-old half-brother Tawnk full-time. Now Jace has two mouths to feed while evading the law, running from aliens, and jumping off skyscrapers. The only thing weirder than the vastness of space is family.
---
| | |
| --- | --- |
| Writer | D. J. Kirkbride |
| Artist | Nikos Koutsis, Manos Lagouvardos |
| Colorist | Nikos Koutsis, Mike Toris |
| Letterer | Frank Cvetkovic |
| Cover Artist | Nikos Koutsis |
| Cover Colorist | Mike Toris |
| Editor | Adam P. Knave, El Anderson |
---
---