Fantastic Four
Fantastic Four, Vol. 1 #138
Madness Is...The Miracle Man!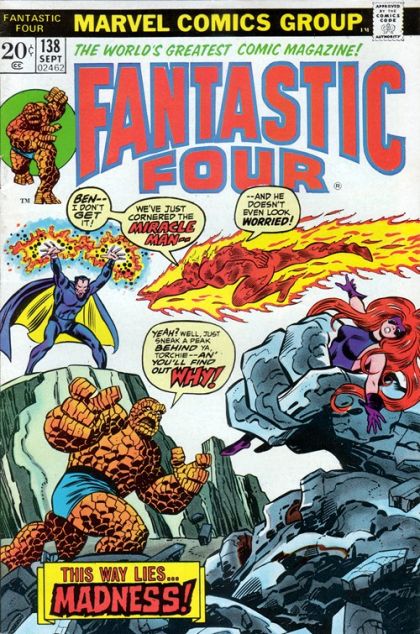 Rel: Jun 26, 1973 - Pub: Sep 1973
Action, Adventure, Super-Heroes
Bronze Age | Color | USA | English
Wyatt Wingfoot has returned, as asks the FF to join him for his graduation ceremony and a trip home. Reed stays behind in case Sue returns, but the others go, and encounter the Miracle Man. His powers have been substantially upgraded, too.
---
| | |
| --- | --- |
| Writer | Gerry Conway |
| Penciller | John Buscema |
| Inker | Joe Sinnott |
| Colorist | Petra Goldberg-Scotese |
| Letterer | John Costanza |
| Cover Penciller | John Buscema |
| Cover Inker | Joe Sinnott |
| Editor | Roy Thomas |
| Editor in Chief | Roy Thomas |
---
Sam Thorpe
Wyatt Wingfoot
Silent Fox
Miracle Man (Joshua Ayers)
Medusa (Medusalith Amaquelin-Boltagon)
Mr. Fantastic (Reed Richards)
Alicia Reiss Masters
Human Torch (Jonathan Spencer Lowell 'Johnny' Storm)
Thing (Benjamin Jacob Grimm)
---
---