Fantastic Four
Fantastic Four, Vol. 1 #147
The Sub-Mariner Strikes!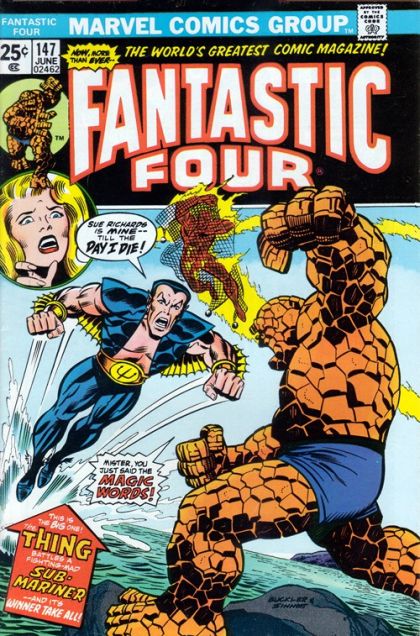 Rel: Mar 26, 1974 - Pub: Jun 1974
Action, Adventure, Super-Heroes
Bronze Age | Color | USA | English
Johnny and Ben head out to talk to Sue, only to discover that she's been taken by Namor. The entire FF head out to rescue her, and the battle is fierce, but that's nothing compared to the shock Sue has in store for them.
---
| | |
| --- | --- |
| Writer | Gerry Conway |
| Penciller | Richard 'Rich' Buckler |
| Inker | Joe Sinnott |
| Colorist | Linda Lessmann |
| Letterer | Artie Simek |
| Cover Penciller | Richard 'Rich' Buckler |
| Cover Inker | Joe Sinnott |
| Editor | Roy Thomas |
| Editor in Chief | Roy Thomas |
---
Bob Landers
Carol Landers
Medusa (Medusalith Amaquelin-Boltagon)
Sub-Mariner (Namor McKenzie)
Mr. Fantastic (Reed Richards)
Invisible Girl (Susan Storm-Richards)
Human Torch (Jonathan Spencer Lowell 'Johnny' Storm)
Thing (Benjamin Jacob Grimm)
---
---