Fantastic Four
Giant-Size Fantastic Four #4
Madrox the Multiple Man!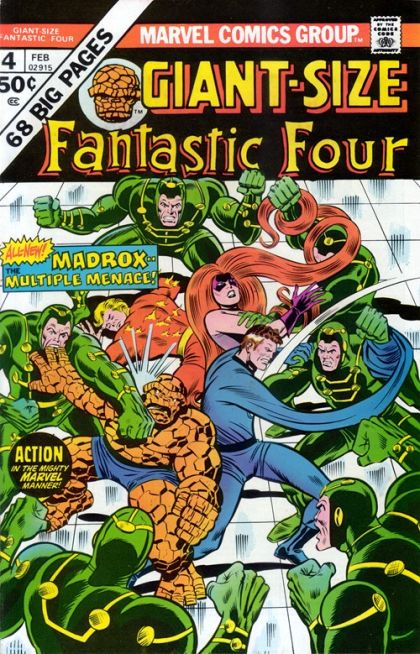 Rel: Nov 19, 1974 - Pub: Feb 1975
Action, Adventure, Super-Heroes
Bronze Age | Color | USA | English
Giant-Size
A confused James Arthur Madrox comes to New York, and blackouts follow him wherever he goes. It is up to the Fantastic Four, with an assist from Professor X, to abate the threat of the naive and angry individual.
---
| | |
| --- | --- |
| Writer | Chris Claremont, Len Wein |
| Penciller | John Buscema |
| Inker | Chic Stone, Joe Sinnott |
| Colorist | Glynis Oliver-Wein |
| Letterer | John Costanza |
| Cover Penciller | Richard 'Rich' Buckler |
| Cover Inker | Joe Sinnott |
| Editor | Len Wein |
| Editor in Chief | Len Wein |
---
Professor X (Charles Francis Xavier)
Medusa (Medusalith Amaquelin-Boltagon)
Mr. Fantastic (Reed Richards)
Alicia Reiss Masters
Human Torch (Jonathan Spencer Lowell 'Johnny' Storm)
Thing (Benjamin Jacob Grimm)
Multiple Man (James Arthur 'Jamie' Madrox)
---
---