Iron Man Epic Collection #10TP
The Enemy Within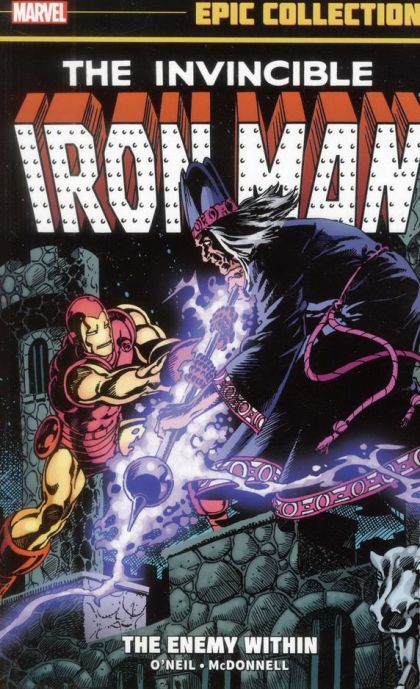 Rel: Sep 18, 2013 - Pub: Nov 2013
Epic Collection
Action, Adventure, Super-Heroes
Modern Age | Color | USA | English
Trade Paperback | 504 pages | $39.99
Things are looking grim for Tony Stark. A string of battles with Diablo, the Serpent Squad and AIM have worn him out - and when rival industrialist Obadiah Stane targets Stark International for a very hostile takeover, the urge to crawl back into the bottle becomes overwhelming. With Tony in no condition to defend his company, his most loyal friend must step up to bat. That's right: Jim Rhodes takes over as Iron Man! But Rhodey had better figure out how to use Tony's armor fast - because Stane, Magma, Thunderball, Firebrand and more aren't going to give him time to learn the ropes! And while Rhodey endures his trial by fire, can Tony stop his self-destructive spiral before it's too late? Guest-starring Captain America, Moon Knight, Black Panther, Machine Man and Nick Fury! Collecting IRON MAN (1968) #158-177 and ANNUAL #5.
---
Writer
Roger McKenzie, Denny O'Neil
Plotter
Ralph Macchio, Peter B. Gillis
Scripter
Peter B. Gillis
Artist
Carmine Infantino, Luke McDonnell

,

Mike Vosburg

Penciller
Jerry Bingham, Paul Smith

,

Luke McDonnell, Marie Severin, Steve Ditko

Inker
Dan Green, Steve Mitchell

,

Sam de la Rosa, Diverse Hands

Colorist
Carl Gafford, Don Warfield

,

Bob Sharen, Beth Firmin

Letterer
Jack Morelli, Janice Chiang

,

Joe Rosen, Rick Parker, Diana Albers

Cover Penciller
Luke McDonnell
Cover Inker
Brent E. Anderson
Editor
Jim Salicrup, Mark Gruenwald
Editor in Chief
Jim Shooter
---
Magma (Jonathan Darque)
Obadiah Stane
Morley Erwin
Clytemnestra Erwin
Krang
Nicholas 'Nick' Fury Sr.
Luke Cage
Moon Knight (Marc Spector)
Tony Stark
Black Panther (T'Challa)
Frenchie (Jean-Paul DuChamp)
Firebrand (Gary Gilbert)
Vincent Martinelli
Melter (Bruno Hogan)
Indries Moomji
Virginia 'Pepper' Potts-Hogan
Yvette Avril
Flying Tiger
Mandarin (Khan)
Captain America (Steve Rogers)
Killmonger (N'Jadaka / Erik Killmonger)
Madam Slay
Daredevil (Matt Murdock)
Jasper Sitwell
Regis Fuskey
Black Knight (Chessman)
James 'Rhodey' Rhodes
Invisible Woman (Susan Storm-Richards)
Human Torch (Jonathan 'Johnny' Storm)
Thunderball (Eliot Franklin)
Iron Man (James 'Rhodey' Rhodes)
Mr. Fantastic (Reed Richards)
Iron Man (Anthony 'Tony' Stark)
Iron Fist (Daniel 'Danny' Rand)
Diablo (Esteban Corazón de Ablo)
A.I.M. (Advanced Idea Mechanics)
Thing (Benjamin J. Grimm)
Machine Man (Aaron Stack)
Bambina 'Bambi' Arbogast
Anthony Stark
Knight (Fletcher Heggs)
---
---