Marvel Comics Presents, Vol. 1 #32
Having a Wild Weekend / Panther's Quest / Rise and Shine, Part 2: Dark Shadows / Part 20: Great Cat in the City of Gold / Grand Central Station / the Dreaded Deadline Doom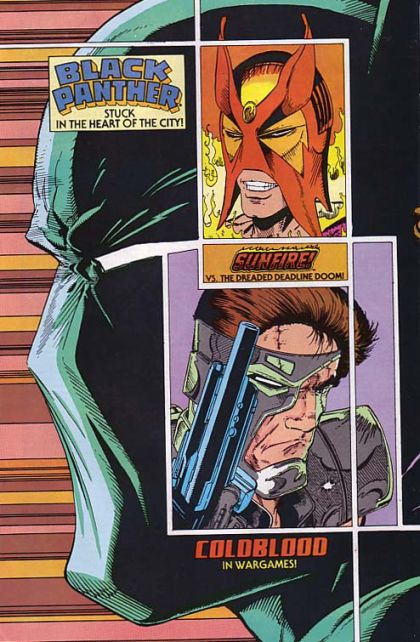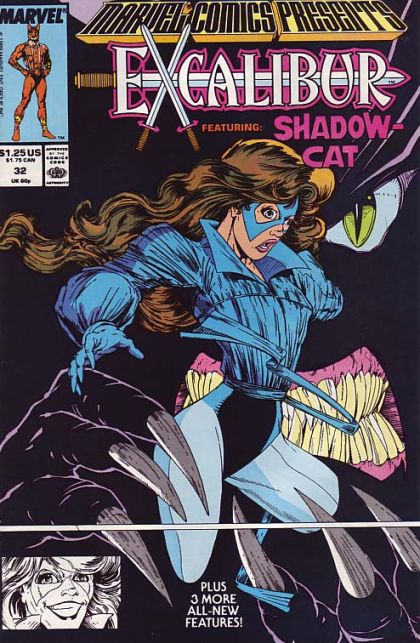 Rel: Jul 11, 1989 - Pub: Nov 1989
Action, Adventure, Super-Heroes
Modern Age | Color | USA | English
Part 2: Dark Shadows - Is there life after the Loonies? Shadowcat discovers the answer when she's forced into deadly confrontation with Cat Shadow!
Part 20: Great Cat in the City of Gold - When you look at the plash page of Johannesburg, resplendent in illuminated golden architecture, you'll probably figure you've missed a chapter of Panther's Quest. But you haven't. The Great Cat has left the dusty township and prowls the wealthy, glittering city in search of prey!
Grand Central Station - Coldblood's internal computer completes the narration of Lt-Col. Eric Savin's past. After being murdered by Mako, Savin was brought back to life as Coldblood-7, the first successful fully functioning cyborg - at the hands of cyber-surgeon Gina Dyson, who later freed him. Meanwhile, Mako faces a reception for his secret masters and, needing to produce his cyborg, he dangles the captured Gina as bait. Coldblood bites.
the Dreaded Deadline Doom - Shiro Yoshida is a student in Japan. Occasionally, when time and inclination permits, he uses his mutant abilities to wield the powers of atomic flame. He's very good at it... just ask him.
All plot summaries taken from the table of contents of the issue itself.
---
Writer
Scott Lobdell, Doug Moench

,

Michael Higgins, Donald F. McGregor

Penciller
Paul Gulacy, Erik Larsen

,

Don Heck, Gene Colan

Inker
Paul Gulacy, Dave Cockrum

,

Terry Austin, Tom Palmer Sr.

Colorist
Ken Feduniewicz, Tom Vincent

,

Mike Rockwitz, Glynis Oliver-Wein

Letterer
Joe Rosen, Diana Albers

,

Tim Harkins

Cover Artist
Todd McFarlane
Editor
Terry Kavanagh
Editor in Chief
Tom DeFalco
---
Corruptor (Jackson Day)
Phoenix (Rachel Grey / Summers)
Sunfire (Shiro Yoshida)
Black Panther (T'Challa)
Captain Britain (Brian Braddock)
Coldblood-7 (Eric Savin)
Nightcrawler (Kurt Wagner)
Lockheed the Dragon
Shadowcat (Katherine 'Kitty' Pryde)
Widget (Earth-811) (Katherine 'Kate' Pryde)
Elmer Gore
Mako (Project Ultra-Tech)
Gina Dyson
Rooster Cockburn
Billy Bird
Southpaw (The Loonies)
Ham
Tailgunner
Kishi Oramosha
Rochester
---
---