Marvel Team-Up
Marvel Team-Up, Vol. 1 #29
The Human Torch and Iron Man: Beware the Coming of... Infinitus! or How Can You Stop The Reincarnated Man?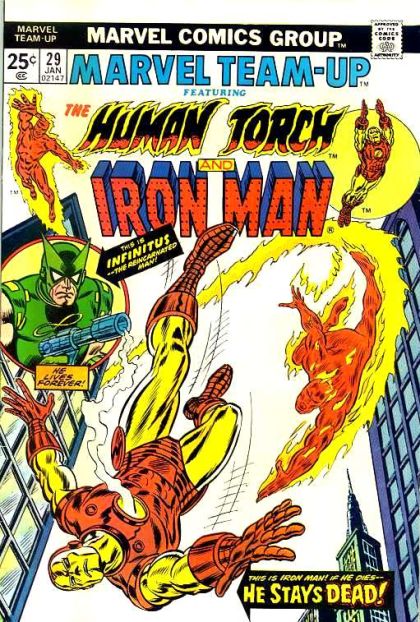 Rel: Oct 24, 1974 - Pub: Jan 1975
Action, Adventure, Super-Heroes
Bronze Age | Color | USA | English
A number of people have been killed through sabotaged technology. It appears that Infinitus, the Reincarnated Man, is attacking all of his enemies. Can Iron Man and the Human Torch set their differences aside long enough to save the day?
---
| | |
| --- | --- |
| Writer | Gerry Conway |
| Penciller | Jim Mooney |
| Inker | Vince Colletta |
| Colorist | Janice Cohen |
| Letterer | John Costanza |
| Editor | Roy Thomas |
---
Infinitus (Michael Rodgers)
Iron Man (Anthony Edward 'Tony' Stark)
Human Torch (Jonathan Spencer Lowell 'Johnny' Storm)
Francis William Maxwell
---
---