Marvel Two-In-One
Marvel Two-in-One Annual #1
Their Name Is Legion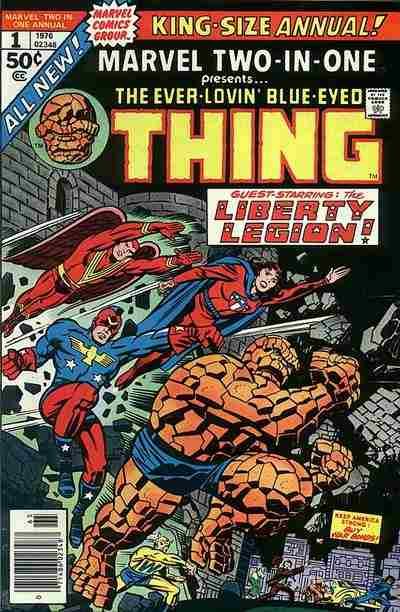 Rel: Jun 22, 1976 - Pub: 1976
Action, Adventure, Super-Heroes
Bronze Age | Color | USA | English
With the FF returning from the past with only half of the missing vibranium, the Thing discovers that the Nazis may still be able to use the missing metal to win World War II; The Thing takes a solo time trip back to 1942 where he meets up with the Liberty Legion and they tackle Skyshark, Master Man and U-Man as Ben tries to find the stolen vibranuim.
---
Writer
Roy Thomas
Penciller
Sal Buscema
Inker
George Roussos, Sam Grainger

,

John Tartaglione

Colorist
Phil Rachelson
Letterer
John Costanza
Cover Penciller
Jack Kirby
Cover Inker
Joe Sinnott
Editor
Roy Thomas
---
Thin Man (Bruce Dickson)
Master Man (Wilhelm Lohmer)
Watcher (Uatu)
Blue Diamond (Elton T. Morrow)
Miss America (Madeline Joyce)
Red Raven (Redford Raven)
U-Man (Meranno)
Jack Frost (Liberty Legion)
Mr. Fantastic (Reed Richards)
Patriot (Jeffrey Mace)
Invisible Girl (Susan Storm-Richards)
Human Torch (Jonathan Spencer Lowell 'Johnny' Storm)
Thing (Benjamin Jacob Grimm)
John Romita Sr.
Whizzer (Robert 'Bob' Frank)
SkyShark (Elias Schleigal)
Slicer (Tochigi Mamoru)
---
---