Spider-Man Ben Reilly Omnibus HC #1HC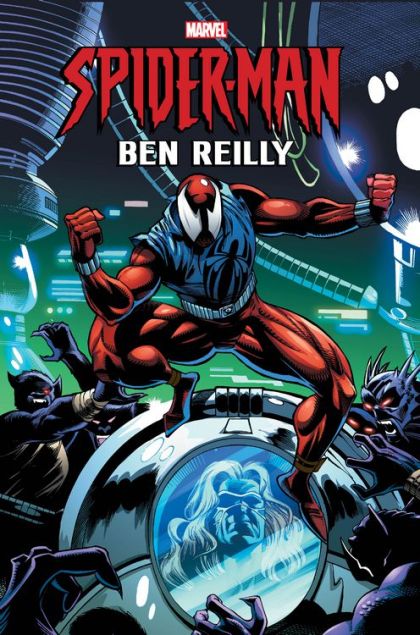 Rel: Jan 02, 2019 - Pub:
Super-Heroes
Modern Age | Color | USA | English
Hardcover | 1304 pages | $125.00
There's a new wall-crawler in town! Meet Ben Reilly, the Scarlet Spider, who recently learned he's not a clone of Peter Parker after all - he's the original! And when Pete decides to hang up his web-shooters, Ben retakes the job...as Spider-Man! There's no shortage of foes to fight - including the new Doctor Octopus, Venom, Mysterio, Tombstone, Sandman, Kaine, Carnage and more! But while Ben wears the revamped red-and-blues as Spidey, what does that ol' Parker luck have in store for Peter and the pregnant Mary Jane? Collecting WEB OF SCARLET SPIDER #1-4, AMAZING SCARLET SPIDER #1-2, SCARLET SPIDER (1995) #1-2, SPECTACULAR SCARLET SPIDER #1-2, SCARLET SPIDER UNLIMITED #1, GREEN GOBLIN #3, SENSATIONAL SPIDER-MAN (1996) #0-3 and WIZARD MINI-COMIC, AMAZING SPIDER-MAN (1963) #407-410 and ANNUAL '96, SPIDER-MAN (1990) #64-67, NEW WARRIORS (1990) #67, SPECTACULAR SPIDER-MAN (1976) #230-233, SPIDER-MAN/PUNISHER: FAMILY PLOT #1-2, SPIDER-MAN HOLIDAY SPECIAL 1995, SPIDER-MAN: THE FINAL ADVENTURE #1-4, SPIDER-MAN UNLIMITED (1993) #11, SPIDER-MAN TEAM-UP #2-3 and material from VENOM: ALONG CAME A SPIDER #1-4. Rated T
---
Writer
Mike Lackey, Tom Lyle

,

Eric Fein, Adam Santangelo, Todd DeZago, Karl Bollers, Sholly Fisch, Dan Jurgens, Glenn Greenberg, Ron Frenz, Howard Mackie, Tom DeFalco, Fabian Nicieza, Glenn Herdling, Evan Skolnick

Plotter
Roger Stern, Howard Mackie

,

Tom DeFalco

Scripter
Mike Lackey, Todd DeZago

,

Pérez George

Artist
Bob McLeod, Javier Saltares

,

Mark Bagley, Mike Manley, Scott McDaniel, Kevin Maguire, Sal Buscema

Penciller
Joe Bennett, Tom Morgan

,

Mike Harris, Tod Smith, Mark Bagley, Paris T. Karounos, Mike Manley, Patrick Zircher, Shawn McManus, John Romita Jr, Dave Hoover, Ron Frenz, Robert Brown, Dick Giordano, Chris Gardner, Tom Grindberg, Darick Robertson, Gil Kane, Steve Lightle, Sal Buscema

Inker
Chris Ivy, Al Williamson

,

Don Hudson, Mike Manley, Hector Collazo, Joe Rubinstein, Randy Emberlin, Tom Wegargyn, John Nyberg, Art Thibert, Jeff Albrecht, Dick Giordano, Bill Sienkiewicz, Bill Anderson, Andrew Pepoy, Mike Witherby, Brett Breeding, Tom Palmer Sr., Greg Adams, Al Milgrom, John Romita Sr, Arne Starr, Steve Montano, John Stanisci, Jimmy Palmiotti, Larry Mahlstedt

Colorist
Tom Smith, Chia-Chi Wang

,

Kevin Tinsley, Karl Bollers, Nel Yomtov, Gregory Wright, Bob Sharen, Joe Rosas, Chris Matthys, James Hosten, Chi, Mark Bernardo, Joe Andreani, John Kalisz

Letterer
Ken Lopez, N.J.Q.

,

John Costanza, Steve Dutro, John Morelli, Jim Novak, Susan Crespi, Bill Oakley, Comicraft, Dave Sharpe, Caroline B. Wells, Clem Robins, Loretta Krol, Janice Chiang, Richard Starkings

Separator
Malibu, Malibu Hues
Cover Artist
John Romita Jr, Sal Buscema

,

Tom Morgan

Cover Penciller
Mark Bagley, Nick Lowe

,

Ron Frenz, Sal Buscema

Cover Inker
Bob McLeod, Joe Rubinstein

,

Scott Hanna, Al Milgrom, Jimmy Palmiotti, Larry Mahlstedt

Cover Colorist
Bob Sharen, Atomic Paintbrush
Editor
Tom Brevoort, Eric Fein

,

Bob Budiansky, Ralph Macchio, Glenn Greenberg, Chris Cooper

Editor in Chief
Bob Harras, Bob Budiansky

,

Bobbie Chase
---
Firestar (Angelica Jones)
Gwen Stacy
Ben Urich
Ben Reilly
John Jameson
George Stacy
Seward Trainer
Ken Ellis
Jacob Raven
Elizabeth 'Betty' Brant
Edward 'Ned' Leeds
Jessica Carradine
Green Goblin (Phil Urich)
Silver Surfer (Norrin Radd)
Ashley Kafka
Buzz
Vermin (Edward Whelan)
Alistair Smythe
Scarlet Spider (Ben Reilly)
Dr. Octopus (Carolyn Trainer)
Shirley Washington
Angela Yin
Peter Parker
Hindsight (Carlton LaFroyge)
Speedball (Darrion Grobe)
Aura (Annie Herd)
Override (Greg Herd)
Joe Wade
Jason Tso
Carrie Bradley
Deadmaker
Powerhouse (Alex Power)
Stunner (Angelina Brancale)
Sandman (William / Flint Baker / Marko)
Tombstone (Lonnie Thompson Lincoln)
Kraven the Hunter (Sergei Kravinoff)
Harry Osborn
Desiree Winthrop
Thanos
Looter (Norton G. Fester)
Green Goblin (Norman Osborn)
Carnage (Cletus Kasady)
Poison (Cecilia Cardinale)
Quasimodo (Quasi-Motivational Destruct Organism)
Venom (Eddie Brock)
D.K. (David Kalen)
Gaunt (Mendell Stromm)
Tendril (River Verys)
Dryrot (Paul Contoni)
Jenny Sheridan
Joseph 'Robbie' Robertson
Kaine (Peter Parker (Clone))
Mad Thinker
High Evolutionary (Herbert Edgar Wyndham)
Justice (Vance Astrovik)
Timeslip (Rina Patel)
James Johnsmeyer
Spider-Man (Peter Parker)
Spider-Slayer (Alistair Smythe)
Mary Jane Watson-Parker
Black Cat (Felicia Hardy)
Scarlet Spider (Joe Wade)
Nelson Stone
Niels The Cat
Rhino (Aleksei Mikhailovich Sytsevich)
Punisher (Frank Castle)
May Parker
Invisible Woman (Susan Storm-Richards)
Smartship Friday
Paul Proust
Turbo (Michiko 'Mickey' Musashi)
Connor Trevane
Scorcher (Steven Hudak)
Mysterio (Quentin Beck)
Dr. Octopus (Otto Octavius)
Human Torch (Jonathan 'Johnny' Storm)
Mr. Fantastic (Reed Richards)
Master Programmer
J. Jonah Jameson Jr.
Spinneret (Animen)
Buzzard (Animen)
Crushtacean (Animen)
Flying Fox (Animen)
Komodo (Animen)
Anubia (Cult of the Jackal)
Caiman (Cult of the Jackal)
Harrier (Cult of the Jackal)
Piranis (Cult of the Jackal)
Muse (Shannon Fitzpatrick)
Polestar (Thomas Duffy)
Devon Lewis
Thing (Benjamin J. Grimm)
Ricko The Sicko
Silver Sable (Silvija Sablinova)
Skull Jacket
Valeri Kasatanov
Floyd Donahue
Madeline 'Maddie' Naylor
Scarlet Spider (Benjamin 'Ben' Reilly)
Orlando Kannor
VR-37
Pro
Toro Negro (Sergio Torres)
Joystick (Janice Olivia Yanizeski)
Linette Martinez
Spider-Man (Benjamin 'Ben' Reilly)
Armada (David Breyer)
Stephanie Briggs
Karen Karlson
Paris Scott
Trenton Lipton III
Carlos Cardinale
Mario Barbarossa
Vinnie Barbarossa
Don Geraci
Joey Geraci
Halftree
Steve Marlowe
Jeff Phelps
Kathy Somers
Kim Sung Young
Grover Dill
Eric Schwinner
Staphos Monica
Calvin Falconer
Bill Galannan
Derek Kelleher
Marcella Cellanos
Jason Havershaw
Alice Zreibac
Snider
Mosh (Glenn)
Quorum
Shiwa Ven Garmchee
Rasheed Ven Garmchee
---
---