Star Trek
Star Trek (Marvel Comics 1980) #17
The Long Night's Dawn!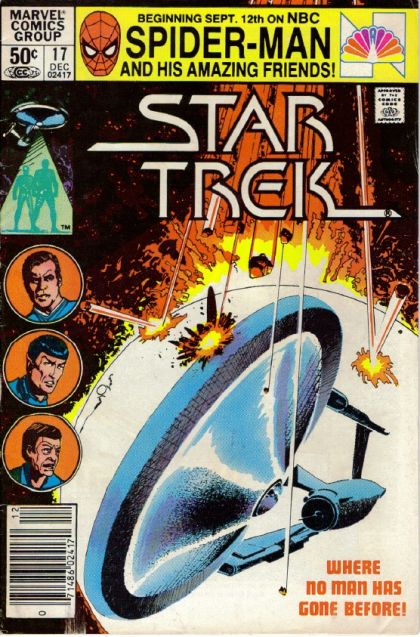 Rel: Aug 25, 1981 - Pub: Dec 1981
Action, Adventure, Science Fiction
Modern Age | Color | USA | English
A Federation probe crashes onto a primitive planet, poisoning the atmosphere. The crew have to learn enough about their physiology to save them without violating the Prime Directive, but it won't be easy.
---
| | |
| --- | --- |
| Writer | Mike W. Barr |
| Penciller | Ed Hannigan |
| Inker | Walter Simons, Tom Palmer Jr. |
| Colorist | Carl Gafford |
| Letterer | Rick Parker, Harry Blumfield |
| Cover Artist | Walter Simonson |
| Editor | Al Milgrom |
| Editor in Chief | James 'Jim' Shooter |
---
James Tiberius Kirk
Pavel Chekov
Hikaru Sulu
Spock
Montgomery 'Scotty' Scott
Nyota Uhura
Leonard H. 'Bones' McCoy
Gorman
---
---