Spider-Man
The Amazing Spider-Man, Vol. 1 #400A
The Gift / The Parker Legacy: Shock to the System / The Morning After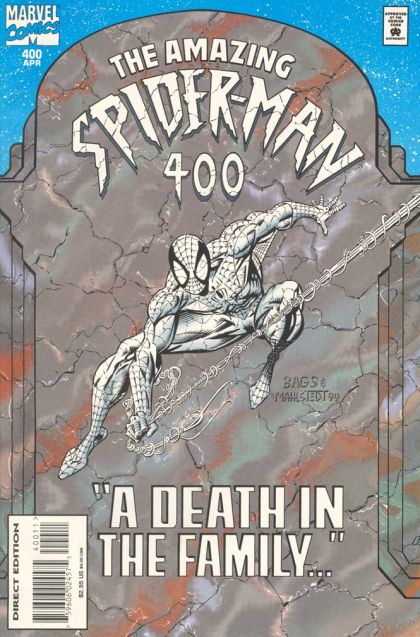 Rel: Feb 14, 1995 - Pub: Apr 1995
Action, Adventure, Super-Heroes
Modern Age | Color | USA | English
Regular Cover
The Gift - May Parker is awake from her coma, and looking forward to spending time with the nephew she raised. Unfortunately, it's the last of the time they'll have together.
The Parker Legacy: Shock to the System - Peter Parker's clone, wearing the Spider-Man costumes, deals with an existential crisis, deciding what comes next in his excuse for a life.
The Morning After - This details what happened the morning after "Amazing Fantasy 15" with Peter and May trying to cope with their loss.
---
Writer
J.M. DeMatteis
Scripter
Stan Lee
Penciller
Tom Grummett, Mark Bagley

,

John Romita Jr

Inker
Randy Emberlin, Larry Mahlstedt

,

John Romita Sr, Al Milgrom

Colorist
Paul Becton, Chia-Chi Wang

,

Bob Sharen

Letterer
Ken Lopez, Bill Oakley

,

Richard Starkings

Cover Penciller
Mark Bagley
Cover Inker
Larry Mahlstedt
Cover Colorist
Bob Sharen
Editor
Mark Bernardo, Danny Fingeroth
Editor in Chief
Bob Budiansky
---
Ben Urich
John Jameson
Judas Traveller
Medea
Jacob Raven
Elizabeth 'Betty' Brant
Anna Watson
Martha Robertson
Randy Robertson
Elizabeth 'Liz' Allan-Osborn
Scarlet Spider (Ben Reilly)
Herr Nacht
Eugene 'Flash' Thompson
Norman 'Normie' Osborn
Joseph 'Robbie' Robertson
Kaine (Peter Parker (Clone))
Jackal (Miles Warren)
Spider-Man (Peter Parker)
Mary Jane Watson-Parker
Black Cat (Felicia Hardy)
Marla Madison-Jameson
Connor Trevane
J. Jonah Jameson Jr.
May Parker (Imposter)
Julia Caputo
Spidercide (Peter Parker (Clone))
---
---