True Believers: Conan The Barbarian #1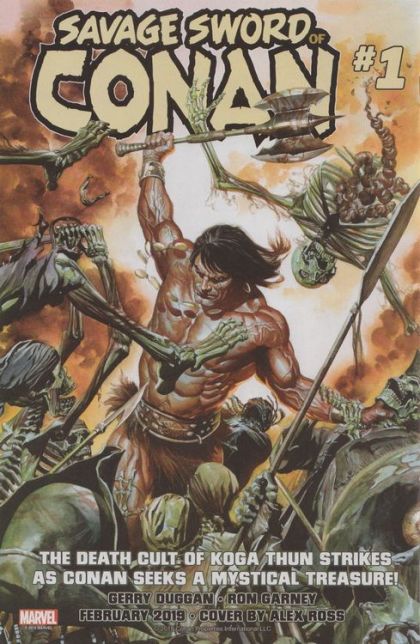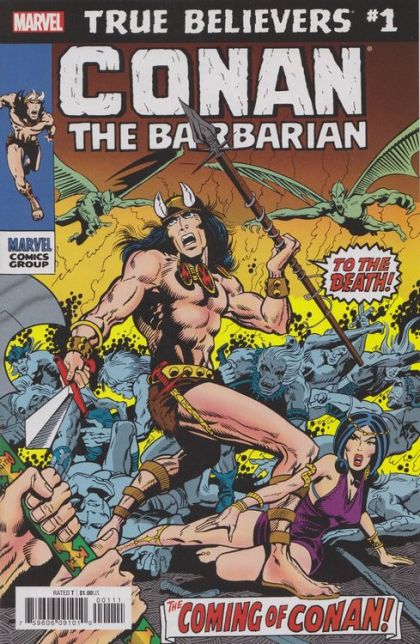 Rel: Jan 02, 2019 - Pub:
Fantasy
Modern Age | Color | USA | English
True Believers
Come with us to the HYBORIAN AGE. That is the first words to this comic. We see Our hero/barbarian on the splash page sword in hand and a lovely blonde sitting near his left knee.We start in summer in Vanaheim. A battle is being waged by raiding Aesirs with the defending Vanirs and of course Conan is in the middle of this too. He is in his youth at this time and he sees an Aesir being attacked and here he decides that it is not to do with him because he has earned his gold. But why let 3 jackels live? His response, By Crom they should not and by crom they shall not. You know what happens next. He takes a swipe with his sword and kills 2 helping Olav of Aesgaard. The Vanirs flee leaving Conan and his party some time to heal wounds and bury the dead ones.Olav talks strategy with Conan and why he joined his side. Meanwhile the retreating Vanirs are left to their own accord. The leader Volff and his aide Hothar leave the rest to be slaughtered and run into a cave with glowing green light and an old man and young girl inside the old man has been waiting for the surprised duo.They are very leary and the old man introduces himself as Sharkosh the Shaman and tells them not to fear him. As they listen to him a green jewel he calles a star stone has told him of their coming and it is in need of a young warrior and they believe it is Conan and also concers the handmaiden by Sharkosh's side. They agree and Sharkosh utters a spell and the jewel starts to light up brighter. Meanwhile Conan and Olav and crew attack the Vanir camp. But the attackers see a demon horde crew in the sky. The trio attack both groups with one of the demons killing poor Olav. So of course Conan attacks the creature to avenge his fallen leader. Only he is swooped up and then dropped onto a snow piled peak and the Cimmerian is knocked out cold.An eternity later he finally wakes...
---
| | |
| --- | --- |
| Writer | Roy Thomas |
| Artist | Barry Smith |
| Inker | Dan Adkins |
| Letterer | Sam Rosen |
| Editor | Stan Lee |
---
---