What If?
What If, Vol. 1 #6
The Fantastic Four Had Different Super-Powers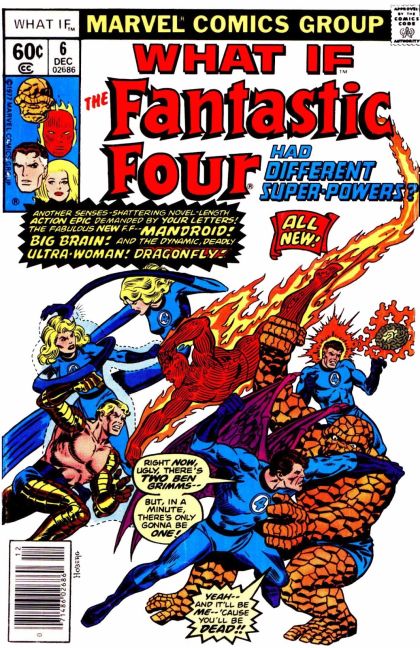 Rel: Sep 27, 1977 - Pub: Dec 1977
Action, Adventure, Super-Heroes
Bronze Age | Color | USA | English
Cover art by Rick Hoberg. What if the Fantastic Four had Different Super Powers? starring Doctor Doom, script by Roy Thomas, pencils by Jim Craig (pages 1-11) and Rick Hoberg (pages 14-45), inks by Sam Grainger; The Fantastic Four get alternate powers and become Big-Brain (Reed), Ultra-Woman (Sue), Mandroid (Johnny), Dragonfly (Ben). Hostess Cup Cake ad with Spider-Man. 52 pgs. $0.50. Cover price $0.60.
---
Writer
Roy Thomas
Plotter
Rick Hoberg, Don Glut

,

Kristy Marx

Penciller
Rick Hoberg, Jim Craig
Inker
Sam Grainger
Colorist
Phil Rachelson
Letterer
John Costanza
Editor
Roy Thomas
Editor in Chief
Archie Goodwin
---
Watcher (Uatu)
Mr. Fantastic (Reed Richards)
Invisible Girl (Susan Storm-Richards)
Human Torch (Jonathan Spencer Lowell 'Johnny' Storm)
Thing (Benjamin Jacob Grimm)
Big Brain (Earth-7712) (Reed Richards)
Dragonfly (Earth-7712) (Benjamin Jacob Grimm)
Ultra-Woman (Earth-7712) (Susan Storm)
Mandroid (Earth-7712) (Jonathan Spencer Lowell Storm)
Dr. Doom (Earth-7712) (Victor von Doom)
---
---