Bewitched
Bewitched: Season 1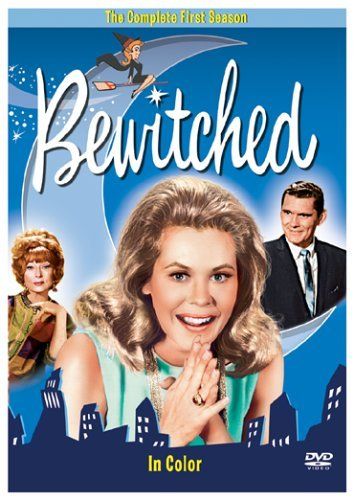 Columbia TriStar (1964)
Comedy, Family, Fantasy
USA | English | Color | 15h 17min
The long-running ABC sitcom Bewitched starred Elizabeth Montgomery as Samantha Stephens, a pert, perky, suburban housewife who happened to be a genuine witch, with all the usual magical powers. Samantha was married to Darrin Stephens (played during the first five seasons by Dick York, and in the final three seasons by Dick Sargent), a rising young advertising executive who worked at the New York firm of McMahon and Tate. A mere mortal, Darrin insisted that Samantha -- or "Sam," as he called her -- behave like an ordinary human being, and that she keep her witchcraft under wraps at all times. Sam tried her best to oblige, but the situations occurring in the course of the series invariably required her to cast a few spells and chant a few incantations to get her husband or herself out of jams.
---
---
Director
Sidney Miller
William Asher
Joseph Pevney
Ida Lupino
E.W. Swackhamer
Alan Rafkin
William D. Russell
Sherman Marks
David Orrick McDearmon
Writer
Frank Waldman, Jerry Davis, Sol Saks, Danny Arnold, Earl Barret

,

Ken Englund, Lawrence J. Cohen, Fred Freeman, Richard Baer, Barbara Avedon, Herman Groves, Bernard Slade, John L. Greene, Paul David, Roland Wolpert

Producer
Jerry Davis, Danny Arnold, Harry Ackerman, Jerry Briskin
Photography
Robert Wyckoff, Frederick Gately, Lloyd Ahern Sr.
Musician
Warren Barker, Allyn Ferguson
---
1
I Darrin, Take This Witch, Samantha
25 min | Sep 16, 1964

This magical 1960s series begins when Darrin and Samantha first bump into each other. They realize that they have real feelings for each other and they decide to get married. What Darrin doesn't know is that Samantha is a witch. On their honeymoon, Endora visits Samantha and tells her that she mad a big mistake marrying a mortal and spends eight years trying to break the marriage. Samantha tells Darrin the truth about herself and gives him a demo of her powers. After a little soul searching, Darrin accepts her background and wants her to be a regular housewife and not to practice witchcraft. Until his former girlfriend Sheila Summers comes in the picture. She invites Darrin and Samantha to her house for a dinner party. At the party, Sheila trashes Samantha with insults, and Samantha teaches her a lesson by trashing her party with magic! Darrin doesn't like the fact that Samantha used her magic to get even, but Sheila did get what she had coming to her. And so begins eight years of magic.
Director: William Asher
Writer: Sol Saks
Guest stars: C. Lindsay Workman, Nancy Kovack
2
Be it Ever So Mortgaged
25 min | Sep 23, 1964

Darrin is buying a new house and wants Samantha to check it out. Samantha and Endora go to 1164 Morning Glory Circle and have a lot of fun rearranging the place with magic. Of course, they also have new neighbors, nosy Gladys Kravitz and her do-nothing husband Abner Kravitz. Gladys knows that she sees something funny going on at the Stephens' new house, but Abner doesn't believe her.
Director: William Asher
Writer: Barbara Avedon
Guest stars: George Tobias
3
It Shouldn't Happen to a Dog
25 min | Sep 30, 1964

Samantha gives a dinner party to impress Rex Barker, one of Darrin's clients. Rex brings along his date, Babs Livingston, but advances on Samantha in the garden when he gets drunk. To teach him a lesson in treating people with respect, Samantha changes him into a dog. Darrin, thinking only of the possible loss of the account, is furious and Samantha locks him and the dog out. Endora sets a cat on the dog (Big mistake!). Samantha takes Barker to a vet and then changes him back to a man. The next morning, Barker, not having learned a thing from the night before, again makes a pass at Samantha (Very BIG mistake!). Darrin punches him and quits on the spot. Later, Barker apologizes and signs the contract on condition that Darrin return to the agency.
Director: William Asher
Writer: Danny Arnold
Guest stars: Hollis Irving, Alice Backes, John Copage, George Tobias
4
Mother Meets What's-His-Name
25 min | Oct 07, 1964

Gladys is unable to convince Abner that strange things seem to be happening at the Stephens' home. Gladys, June Foster, and Shirley Clyde, with their sons, visit the Stephens' home to welcome Samantha to the community, and to humiliate Sam in the process. When the boys pester Endora, she uses magic to tie the three of them up. On leaving, Gladys tries to point out to her friends that it would be physically impossible for three boys to tie themselves up. Later Darrin returns home for his first meeting with Endora, and they never actually get along. Endora threatens to turn Darrin into an artichoke, but Samantha says that she would turn herself into an artichoke if that happened.
Director: William Asher
Writer: Jerry Davis
Guest stars: Grace Lee Whitney, Monroe Arnold, Karl Lukas, Jack Warden, Irene Vernon
5
Help, Help, Don't Save Me
25 min | Oct 14, 1964

Darrin is thrown in for a loop trying to find a perfect slogan for the Caldwell Soup account. Samantha gives him spectacular ideas, and Darrin accuses her of using witchcraft and submits his own ideas. Caldwell rejects his ideas and Darrin accuses Sam for using witchcraft to influence Caldwell's decision. Samantha packs up her stuff and threatens to separate and Darrin is totally crushed. Darrin then submits Samantha's ideas to Larry, who thinks that they are great. Darrin soon realizes that Samantha had nothing at all to do with what has happened with Caldwell and they make up. As they make up, Samantha says that no can of soup should come between them, and Darrin thinks that that is a spectacular slogan for Caldwell Soups.
Director: William Asher
Writer: Danny Arnold
Guest stars: Charlie Ruggles
6
Little Pitchers Have Big Fears
25 min | Oct 21, 1964

Samantha meets Marshall Burns, a boy whose overprotective mother outlaws everything fun for kids. To get his spirits up, Samantha takes Marshall to a baseball game so he can practice for the team. They find out that Floyd Kravitz, Gladys' nephew, is the MVP. Marshall makes Floyd think twice when he becomes a successful player, thanks to Sam's magic touches. Mrs. Burns does not think that Marshall playing baseball is a great idea and forbids him to play ever. So, Marshall takes it upon himself to run away and play in the big Junior League game in the ball field. Samantha, Darrin and Mrs. Burns go to the ball game where they see Marshall making it big. Darrin has his eyes on Sam when she tries to help Marshall, but Marshall prevails without her magic. The coach decided to spend extra time with Marshall and Mrs. Burns is all for it.
Director: William Asher
Writer: Barbara Avedon
Guest stars: Byron Keith, Jimmy Mathers, Art Lewis, Joe Brooks, Joel Davison, Greger Vigen, June Lockhart, George Tobias
7
The Witches Are Out
25 min | Oct 29, 1964

Samantha does not like Halloween because of the image that people have of witches: Ugly, mean, and Wicked. Samantha tries to get Darrin to see her way when he is working on a candy account. Mr. Brinkman wants to use the traditional witch while Darrin displays a beautiful, more glamorous witch. When Darrin refuses, he is fired from his job. When Samantha hears of this, she gets her witch friends Bertha, Mary and her Aunt Clara to help her get even with Brinkman. Brinkman sees the error of his ways when they zap him into the ugly old witch that he so desperately wants to display. He agrees to use the beautiful witch, thereby saving Darrin's job.
Director: William Asher
Writer: Bernard Slade
Guest stars: Reta Shaw, Madge Blake, Jacques Roux, Shelley Berman
8
Witch or Wife
25 min | Nov 05, 1964

Teenager Liza Randall interviews Darrin about his career in advertising for a school newspaper. After Darrin takes Liza to the agency on Saturday, Liza's jealous boy friend, Marvin ""Monster"" Grogan, visits Samantha. Monster, a football star, wants to batter Darrin. Samantha, stuffing Monster with food, explains the innocence of Darrin and Liza's relationship although she knows Liza is more than interested in Darrin. At the office, Liza pours drinks. Liza and Darrin are doused when Darrin tries to take the drink away from her. Darrin escapes an awkward situation when boss Larry Tate arrives with two prospective clients. Meanwhile, Monster takes a romantic interest in Samantha. Darrin and Liza arrive, reeking of liquor. Darrin accuses Samantha of playing up to Monster. Samantha taunts him about Liza. However, when Monster winds up to clout Darrin, he bruises his hand on the invisible shield Samantha has created. When Liza slaps Darrin, however, Samantha lets him get the full force of the
Director: William Asher
Writer: Bernard Slade, Paul David, John Greene
Guest stars: Cheryl Holdridge, Roger Ewing, Alex Gerry
9
The Girl Reporter
25 min | Nov 12, 1964

Darrin's workload piles sky-high when Larry Tate and his wife Louise fly to Paris to cover the fashion showings for a client. Samantha spends most of the time alone playing Solitaire. She accepts Endora's invitation to fly to Paris, without a plane of course, for lunch. In Paris, Samantha and Endora run into the Tates. Larry, surprised, phones Darrin that Samantha and her mother are in Paris with them. Samantha returns home immediately. Darrin tells Samantha their marriage is a mistake, since he has taken her away from all the high living she seems to love. Although Samantha tries to convince Darrin that he is wrong, she angrily leaves, and returns to Paris. Larry Tate tells Darrin Samantha is lonesome for him. Darrin decides to follow her to Paris. After several unsuccessful tries, Samantha gets on Darrin's plane, and they arrive in Paris together.
Director: William Asher
Writer: Bernard Slade, Paul David, John Greene
Guest stars: Raquel Welch, Peter Camlin, Rowena Burack
10
Just One Happy Family
25 min | Nov 19, 1964

Endora tells Samantha that Maurice, her father, is coming to visit. Endora warns Samantha that Maurice will be furious when he learns that his daughter has married a mortal. Samantha, determined to stand up to her father, gets Darrin to stay in town on the night Maurice calls. Samantha tells Maurice that her husband is in Washington, but Maurice knows better when he says that Darrin is a mortal. Of course, Darrin comes home and Maurice makes him disappear. Samantha wants her father to bring Darrin back and tells Maurice how happy she is with Darrin.
Director: William Asher
Writer: Lawrence J. Cohen, Fred Freeman
Guest stars: Thomas Anthony, Charlie Dugdale
11
It Takes One to Know One
25 min | Nov 26, 1964

When Darrin starts searching for a "Miss Jasmine" for his firm's perfume account, Endora seizes the opportunity to sow doubt in Samantha's mind about her husband's loyalty. The search for a beautiful model ends when Jannine Fleur arrives. Both Larry and Darrin agree that Jannine is "Miss Jasmine." Samantha learns that Jannine is a witch whom Endora has asked to captivate Darrin. Samantha warns Jannine to keep away from Darrin. Jannine, intrigued, keeps on with her original assignment. Darrin uses Larry Tate as his chaperone to keep him from becoming involved with Jannine. Darrin and Larry go to Jannine's apartment to discuss details of the "Miss Jasmine" campaign. Jannine doctors the drinks. Larry falls asleep and Darrin becomes amorous. Just as Darrin starts to kiss Jannine, Samantha uses her witchcraft, and Darrin appears to Jannine as a large ugly fish. When the campaign is completed, Samantha turns the advertising picture of "Miss Jasmine" into a caricature of Jannine.
Director: William Asher
Writer: Jack Sher
Guest stars: Lisa Seagram, Robert Cleaves
12
...And Something Makes Three
25 min | Dec 03, 1964

Larry and Louise Tate have been married for sixteen years and have no children. Louise asks Samantha to go with her to an obstetrician as tests have shown she is going to be a mother. Louise tells Samantha she is afraid to tell Larry since she believes he hates children. Larry, visiting his dentist at the medical center, sees Louise and Samantha enter the obstetrician's office. Thinking Samantha is going to have a baby, he tells Darrin, but cautions him not to say anything until Samantha tells him. In a revery, Darrin visualizes his children as little witches. He comes to with a sinking feeling. Samantha invites the Tates to dinner. Both Larry and Darrin hover over Samantha, warning her not to exert herself. Louise is all but forgotten, but makes several unsuccessful attempts to tell Larry that he is to be a father. Finally, Samantha tells Larry. He is overjoyed. Although Darrin doesn't tell Samantha about his revery, he is reassured when she tells him she hopes they have a child who l
Director: William Asher
Writer: Danny Arnold
Guest stars: Maureen McCormick
13
Love is Blind
25 min | Dec 10, 1964

Samantha's friend ,Gertrude, a nice, plain-looking girl, expresses her envy of the happiness Samantha has found in marriage. Although Darrin tries to avoid getting mixed up in matchmaking, Samantha persuades him to bring Kermit, a handsome artist, home to dinner to meet Gertrude. Kermit falls for Gertrude. Although Samantha will not admit it, Darrin suspects Gertrude is a witch and tries to break up her romance with Kermit. Darrin arranges a meeting at a night spot for Kermit with Susan, a former girl friend. There, Samantha uses witchcraft to get Susan into an argument with Kermit. Susan storms out, unable to recall what has happened. When Gertrude arrives, according to Samantha's plan, Kermit proposes to her.
Director: William Asher
Writer: Roland Wolpert
Guest stars: Chris Noel, Ralph Bernard, Adam West, Kit Smythe
14
Samantha Meets the Folks
25 min | Dec 17, 1964

Darrin's parents pay their first visit to the Stephens home. Darrin's mother, Phyllis, hopes to find that his wife is a poor housekeeper. Soon after, Samantha's Aunt Clara comes down the chimney for an unexpected visit. Darrin is worried about the kind of impression Aunt Clara will make on his parents, but agrees with Samantha that they must make Aunt Clara feel welcome. Determined to help Samantha make a hit with her in-laws, Aunt Clara uses her witchcraft to whip up a feast for dinner. Thinking that Samantha has done the cooking, Phyllis becomes quite upset. Although Samantha warns him to be tactful, Darrin makes Aunt Clara feel she is not wanted. After Aunt Clara's departure, Samantha gets into an argument with Darrin, during which Phyllis learns Aunt Clara cooked the dinner. When Samantha admits she is not a good housekeeper, Phyllis, who felt she was being pushed aside, knows she is going to love her daughter-in-law. Darrin persuades Aunt Clara to return and the evening ends happi
Director: William Asher
Writer: Bernard Slade
Guest stars: Mabel Albertson, Robert F. Simon
15
A Vision of Sugar Plums
25 min | Dec 24, 1964

Seven year old Tommy, who lives in an orphanage, is happy to spend Christmas with Gladys and Abner Kravitz. Six year old Michael, also an orphan, derides Tommy's belief in Santa Claus. When Samantha and Darrin bring him home for the holidays, their efforts to get Michael to share in the festivities of the season fail. After Michael admits that he would believe in Santa Claus if he really existed, Samantha takes Michael and Darrin on her broom-stick to the North Pole, where Michael meets Santa Claus. Later, back at home, Darrin and Michael awake. Although both feel they have dreamed the trip, Michael now believes in Santa Claus. Gladys overhears Michael tell Tommy he has met Santa Claus. When she tries to pin Tommy down, he denies that Michael has ever mentioned it. Mrs. Grange, the director of the orphanage, comes to the Stephens home with George and Sarah Johnson. At the Kravitz home, both Gladys and Abner, who are about to return Tommy to the orphanage, express their wish to have som
Director: Alan Rafkin
Writer: Herman Groves
Guest stars: Kevin Tate, Sara Seegar, Bill Daily, Gerry Johnson, Cecil Kellaway, Bill Mumy, George Tobias
16
It's Magic
25 min | Jan 07, 1965

The members of the Hospital Fund Auxiliary appoint Samantha Entertainment Chairman for the group's bazaar. Limited to spending fifty dollars, Samantha hires Zeno, a broken down magician who has taken to drink. Because of this, his assistant, Roxie Ames, has left the act. Using her gift of magic, Samantha makes Zeno the hit of the show. As a result, Zeno gets a job on TV. Zeno pleads with Samantha to help him. Assisted by Samantha, Zeno runs through a very successful rehearsal. Just before the show goes on the air, Roxie appears and injects herself into the act. Hogging the show, Roxie kills Zeno's act and his confidence. She admits she returned just to get a regular spot on TV herself. Samantha turns Roxie into a comic prop for Zeno. After Zeno's successful performance, Darrin tells Samantha that his client has booked Zeno for the next thirteen weeks. Darrin attempts some magic on his own. When he succeeds, he is not certain whether his skill or Samantha's magic is responsible.
Director: Sidney Miller
Writer: Frank Waldman, Tom Waldman
Guest stars: Virginia Martin, Cliff Norton, Alice Backes, Hollis Irving, Walter Burke
17
A is for Aardvark
25 min | Jan 14, 1965

Darrin sprains his ankle and is confined to bed with his foot in a cast. Wearying of running up and down stairs on errands for Darrin, Samantha suggests he use her power of witchcraft during the emergency. Endora warns Samantha that she is making a mistake. After his initial wishes are granted, Darrin, as Endora had predicted, becomes drunk with power. After showering Samantha with gifts, Darrin not only decides to use his power to get a larger home, but also tells Larry Tate, his boss, that he is retiring so that he and Samantha can take a trip around the world. Samantha's initial plan to stop Darrin by showering him with new luxuries fails. Then Darrin gives Samantha flowers and a wristwatch he has purchased with his own money. From Samantha's happy reaction, Darrin realizes these gifts mean more to her than all the others. Samantha happily agrees to his request that she take back his powers of witchcraft.
Writer: Earl Barret, Earl Barrett
18
The Cat's Meow
25 min | Jan 21, 1965

After arranging to meet Samantha to celebrate their six months' anniversary, Darrin arrives at his office to meet Margaret Marshall, chairman of the board of a cosmetic firm. Margaret, a stunning woman in her late thirties, successful both with men and in business, insists that Darrin fly to Chicago that night to complete the quarter million dollar campaign he had planned for her company. Fumbling out of the anniversary arrangements with Samantha, Darrin flies to Chicago, and meets Margaret, who has become quite interested in him, aboard her yacht. There, Darrin sees a cat, and feels it may be Samantha, egged on by her mother, Endora, to fly to Chicago to check on his activities. While Darrin evades Margaret's advances, a pelican arrives on the scene. Although both Margaret and Captain Kelly feel there is something strange in Darrin's reactions to the animals, Margaret, realizing Darrin is truly in love with his wife, accepts his advertising campaign. Greeted by Samantha at home, Darri
Director: David McDearmon
Writer: Richard Sale, Mary Sale
Guest stars: Harry Holcombe, George Ives, Clarence Young, Martha Hyer
19
A Nice Little Dinner Party
25 min | Jan 28, 1965

After Endora promises to curb her witchery for the evening, Samantha arranges a dinner for Darrin's parents and her mother to meet. Darrin is fearful of the results. Frank Stephens has just retired and feels lost and insecure. Endora, being utterly charming, as she has promised Samantha, plays up to Frank. Frank once more feels life is worth living, but Phyllis becomes jealous. Before Phyllis is through, she is sure Endora wants to take Frank from her. She asks Darrin for the name of a divorce lawyer. Darrin and Samantha work feverishly to save the marriage. Despite their efforts, Phyllis takes a train to Arizona and Frank boards a plane on the first step of a world trip. Samantha asks Endora's help. Using her witchcraft, Endora brings both train and plane to Angel Falls, whereFrank had proposed to Phyllis years before. In the romantic setting, they both realize they are much younger than they thought.
Director: Sherman Marks
Writer: Bernard Slade
Guest stars: C. Lindsay Workman, David Garner, Hap Holmwood, Robert F. Simon
20
Your Witch is Showing
25 min | Feb 04, 1965

After Darrin refuses to let Sam go to a wedding in Egypt, Darrin has problems with his newest account. Larry helps Darrin out by hiring an assistant named Gideon Whitsett. Endora had warned Darrin that he was going to get into a heap of trouble, and Darrin believes that Gideon is a warlock sent by her to make him fail. Actually, Gideon is mainly stealing Darrin's ideas and making them as his own. Samantha uses her magic to make him confess.
Director: Joseph Pevney
Writer: Joanna Lee
Guest stars: Alex Gerry, Peggy Lipton, Jonathan Daly
21
Ling Ling
25 min | Feb 11, 1965

Darrin is looking for a model for an all-important campaign. On cue, Samantha turns a cat into a Oriental siren named Ling Ling. Everything goes ultimately well, until the photographer, Wally Ames, wants to make a date with her. Samantha and Darrin each try to break them up, but to no avail. Samantha makes Ling Ling come clean about her true nature when she spikes Ling Ling's drink with catnip. Samantha then turns Ling Ling back into a cat, but not before Gladys notices Ling Ling kneeling on the ground lapping milk.
Director: David McDearmon
Writer: Jerry Davis
Guest stars: Greta Chi, Jeremy Slate
22
Eye of the Beholder
25 min | Feb 25, 1965

Endora tries to make Samantha seem older than she actually is by putting her face on an old painting dating back to 1690. Darrin notices this and wonders if he's growing old while she remains young. Samantha finds out that her mother is to blame for all this mess, and Endora tells her that she can age along with Darrin.
Director: William Asher
Writer: Herman Groves
Guest stars: Peter Brocco, Mark Tapscott, C. Lindsay Workman, Carter DeHaven, Georgia Schmidt, Stephen Whittaker, Cindy Elibacher, Sharon DeBord, Cindy Eilbacher
23
Red Light, Green Light
25 min | Mar 04, 1965

Morning Glory Circle badly needs a traffic signal on their street. While everyone tries to convince Town Hall to put up a traffic light, Endora tries her best by collecting every traffic signal possible. The Mayor decides that no traffic light is needed, but when Samantha magically ties him up in traffic, he ends up eating some serious crow.
Director: David McDearmon
Writer: Roland Wolper
Guest stars: Dan Tobin, Vic Tayback, Robert Dorman
24
Which Witch is Which?
25 min | Mar 11, 1965

DOUBLE DOPPELGANGER ALERT! Endora poses as Samantha so she can take her place at a dress fitting. But an author, Bob Frazer, falls for Endora-Samantha, the worst part being that Gladys has seen them both together. Darrin tells the real Samantha that Bob Frazer is visiting them, and Bob mistakes her for the woman he met in the department store, which was Endora. Sam confronts Endora about it, and Endora, as Sam, tries to break it up with Bob. To break the confusion in this episode, Bob thinks that Endora-Sam and Samantha are identical twins.
Director: William D. Russell
Writer: Earl Barret, Earl Barrett
Guest stars: Monty Margetts, Donald Foster, Ron Randell
25
Pleasure O'Riley
25 min | Mar 18, 1965

There's a new sexy, vivacious lady in town! Her name is Pleasure O'Riley, a model who is hiding from her overly jealous boyfriend, Thor "Thunderbolt" Swenson. She calls on the Stephens late one night and needs protection from Thor, who found out her new address. Darrin agrees to help her out, and when Thor comes to look for Pleasure, Samantha makes him think that Darrin's got a thing going on with Pleasure. When Thor goes after Darrin, Samantha turns him into his grandmother. Darrin might be saved, but Abner isn't! After Abner gets knocked out for no reason at all, Pleasure's lawyer puts a restraining order on Thor to keep him away, but not before taking her to the mayor's office for an honor she has received.
Director: William D. Russell
Writer: Ken Englund
Guest stars: Norman Burton, William Woodson, Ken Scott, Kipp Hamilton
26
Driving is the Only Way to Fly
25 min | Mar 24, 1965

Samantha wants to learn how to drive, but after an incident with Darrin, he enrolls her in a driving school. Sam is instructed by a nervous wreck named Harold Harold (Paul Lynde's first appearance). Samantha uses her witchcraft to get out of potential accidents, and Harold gets so out-of-control after hearing Endora's voice that he goes to see a psychiatrist. As a result, Harold is fired, but is turned over when Sam states that she will go to another school.
Director: William Asher
Writer: Richard Baer
Guest stars: Paul Bryar, Paul Lynde
27
There's No Witch Like an Old Witch
25 min | Mar 31, 1965

Poor Aunt Clara. She feels useless when her magic is out of whack, and nearly destroys Sam and Darrin's house when she tries to help out. Sam and Darrin notice that Aunt Clara's true calling is babysitting when she sits for a friend's child. After her first job, Clara is a big hit with the children and their parents and everything goes perfect. Until she starts telling the children that she is a witch. Because of this, Aunt Clara is barred from babysitting. A judge is impressed by Aunt Clara and wants her to baby-sit his son, but the Stephens send Clara off to Miami with her friends.
Director: William Asher
Writer: Ted Sherdeman, Jane Klove
Guest stars: Gilbert Green, Reta Shaw, Karen Norris, Peg Shirley, Brian Nash, Michael Blake, Vicki Malkin, Nina Roman, Penny Kunard
28
Open the Door, Witchcraft
25 min | Apr 07, 1965

Garage door openers become the absolute rage when Samantha uses her magic to open her garage door. To ward off the Kravitzes, Darrin is forced to buy a remote control for the garage. The thrill is short-lived when airplane signals keep controlling the door, and Darrin accuses her of using magic. Sam swears that she will never use witchcraft again, but wish she had when a plane signal locks the garage- with them in it! Darrin wants her to open the door, but Sam goes by her oath as another plane flies by. The door flies open and they are free to go, but they face another obstacle- facing the Kravitzes!
Director: William Asher
Writer: Ruth Brooks Flippen
Guest stars: Hal Bokar, Baynes Barron, Eddie Hanley
29
Abner Kadabra
25 min | Apr 14, 1965

Gladys catches Sam and her magic at work when she is rearranging pictures. Of course, Samantha convinces Gladys that she's the one doing the magic, by ESP. Then, Gladys goes crazy with the notion that she had powers, so Samantha sets up a seance to scare Gladys. Using her magic, she creates ghosts and turns Abner into a pile of dust. Gladys swears to give up her powers to bring Abner back, and he returns to his original form.
Writer: Lawrence J. Cohen, Fred Freeman
30
George the Warlock
25 min | Apr 21, 1965

Darrin is spending a lot of time with D.D. "Danger" O'Riley, Pleasure's younger sister, who is house-sitting for Pleasure. Endora, as usual, tries to break up the marriage again by using a handsome male warlock named George from his harem to woo Samantha. When his plan (and Endora's) is unsuccessful, he turns himself into a raven with a lot of talent, so much talent that he creates a perfect image for Darrin's advertising campaign for typewriters. Samantha tells Darrin who is behind the raven, and George turns back into his old self and starts going after Danger O'Riley. Endora has lost again when he returns to his girls.
Director: William Asher
Writer: Ken Englund
Guest stars: Lauren Gilbert, Sharon DeBord, Christopher George, Beverly Adams
31
That Was My Wife
25 min | Apr 28, 1965

Darrin and Samantha try to spice up their marriage by reserving a suite at a fancy hotel. She arrives in a brunette wig and hugs Darrin, not knowing that they are being watched by Larry! Samantha later forgets a book and pops home to get it. Larry sees her at home and this causes a great misunderstanding. Louise tries to help out the supposedly doomed marriage that Larry thinks that she was at the hotel with Darrin. After Darrin gets punched in the eye by Larry, the misunderstanding is cleared up when Darrin explains how Samantha got home and back to the hotel: She knew a short cut.
Director: William Asher
Writer: Bernard Slade
Guest stars: Warrene Ott
32
Illegal Separation
25 min | May 05, 1965

The Kravitzes have a fight and Abner is kicked out of the house. The Stephens welcome him with open arms, and Abner decides to stay with them permanently. Samantha gets them back together by having them dream about the day they proposed to each other. It works, and Gladys and Abner run out into the street- in slow motion- and embrace each other.
Director: William Asher
Writer: Richard Baer
Guest stars: Dick Balduzzi
33
A Change of Face
25 min | May 12, 1965

Darrin become totally insecure about his looks after Sam and Endora play Mr. Potato Head with his face while he is asleep. Samantha tries to build up his ego, but all efforts fail. What to do? Turn yourself into a very sexy French woman and convince your husband that it's what's inside that counts.
Director: William Asher
Writer: Bernard Slade
Guest stars: Marilyn Hanold, Elisa Ingram, Dick Wilson, Henry Hunter
34
Remember the Main
25 min | May 19, 1965

Election fever sweeps Morning Glory Circle, and Sam and Darrin become campaign managers for a city council candidate. Endora's magic helps bring his corrupt opponent's dirty dealings to light.
Director: William D. Russell
Writer: Mort R. Lewis
Guest stars: Edward Mallory, Byron Morrow, Stuart Nesbit, Justin Smith
35
Eat at Mario's
25 min | May 26, 1965

Samantha and Endora enjoy lunch at a great pizzaria owned by Mario. It seems that he is not selling pizzas and his business is going down the tubes. Samantha and Endora try to help out Mario, but ends up getting Darrin's job in danger.
Director: William Asher
Writer: Richard Baer
Guest stars: Phil Arnold, Michael Quinn, Alan Hewitt, Vito Scotti
36
Cousin Edgar
25 min | Jun 02, 1965

Endora is not alone when she tries to break up the Stephens' marriage. It seems that a mute elf named Edgar voices his disapproval when he begins playing dirty tricks on Darrin. As a result of these tricks, a competitor named Fred Schulwiler almost gets a shoe account. Edgar realizes that Samantha really loves Darrin and to show his appreciation, Edgar helps Darrin win the account by playing pranks on Schulwiler.
Director: E.W. Swackhamer
Writer: Paul Wayne
Guest stars: Arte Johnson, Charles Irving, Roy Stuart
---
Editions
| Barcode | Format | Region | Released | Edition |
| --- | --- | --- | --- | --- |
| 043396130326 | | 1 | 2005 | |
| 043396110366 | | 1 | Jun 21, 2005 | Colorized |
| 043396110304 | | 1 | Jun 21, 2005 | Black & White |
| 5035822219915 | | 2 | Aug 01, 2005 | |
| 5035822632318 | | 2 | Nov 02, 2009 | |
| 8712609037104 | | 2 | Jun 14, 2005 | |
| 9317731025488 | | 4 | Jun 22, 2005 | In Color |
| 683904531865 | | | Jan 21, 2014 | |
| 7892770010937 | | | | |
| 043396222519 | | | Dec 04, 2007 | |
| 5035822167537 | | | | |
| 3333297569835 | | | | |
| 043396143753 | | | Jan 17, 2006 | |
| 5021456210138 | | | | |
| 9317731047534 | | | | |
| 3333290013526 | | | | |
| 5050582519426 | | | | |
| 4030521720817 | | | | |
| 8717418211172 | | | | |
| 043396298613 | | | | |
| 8712609648119 | | | | |
| 7509671170171 | | | | |
---
---