The Brady Bunch
The Brady Bunch: Season 4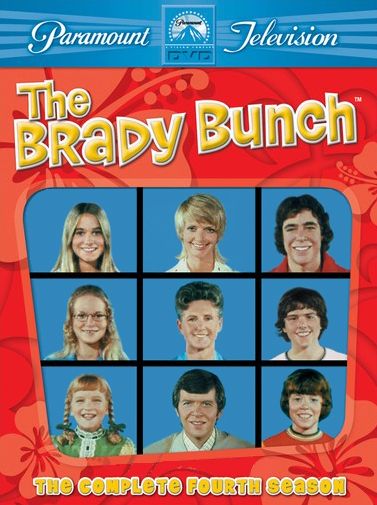 Paramount Pictures (1972)
Comedy, Family
USA | English | Color | 9h 41min
The Brady Bunch was one of the last of the old-style fun-around-the-house situation comedies, full of well-scrubbed children, trivial adventures, and relentlessly middle-class parents. The premise here was a kind of conglomerate family, formed by a widow with three daughters who married a widower with three sons; a nutty housekeeper, Alice, thrown in to act as referee; plus, of course, the family cat and a shaggy dog, Tiger.

All of these smiling faces lived in a four-bedroom, two-bathroom house in the Los Angeles suburbs, from which Dad pursued his nice, clean profession as a designer and architect. Typical stories revolved around the children going steady, family camping trips, competition for the family telephone (at one point Dad installed a pay phone), and of course war in the bathroom.
---
---
Director
Jack Donohue
Leslie H. Martinson
Roger Duchowny
Jerry London
Jack Arnold
Richard Michaels
Bruce Bilson
Robert Reed
Hal Cooper
George Tyne
Lloyd J. Schwartz
Writers
Sherwood Schwartz, Larry Rhine, Al Schwartz, Elroy Schwartz, Brad Radnitz

,

William Raynor, Ben Gershman, Myles Wilder, Burt Styler, Sam Locke, Lois Hire, Adele Styler, Bill Freedman, Milton Pascal, Tam Spiva
Producers
Sherwood Schwartz, Howard Leeds, Lloyd J. Schwartz
Photographers
Robert G. Hager
---
1
Hawaii Bound
30 min | Sep 21, 1972

Mike has to check on the construction of a building that his construction firm is building and it so happens the building is in Hawaii, so he takes the whole family along. However, ancient Hawaiian superstition begins to plague the family when Bobby discovers a ancient taboo idol that brings bad luck to those who touch it. Part 1 of three.
Director: Jack Arnold
Writer: Tam Spiva
Guest stars: Don Ho, David Lippy Espinda, Elithe Aguiar, Patrick Adiarte, Dennis M. Chun
2
Pass the Tabu
30 min | Sep 28, 1972

During a surfing competition, Greg wears Bobby's taboo idol and "wipes out". Soon after, Greg, Peter and Bobby learn of the ancient superstition from a construction worker, Mr. Hanalei. This leads the boys to search for an ancient burial ground to return the idol to break the curse. However, when they arrive at the burial ground, they are unaware of a shadowy figure trailing them.
Director: Jack Arnold
Writer: Tam Spiva
Guest stars: Vincent Price, David Lippy Espinda, Patrick Adiarte, Cris Callow
3
The Tiki Caves
30 min | Oct 05, 1972

An archeologist traps the boys in the caves at the burial ground and takes them hostage insisting they tell him where they found the idol. Meanwhile, Jan, Marcia and Cindy debate on whether or not to tell Mike and Carol, the boys whereabouts when they fail to come back for dinner.
Director: Jack Arnold
Writer: Tam Spiva
Guest stars: Vincent Price, David Lippy Espinda, Leon Lontoc
4
Today, I am a Freshman
30 min | Oct 12, 1972

It's the beginning of another school year, and Marcia panics about becoming a freshman in school, going as far as pretending to be sick. However, after parents see through her act, they give her some advice, get involved and she does, joining every group or club available.
Director: Hal Cooper
Writer: William Raynor, Myles Wilder
Guest stars: John Howard, Vicki Cos, Kelly Flynn, John Reilly
5
Cyrano de Brady
30 min | Oct 19, 1972

One afternoon, Jan brings her friend, Kerry home and introduces her to her family. Kerry quickly makes the biggest impression on Peter who wants Greg's advice on landing a girl. This leads to Greg playing Cyrano for Peter, however, Kerry mistakenly thinks Greg is the one who has feelings for her.
Director: Hal Cooper
Writer: Skip Webster
Guest stars: Kym Karath
6
Fright Night
30 min | Oct 26, 1972

One evening, Jan and Cindy claim to have seen a ghost but is revealed to be a trick by Greg, Peter and Bobby. This leads the girls to use the same tactics the boys used to scaring them. However, things get out of hand when Alice becomes the target of the scare tactics.
Writer: Brad Radnitz
7
The Show Must Go On??
30 min | Nov 03, 1972

Marcia and Greg's high school is putting on Family Frolics activity which is a type of variety show with the students and their families providing the entertainment. This leads Marcia to talk Carol into performing a routine with her while Greg and Mike collaborate on their own.
Director: Jack Donohue
Writer: Harry Winkler
Guest stars: Barbara Morrison, Brandy Carson, Frank DeVol, Karen Foulkes, Bonnie Ludeka
8
Jan, the Only Child
30 min | Nov 10, 1972

Jan is fed up with the number of people in the household and voices her want to be an only child. So the other kids oblige and give her all the space she wants and she finds that she has more space than she needs or even wants when she begins to excluded from the other kids activities.
Writer: Al Schwartz, Ralph Goodman
9
Career Fever
30 min | Nov 17, 1972

In a paper for English class, Greg writes about wanting to follow in his dad's footsteps and become an architect. When Mike, reads the paper, he is ecstatic and goes all out encouraging him unknown to him Greg just picked whatever career to write the paper. Meanwhile, Peter and Jan also explore careers.
Writer: Burt Styler, Adele Styler
10
Goodbye, Alice, Hello
30 min | Nov 24, 1972

The kids begin to give Alice the cold shoulder treatment after she reveals that Greg and Peter broke an antique lamp of Carol's. The girls join the bandwagon when Alice innocently tells Carol that Marcia left the stereo on all night. Feeling unwanted and no longer needed, Alice quits.
Director: George Tyne
Writer: Milt Rosen
Guest stars: Mary Treen, Snag Werris, Harry G. Crigger
11
Greg's Triangle
30 min | Dec 08, 1972

Greg is crazy for his latest girlfriend, Jennifer but things get difficult for him when he learns that both Jennifer and Marcia are competing for head cheerleader and he just happens to be one of the judges.
Director: Richard Michaels
Writer: Ben Gershman, Bill Freedman
Guest stars: Tannis G. Montgomery, Rita Wilson
12
Everyone Can't Be George Washington
30 min | Dec 22, 1972

Peter is determined to get the part of George Washington in the school play but the teacher thinks Peter would be better in the role of Benedict Arnold. When his friends start making snide comments about it he decides to get himself kicked out of the play.
Director: Richard Michaels
Writer: Sam Locke, Milton Pascal
Guest stars: Sara Seegar, Barbara Bernstein, Sean Kelly, Jimmy Bracken, Michael Barbera, Cheryl Beth Jacobs, Angela Satterwhite
13
Love and the Older Man
30 min | Jan 05, 1973

Marcia falls for Dr. Vogel, the family's new dentist. When Dr. Vogel asks Mike if Marcia would be interested in doing some babysitting for his kids, she misinterprets it for him asking her out on a date.
Director: George Tyne
Writer: Martin Ragaway
Guest stars: Don Brit Reid, Allen Joseph
14
Law and Disorder
30 min | Jan 12, 1973

Bobby is crestfallen when he is picked to be safety monitor at school. With Mike and Carol's encouragement, Bobby becomes determined to be the best safety monitor ever but in the process becomes the most unwelcome person at his school, not to mention at home.
Director: Hal Cooper
Writer: Elroy Schwartz
Guest stars: Shawn Schepps, Harlen Carraher, Cindy Henderson, Jon Hayes
15
Greg Gets Grounded
30 min | Jan 19, 1973

Bobby mentions to Mike and Carol that Greg was in a near car accident on the freeway due to the fact that he was reading the cover jacket of a new record. This leads Mike and Carol to suspend Greg's car privileges for a week on the eve of a big date with his girlfriend Rachel.
Director: Jack Arnold
Writer: Elroy Schwartz
Guest stars: Hope Sherwood, Gracia Lee
16
Amateur Nite
30 min | Jan 26, 1973

The Brady kids want to buy a silver platter for Mike and Carol's wedding anniversary but their short on money so they take to means to get enough cash. This leads them to put together an act and appear on a TV amateur contest.
Director: Jack Arnold
Writer: Sam Locke, Milton Pascal
Guest stars: Harold Peary, Steve Dunne, Robert Nadder
17
Bobby's Hero
30 min | Feb 02, 1973

The principal calls home to alert Mike and Carol to the fact that Bobby's playing Jesse James at school. This leads Mike and Carol to learn just how obsessed Bobby about his "idol" and try to dissuade him from worshiping a cold hearted killer.
Director: Leslie H. Martinson
Writer: Michael Morris
Guest stars: Burt Mustin, Richard Carlyle, Gordon DeVol, Ruth Anson
18
The Subject Was Noses
30 min | Feb 09, 1973

Marcia has a big problem when she inadvertently makes two dates for the same night. One with Charlie and the other with Doug, the big man on campus. She makes a excuse to Charlie to go out with Doug but quickly learns Doug was only interested in having a pretty girl on his arm after Marcia is hit in the face with a football.
Director: Jack Arnold
Writer: Larry Rhine, Al Schwartz
Guest stars: Nicholas Hammond, Stuart Getz, Lisa Eilbacher
19
How to Succeed in Business?
30 min | Feb 23, 1973

Peter is ecstatic when he gets a job at Martinelli's bike shop. However, his wanting to do a thorough job inhibits his speed and work begins piling up as well as customers begin to customers demand their bikes. This leads Mr. Martinelli to give Peter the axe.
Director: Robert Reed
Writer: Gene Thompson
Guest stars: Jay Novello, Harlen Carraher, Claudio Martinez
20
The Great Earring Caper
30 min | Mar 02, 1973

Peter's new detective kit comes in handy when Cindy touches and then looses a pair of antique earrings that Marcia was borrowing from Carol that she warned her not to touch. This leads Peter and Cindy on an all out search for the missing earrings.
Writer: Larry Rhine, Al Schwartz
21
You're Never Too Old
30 min | Mar 09, 1973

Both Robert Reed puts in double duty as Grandpa Brady as does Florence Henderson when she portrays Grandma Hutchins in an episode where the Brady kids play matchmakers and try to get Grandpa Brady and Grandma Hutchins together. However, their efforts may all be for naught when an argument erupts between Grandma and Grandpa during a romantic dinner.
Director: Bruce Bilson
Writer: Ben Gershman, Bill Freedman
Guest stars: Robert Reed, Florence Henderson
22
You Can't Win 'Em All
30 min | Mar 16, 1973

Both Bobby and Cindy have to opportunity to try out to be on a televised children's quiz show if they get a certain score on a written test. However, an overconfident Bobby doesn't study at all and fails while Cindy is chosen and her ego alienates the rest of the Brady kids.
Director: Jack Donohue
Writer: Lois Hire
Guest stars: Edward Knight, Vicki Schreck, Tracey M. Lee, Claudio Martinez, Harlen Carraher, Miyoshi Williams
23
A Room at the Top
30 min | Mar 22, 1973

When the family cleans out the attic, both Greg and Marcia realize what a great room it would be and they both begin fighting over who gets it. This leads to yet another battle between the sexes.
Director: Lloyd J Schwartz
Writer: William Raynor, Myles Wilder
Guest stars: Chris Beaumont
---
Editions
| Barcode | Format | Region | Released | Edition |
| --- | --- | --- | --- | --- |
| 032429211934 | | | | |
| 097360453942 | | 1 | Nov 01, 2005 | The Complete Fourth Season |
| 5050582764512 | | 2 | Feb 10, 2015 | |
| 9324915076570 | | 4 | | |
| 032429205902 | | | Dec 09, 2014 | |
---
---