MacGyver
MacGyver: Season 1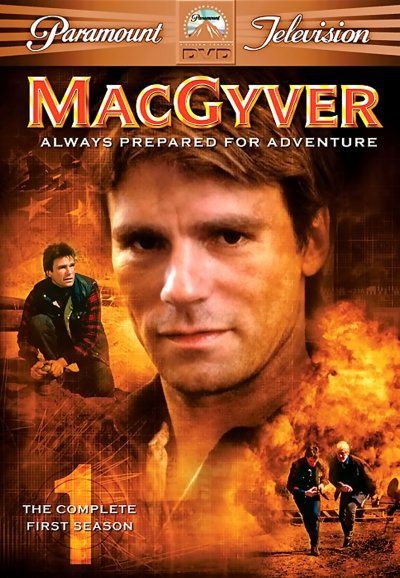 Paramount Pictures (1985)
Adventure, Crime, Action
USA | English | Color | 17h 25min
MacGyver follows the adventures of the laid-back, extremely resourceful secret agent Angus MacGyver. He prefers non-violent conflict resolution whenever possible and refuses to carry or use a gun. MacGyver works as a problem solver for the Phoenix Foundation in Los Angeles. Utilizing his education as a scientist and his experience as an operative in the Department of External Services (DXS), he is able to solve a range of problems usually with the help of his ever-present Swiss Army knife.
---
---
Director
Cliff Bole
Jerrold Freedman
Richard A. Colla
Don Weis
Alan Smithee
Lee H. Katzin
Don Chaffey
Paul Stanley
John Patterson
John Florea
Alexander Singer
Ernest Pintoff
Bruce Seth Green
Stan Jolley
Charlie Correll
Writer
Joe Viola, Lee David Zlotoff, Mike Marvin, David Abramowitz, Larry Alexander

,

Terry Nation, Paul Savage, Stephen Downing, Stephen Kandel, Judy Burns, Thackary Pallor, James Schmerer, David Ketchum, Douglas Brooks West, Fred McKnight

Producer
Vin Di Bona, Henry Winkler, John Rich, Robert Hargrove, Mel Efros

,

Terry Nation, John Mantley, Stephen Downing, Hal Klein, Stephen Kandel, Judy Burns, Steven Milkis, Jerrold L. Ludwig

Photography
Jules Brenner, Frank Raymond, Tak Fujimoto, Donald H. Birnkrant
Musician
Randy Edelman, Dennis McCarthy, Michael Melvoin
---
1
Pilot
60 min | Sep 28, 1985

Opening Gambit: MacGyver rescues an American pilot who has crashed on top of a high cliff. Main Episode: When a science lab studying the ozone layer mysteriously explodes, MacGyver is called in to rescue the scientists that are trapped underground. It's soon discovered that the explosion cracked a tank of sulfuric acid, and MacGyver is in a race against time before the Army uses a missile to seal up the base.
Director: Alan Smithee
Writer: Thackary Pallor
Guest stars: Michael Lerner, Dana Elcar, Paul Stewart, Michael C. Gwynne, Olaf Pooley, Shavar Ross, Darlanne Fluegel
2
The Golden Triangle
60 min | Oct 05, 1985

Opening Gambit: MacGyver uses a magnet to retrieve stolen documents, escapes a car about to be flattened, and then traps the thieves in midair. Main Episode: When MacGyver tries to retrieve a canister filled with a deadly chemical in Burma, he stumbles right into an area known as the Golden Triangle, where the military uses farmers as slaves on the opium fields. MacGyver is mistaken for a narcotics agent and is captured, but convinces the slaves to fight their oppression. MacGyver assists by setting several traps at the slave camp, and when the army returns to suppress the unrest, the real action begins.
Director: Donald Petrie, Paul Stanley
Writer: Terry Nation, Dennis Foley
Guest stars: Joan Chen, Keye Luke, Benjamin Lum, Bryan Price, James Saito, George Cheung, Clyde Kusatsu
3
Thief of Budapest
60 min | Oct 12, 1985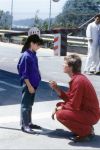 MacGyver travels to Budapest to meet with a Russian double agent who is in possession of a watch containing information about other Russian spies. However, before MacGyver can take the watch, the agent is killed and the watch is stolen. Now MacGyver must work with the Gypsies to get it back.
Director: Lee H. Katzin, John Patterson
Writer: Joe Viola, Terry Nation, Stephen Downing
Guest stars: Michael Constantine, Bruce Abbott, Kelly McClain, Sue Kiel
4
The Gauntlet
60 min | Oct 20, 1985

Opening Gambit: MacGyver retrieves a top-secret map, then uses it to escape his pursuers in the desert. MacGyver escapes the desert by using a hot-air balloon conveniently stored at a rendezvous point. Main Episode: MacGyver attempts to get a reporter out of a Central American country with evidence linking a general to an illegal arms dealer. As MacGyver and Kate (the reporter) reach the border, it is clear escaping to Mexico will be no easy task, as the general and the arms dealer have every imaginable route severely guarded. There is no turning back. MacGyver must figure out how to get across the border, as his life, as well as Kate's, hangs in the balance.
Director: Lee H. Katzin
Writer: Stephen Kandel, Judy Burns
Guest stars: Robin Curtis, John Vernon, Gregory Sierra
5
The Heist
60 min | Nov 03, 1985

When $60 million worth of stolen diamonds destined for a relief charity end up in the hands of casino owner Jack Catlin, MacGyver must head to the Virgin Islands to try and get them back. With the help of Chris Rhodes, a senator's daughter, MacGyver masterminds a plan to break into Catlin's vault and steal them back.
Director: Alan Smithee, Larry Alexander, James Schmerer
Writer: Larry Alexander, James Schmerer
Guest stars: Vernon Wells, Victoria Bass, John Carter, Doran Clark
6
Trumbo's World
60 min | Nov 10, 1985

Opening Gambit: In the Pyrenees Mountains, MacGyver rescues a prisoner, then makes a daring escape with her by raft. Main Episode: MacGyver comes along on a expedition to Brazil with his friend, entomologist Dr. Alden. They meet with a landowner and recluse, Trumbo, who is initially hostile. However, when they realize that a mile-wide column of army ants is moving through the jungle, they team together to mount a defense. Alden is killed by the ants, which seem unstoppable. MacGyver tries to flood the ants by filling the surrounding troughs with water, but when that plan fails, he uses a flamethrower to burn the oncoming ants. Out of gasoline and quickly running out of time, MacGyver must come up with a plan to dispose of the ants, or Trumbo will lose in one afternoon what he spent his life assembling.
Director: Donald Petrie, Lee H. Katzin
Writer: Stephen Kandel
Guest stars: David Ackroyd, Peter Jurasik
7
Last Stand
60 min | Nov 17, 1985

When MacGyver is on his way to a vacation, he takes the wrong way and ends up at a small airstrip where everybody seems to be behaving strangely. Too late, he discovers that the airstrip has been taken hostage, and he has been caught in the middle of a plane-hijacking attempt.
Director: John Florea
Writer: Judy Burns
Guest stars: Harry Caesar, Steve Franken, Jackie Earle Haley, Art Hindle, Kay Lenz, Michael McGuire, Anthony Penya, Lewis Van Bergen
8
Hellfire
60 min | Nov 27, 1985

During a trip to visit some friends, an accident starts a fire in an oil well owned by MacGyver's friends. MacGyver and his buddy then go to fetch dynamite in an abandonned mine at great peril to themselves after they decide the dynamite is the only feasible way the fire can be put out. However, when they use it, the fire only becomes more intense. Can MacGyver and his Hellfire friend survive the incredible heat to put out the fire and save the oil buried underneath the well?
Director: Richard Colla
Writer: Stephen Kandel, James Schmerer, Douglas Brooks West
Guest stars: Cooper Huckabee, Nana Visitor, Rudy Ramos
9
The Prodigal
60 min | Dec 08, 1985

A man wants to testify against his mobster brother in Federal Court, and MacGyver has the job of keeping him safe, but the man's mother is dying and he wants to visit her.
Director: Alexander Singer, David Abramowitz, Paul Savage
Writer: David Abramowitz, Paul Savage
Guest stars: Robert Romanus, Richard Romanus, Carl Franklin, Angela Clarke
10
Target MacGyver
60 min | Dec 22, 1985

Opening Gambit: MacGyver rescues a lady general at a beach house, then nabs her kidnappers using common kitchen equipment. Main Episode: After blowing away a nuclear facility under the control of an aggressive world leader, MacGyver returns home for some peace and quiet, only to find his boss waiting for him. He advises MacGyver that a contract is out on his life and he needs to skip town for awhile.
Director: Lee H. Katzin, Ernest Pintoff, Mike Marvin
Writer: Mike Marvin, Terry Nation, Stephen Kandel, James Schmerer
Guest stars: D'Mitch Davis, Jeannie Elias, Robert Miano, William Frankfather
11
Nightmares
60 min | Jan 15, 1986

When MacGyver comes home with some important documents, he's drugged by enemy agents and told that he will die in six hours if he doesn't retrieve the documents for them. But MacGyver, using an old prisoner trick, escapes. Now the only problem is convincing someone that he's not just another drunk.
Director: Cliff Bole
Writer: James Schmerer
Guest stars: Tammy Lauren, Robert O'Reilly, J.P. Bumstead, Mike Mancini
12
Deathlock
60 min | Jan 22, 1986

Opening Gambit: Posing as a corpse, MacGyver escapes Berlin by coffin-turned-jet-ski. Main Episode: MacGyver is trapped in a mansion with Pete, a code expert, and a government agent who may or may not be on their side. However, an old nemesis has electronically booby-trapped the entire mansion to make sure they can't go anywhere.
Director: Cliff Bole, Alexander Singer
Writer: Stephen Kandel, Jerry Ludwig
Guest stars: Wendy Schaal, Christopher Neame, Beulah Quo, Erik Holland, Carl Held, Tom Maier, Frank Holms
13
Flame's End
60 min | Jan 29, 1986

An old girlfriend of MacGyver's contacts him for help after she discovers evidence of uranium thefts from a nuclear processing plant where she works.
Director: Bruce Seth Green, Hannah Louise Shearer
Writer: Stephen Kandel, Hannah Louise Shearer
Guest stars: Tannis Montgomery, Conlan Carter, Robert Englund
14
Countdown
60 min | Feb 05, 1986

A mysterious person, who calls himself "Viking", has just bombed a cruise ship. He demands six million dollars or another bomb will go off within hours. So MacGyver, with an old friend from Vietnam, Charlie Robinson, is sent to disarm it. But when they get there, they find out there's more then one bomb on the ship.
Director: Stan Jolley, I Stanford Jolley
Writer: David Ketchum, Tony DiMarco
Guest stars: Ellen Bry, Steven Williams, Michael Cavanaugh
15
The Enemy Within
60 min | Feb 12, 1986

After a daring escape from East Germany where he gets rescued, and in the process saves a fellow operative with a quick mechanical fix, MacGyver thinks that he deserves some peaceful vacation time. But Pete lures him into baby-sitting a Russian defector who can identify KGB agents.
Director: Cliff Bole
Writer: David Abramowitz
Guest stars: Victoria Fyodorova, Lynn Holly Johnson, Michael Goodwin, Beau Starr
16
Every Time She Smiles
60 min | Feb 19, 1986

MacGyver is on his way out of Bulgaria with a secret microfilm, when he meets Penny Parker, a beautiful, talkative American, who is on the run from her lover, a man named Stephan Frolov. She stashes some jewels on MacGyver, thus making him a suspect, and now MacGyver and Penny must flee Bulgaria together.
Director: Charlie Correll
Writer: James Schmerer
Guest stars: Kai Wulff, Michael Fox, Milos Kirek
17
To Be a Man
60 min | Mar 05, 1986

In Afghanistan, wounded and hunted by the Soviets, MacGyver is given refuge by an Afghan woman and her son. But they are themselves at the mercy of an Afghan thug, who will kill MacGyver if he finds him at his woman.
Director: Cliff Bole
Writer: Don Mankiewicz, Don M. Mankiewicz
Guest stars: Persis Khambatta, Sid Haig, Allan Kolman, Ajay Naidu
18
Ugly Duckling
60 min | Mar 12, 1986

A 15-year-old genius accidentally hacks into a defective missile guidance system and attracts the attention of both the FBI and some black marketers, who think that she may fix it for them. It's up to MacGyver to save her from being kidnapped by either side.
Director: Charlie Correll
Writer: Larry Gross
Guest stars: Darcy Marta, Lee De Broux, Richard McKenzie, Ned Bellamy
19
Slow Death
60 min | Apr 01, 1986

At the beginning of the episode, MacGyver literally has to jump onto a moving train that he missed earlier to return top-secret files and documents to the U.S. Government. Soon after, a local tribe stops the train. They take all passengers hostage until the men responsible for the death of the tribal leader's son is found among the passengers.
Director: Don Weis
Writer: Stephen Kandel
Guest stars: Frances Bergen, Kenneth Danziger, Anthony DeFonte, Alan Fudge, Carrell Myers, Tracey Reed, Pamela Roylance, Warwick Sims, Mark Tymchyshyn
20
The Escape
60 min | Apr 15, 1986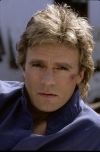 When a mother superior at a religious mission in North Africa asks MacGyver to help a young woman with something, he is glad to help. However, when he finds out the young woman wants him to break her brother out of jail, he may have taken on more than he expected.
Director: Don Chaffey
Writer: Stephen Kandel, Fred McKnight
Guest stars: Kristina Wayborn, Paul Verdier, John de Lancie, Miguel Fernandes, Vic Polizos
21
A Prisoner of Conscience
60 min | Apr 29, 1986

Pete Thornton investigates the supposed death of an old friend, a prominent Russian dissident, and finds he must get his friend's daughter Maria out of the country before the secret police arrest her for an alleged conspiracy. However, while in Russia, Pete bumps into MacGyver, who followed him from the United States. While disappointed MacGyver followed him, Pete gladly welcomes MacGyver into his plans when the secret police arrive to take Maria into custody. Following a high speed boat chase to escape the police, Pete and MacGyver find out from Maria that her father is not dead, he is being held in a maximum security ward at a state mental institution. To get into the mental hospital, MacGyver plays the part of a mad patient and Pete plays the part of a doctor who has been assigned to him. With the help of the other patients, MacGyver is able to escape into Ward Zero, where Pete's friend is held. MacGyver breaks him out and hides him with the other patients
Director: Cliff Bole
Writer: Stephen Kandel
Guest stars: Elya Baskin, Lawrence Dobkin, Marvin Kaplan, Paul Koslo, Tim Rossovich, Sharon Maughan
22
The Assassin
60 min | May 06, 1986

Posing as a watchmaker who manufactures bomb timers, MacGyver manages to catch a master killer—Piedra—before he attempts an assassination on a high-profile target. However, Piedra isn't about to be stopped for long.
Director: Charlie Correll
Writer: James Schmerer
Guest stars: Corrine Bohrer, Anthony De Longis, Richard Yniguez, Corinne Bohrer, Don Diamond
---
Editions
| Barcode | Format | Region | Released | Edition |
| --- | --- | --- | --- | --- |
| 032429312082 | | A | Oct 30, 2018 | |
| 5053083170103 | | | | |
| 5053083167455 | | | | |
| 097360405446 | | 1 | Jan 25, 2005 | The Complete 1st Season |
| 032429219190 | | 1 | Apr 07, 2015 | |
| 097360405422 | | 1 | Jan 25, 2005 | |
| 8714865550731 | | 2 | Feb 27, 2006 | |
| 5014437868237 | | 2 | | |
| 4010884536812 | | 2 | | |
| 7332431021334 | | 2 | Feb 27, 2006 | The Complete First Season |
| 5014437975539 | | 2 | Jan 25, 2005 | |
| 7332431017634 | | 2 | | |
| 9324915056749 | | 4 | Mar 16, 2006 | |
| 3333973137389 | | | | |
| 5055025369125 | | | | |
| 4010884542028 | | | | |
| 9781415706657 | | | | |
| 9786258744583 | | | | |
| 5053083079994 | | | | |
| 8380875056749 | | | | |
| 5053083022761 | | | | |
| 7890552015439 | | | | |
| 032429312099 | | | | |
---
---